A Short History of Junkers Camp, Bettenhausen, KasselDonald F. McGonigal, UNRRA, 1947 (monograph)
A SHORT HISTORY
OF
JUNKERS CAMP, BETTENHAUSEN, KASSEL.
Junkers Camp in Bettenhausen, a suburb on the southeastern edge of Kassel, is probably the best Baltic Displaced Persons Camp in the American Zone of Germany. It consists of twenty-two one-storey stuccoed barracks, a very large one-storey wooden structure used as garage, for workshops, wood storage, sports, meetings and movies, a hospital and a kitchen building, as well as two dwelling houses outside the camp area, one of which is used as an elementary and high school and the other as billets for the UNRRA team operating the camp.
1/
A plan of the camp is enclosed. The following photos, together with the plan, gives a fair idea of the physical aspect of the camp.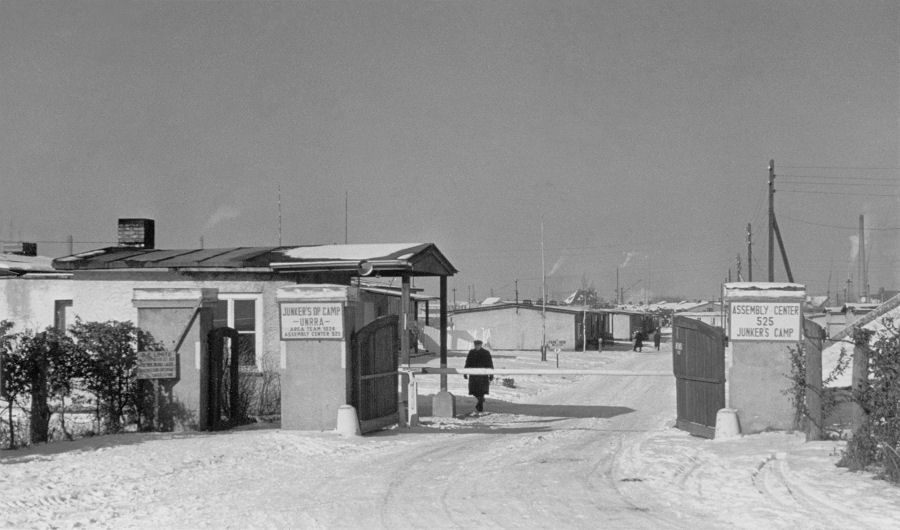 View of Junkers DP Camp, Entry Gate
This content digitizes an original report of the United Nations Relief and Rehabilitation Administration (UNRRA). The United Nations Archives (UNA) grants rights to reproduce with attribution. Additionally, this content is protected as a derivative work under Latvian Copyright Law Chapter 2 § 5 ¶ 3 and as part of a collection under Chapter 3 § 5 ¶ 1.2.