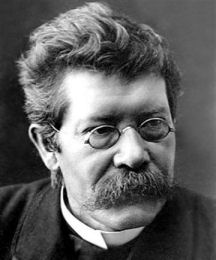 Rūdolfs Blaumanis
(1863–1908)
Welcome!! Join us in celebrating twenty years of LATVIANS.COM on the web!
These words of the writer Rudolfs Blaumanis, from our home page, speak to our love of Latvia and of our Baltic heritage more than any others:
Mans Zelts ir Mana Tauta,
Mans Gods ir Vinas Gods.

My Gold is My People,
My Honor is Their Honor
We want to give you a feel for Latvia and the Latvians by sharing our pictures, experiences, and personal perspectives. As children, we learned Latvia was a far off paradise held hostage by Soviet occupation. When Silvija finally visited during Soviet times, and Peters after independence, "reality" only amplified our appreciation and passion for all things Latvian.
We also want to be a resource to those seeking to learn more about Latvia by reproducing materials not widely available on the Internet, whether an album of pictures of Riga from a century ago, or the account of Soviet mass deportations in Latvia.
Foreign powers have waxed and waned over the Baltics for eight centuries. None has broken their will or dulled their identity. Latvian and its sister Lithuanian are the oldest surviving Indo-European languages and cultures. The Estonians' ancestors settled along the Baltic even earlier. That the Baltic peoples have preserved their culture over the centuries in the face of inestimable odds pays tribute to both the people and the powerful calling of their heritage.
Silvija and Peters Vecrumba
(Write us at contact@latvians.com)
LATVIANS.COM Projects
Our other web projects include:
We also host and maintain web presence for various Latvian groups and organizations.