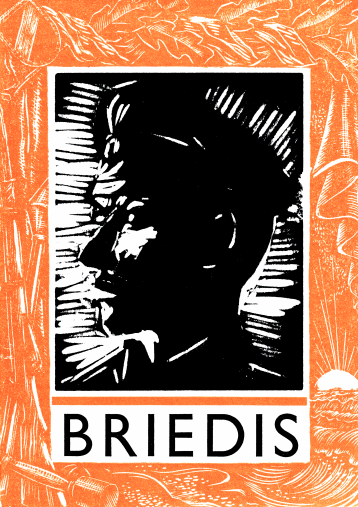 Cover, restored, linoleum block portrait by Mārtiņš Štrovalds
We chanced upon this small biography of one of the stellar figures in Latvian military history at a Latvian rummage sale. Frīdrihs Briedis (1888–1918) was, by all accounts, as brilliant as he was brave, a standout during his service in the regular Russian Army in the campaign against Germany in Eastern Europe during WWI, then the first to join the Latvian Riflemen but eventually fighting against them with the "Whites". The Bolsheviks captured Briedis in 1918 and executed him.
Our reproduction here includes all the original text and illustrations. We also updated the Frīdrihs Briedis article on Wikipedia, but translating the entire work from Latvian proved beyond our resources.[1] Further research, fortuitously, brought to light a wonderful translation by the late David Guild published in 1993 in Revolutionary Russia magazine—30 years after the original. We are pleased to be able to bring you both the original and its full translation.
About the author and editors
Aleksandrs Plensners, who later was appointed colonel and senior headquarters officer of the Latvian Legion in WWII, was Briedis' contemporary and would have served with him.[2] Plensners wrote extensively after WWI regarding Latvia's subsequent war of independence, but we have not uncovered any further information on the manuscript itself or its compiler, "M. Akmentājs." Colonel K. Lobe, also formerly of the Latvian Legion, is listed as having edited final publication.
About the artist
Mārtiņš Štrovalds was born May 1st, 1909 in Bauska county, Bārbele parish, in the "Plēkani" house. From 1927 to 1932 he studied at the Art Academy of Latvia with professor Ludolfs Liberts. He worked as a scenery artist, as well as a freelancer in Bārbele, Stelpe, and Skaistkalne; in exile after the war, Štrovalds lived and was artistically active at first in Germany then in Sweden, where this cover was created. Pēters' father, Jānis Vecrumba, and Štrovalds were likely acquainted as they both worked with Liberts.
About the translator
David Guild was a skilled linguist and lecturer in the Department of Russian in the University of Edinburgh. He developed an interest in the Baltic languages in the course of research for his PhD thesis on the verb forms in Baltic and Slavic languages. He was helped and encouraged to continue with this by a Latvian émigré, Dr. Juris Greene, the husband of one of his colleagues at university. The Association for Advancement of Baltic Studies (AABS) invited him to contribute to and participate in Baltic-related conferences after the fall of the Soviet Union.
While seeking permission to reproduce the translation, we were deeply saddened to discover that David Guild had passed away in 2008 as the result of a home accident. We are privileged to preserve his work for a new generation.[3]
Our sincerest and heartfelt thanks to Heather Guild for permission to share her late husband's translation here.
Additional reading
---
| | |
| --- | --- |
| [1] | We have made the Gooogle translation of Latvian content available, however, "Briedis," Latvian for a stag, translates as "venison" or "deer"—and usability degenerates from there. |
| [2] | Plensners was four years Briedis' junior. |
| [3] | David Guild's obituary published at The Scotsman includes an informative biography. Retrieved 26-Jul-2015 |
Below, a gallery of included illustrations.
Mouse over left/right side of image and click or use left/right arrows to navigate image groups. Click on 'X' or outside left/right of image to return.
Under Swedish copyright law, "Briedis," including all derivative works, remains under copyright by the original rights holder until 2067, regardless of copyright by Taylor and Francis of David Guild's translation. Our corrected and annotated version of that translation is reproduced by express permission of the late author's wife, Heather Guild. Without prejudice to other rights accorded, "Briedis" is presented here for informational, educational, and research purposes under §20. and §21. of Latvian copyright law and as a protected derivative work under §5. The Goppers archive resides in the Latvian National Library.