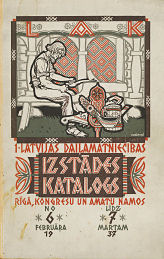 Exhibition Catalog,
cover (unrestored)
by V. Krūmiņš
The First Latvian Arts and Crafts Exhibition, I Latvijas Daiļamatniecības Izstāde, was held from the 6th of February through the 7th of March, 1937, exhibiting at the Kongresu Nams [Congress House] and Amatu Nams [Trades House] in Riga, and organized by Latvijas Amatniecības Kamera [the Latvian Chamber of Crafts and Trades].
Besides works by home artisans, craftsmen, artists, and architects, the exhibition also included historical crafts—weaving, carving, metalwork—from earlier centuries.
The comprehensive guide to the exhibit includes pictures of more than 200 objects as well as an in-depth introduction to Latvian arts and crafts:
the purpose of the exhibition;
an overview of the development of Latvian arts and crafts;
the histories of Latvian ceramics,
textiles,
jewelry,
and other works in metal and wood; and
the challenges facing Latvian expression in the contemporary arts.
The catalog is reproduced here in its entirety as page images. In Latvian.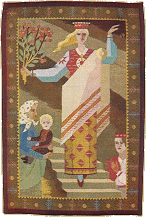 Woven Painting
A. Cīrulis
OUR INTRODUCTION TO THE WORK
Essays
Illustrations (80 plates, over 200 objects)