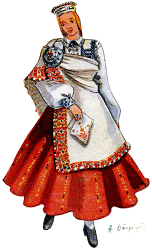 Anna Dārziņa, née Ozoliņa, was born August 15, 1911 in Bīriņu pagasts[1] in the Rīga rajons (district).
She graduated the Latvian Art Academy in 1937, completing her study of figurative painting in G. Elias' master class, having also posed during her student years as a model for Valdemārs Tone. Anna was heavily influenced by Tone's artworks and personal philosophy regarding art. Her first works were in the realistic, traditional manner, in quiet, dark hues.
Anna married Volfgangs Dārziņš—son of the famous composer Emīls Dārziņš—on Christmas, 1939, just before the war. They were both active in the artistic community, always busy with multiple projects at the Art Academy or Conservatory. Volfgangs, "Voli" to his friends, became close friends with artist and later-to-be author Anšlavs Eglītis, a friendship which drew in their wives, Anna and Veronika, and one which they would take into exile.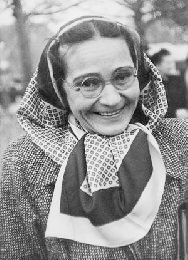 Dārziņa in Esslingen, ca. 1949
"Stūdija", May 2000
As a war refugee, after arriving in Germany, she began illustrating women adorned in folk costumes, done in pastels owing to a shortage of oil paints—these postcards, printed in Esslingen, surely capture those very images. Her illustrations were popular both with the Latvian community and American officers.
Circumstances were difficult at first for the Dārziņš when they immigrated into the United States. To earn money, Anna mainly colorized black-and-white photo portraits. In parallel, she painted still lifes and portraits, utilizing a bright, translucent palette. Her photographs of her paintings grew to be a major source of income.
We gain insight into Anna's life from the letters which Volfgangs and Eglītis exchanged from the Dārziņš' time in the DP camp in Esslingen until Volfgang's death in 1962, and which Anna and Anšlavs continued, discussing the business of gallery exhibitions, what artistic styles were in vogue or not. Her own style did become more graphic and abstract—being influenced as was all art by the technological progress of the late 1950's and early 1960's—but still retaining elements of realism. Of the Dārziņš life at home, we have this fragment of Eglītis' writings: "The Dārziņš' households, whether in Rīga, Esslingen, or Seattle, all looked very much the same to me... all the rooms had the same easy, slightly bohemian colors, nothing was out on display that wasn't for daily use. A pair of grand pianos maneuvered into a smallish living room, one open with sheet music scattered on its music holder,... as if someone had just played, gotten up, and left. It was hard to dispel the image that Voli was going to come through the door at any moment — a huge massive teddy-bear always in good humor — and fill the room with jokes, laughter, and all sorts of flights of imagination...."
---
Ilze Konstante interviewed Dārziņa at her home in October, 1997 and remarked it was, indeed, just as Eglītis described it, and that her hostess Anna Dārziņa was gracious and kind, happy to share her memories of times past.[2] Dārziņa died November 7, 1998, at age 87.
---
| | |
| --- | --- |
| [1] | Similar to the British parish, a local self-governing entity |
| [2] | See Anna Dārziņa. Anšlava Eglīša vēstulēs un fotogrāfijās (Anna Dārziņa. In Anšlavs Eglītis' letters and photographs). Ilze Konstante, written for "Studija", May, 2000. Retrieved July 30, 2011. Our material here (translated) is based on Konstante's article and additional information from the Latvian National Museum of Art. |
Additional reading
Valdemārs Tone savu modeļu atmiņās, Dace Lamberga, Valsts Mākslas muzejs, īpaši "Studijai" (Valdemars Tone in the memories of his models, Dace Lamberga, Latvian State Museum of Art, for "Studija"), retrieved August 2, 2012
Valdemārs Tone, at Latvian Wikipedia, retrieved August 2, 2012
---
This collection of 18 postcards of Anna Dāŗziņa folk costume illustrations was published during the "DP" (Displaced Persons camps) era by Jānis Liepiņš in Esslingen, Germany.
Costumes are a mix of by town, parish (pagasts), and region. (Updated August, 2012) We've reprocessed our original scans as larger images. Except for cropping, the scans have not been retouched otherwise to preserve the richness of their original colors.
Mouse over left/right side of image and click or use left/right arrows to navigate image groups. Click on 'X' or outside left/right of image to return.

We would like to express our thanks to Anna Dārziņa's relatives, who contacted us after our initial reproduction to indicate they had been unaware of these and welcomed her works being made available to a new generation. Please limit use to academic research and personal use only. Rights of included materials remain with the original artist and heirs. Transmission, storage, reproduction, and publication in any medium, electronic or non-electronic, and resale are expressly prohibited.