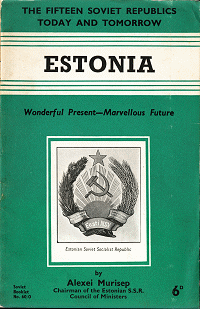 >Here we have one of the many propagandic treatises manufactured by the Soviets at the height of the Cold War repeating the tale of Baltic peoples uplifted from backwardness and economic stagnation into a modern, beneficent, enlightened future—where even "peasants" can now afford books.
Alexei "Alexandrovich" Müürisepp (Алексей Александрович Мюрисеп), born July 17, 1902 in Välta, Pöide parish in Saaremaa, died October 7, 1970 in Tartu, grew up in the Soviet Union after his father moved the family to Krasnoyarsk, Siberia in 1905. He joined the Communist Party at 24 and busied himself as a Soviet apparatchik in various party and trade union positions.
As was also the custom in Latvia and Lithuania, Müürisepp was appointed an official in the illegitimate Soviet regime to give it an Estonian face. These Soviet imports, also including First Secretaries Ivan Kebin, who had left Estonia as a child, and Eduard Päll, earned themselves the nickname "Yestonians" (yeestlased) from their typical Russian mispronounciation of the Estonian "e" as the (identical in appearance) palatized Russian "e."
More information on Estonian First Secretaries available at the Estonian Museum of Occupations, here, in Estonian.
Written in 1959, two years before Müürisepp was appointed Estonian SSR Supreme Soviet chairman, Müürisepp's account of the progress of Estonian life under the U.S.S.R. glows with pride as he writes of "my Republic": as most Soviet propaganda, it is a masterful blend of facts, half-truths, and lies. A tale to which the stark facts of history has long since given the lie, but which in a Russia clinging ever more tightly to Soviet glories is still considered more truth than fiction—certainly where official Russia is concerned.
"Estonia, Wonderful Present—Marvellous Future" was published by
Soviet Booklets, London, England, in December, 1959, as part of the series
"THE FIFTEEN SOVIET SOCIALIST REPUBLICS OF TODAY AND TOMMORROW."
We do not endorse the Soviet account of historical events or their circumstances contained therein as factual.