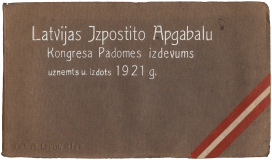 Cover
Much has been written about the ravages of WWI and Latvia's subsequent War of Independence (Brīvības Cīņas) fought against both the Germans and Bolsheviks. The photo album Latvijas Izpostīto Apgabalu Kongresa Padomes izdevums uzņemts u. izdots 1921 g. provides a stark reminder that Latvia lay in ruin at the conclusion of its fight for independence—suffering the most of any of the Baltic states. At the conclusion of WWI on Germany's western front in 1918, the year Latvia declared independence, there were already wide swaths of destruction across Latvia where every building had been burned to the ground and people's possessions destroyed. Whatever industry was not destroyed had been evacuated to the Russian interior—never to return.
Notwithstanding the occupation of Latvia by German forces, Latvia's War of Independence commenced with the invasion of the Red Army on December 1, 1918 and ended August 11, 1920 with the signing of the Treaty of Rīga between Latvia and Bolshevik Russia.[1] As the album title indicates: "A publication of the Council of the Congress of Latvia's Devastated Regions photographed and issued 1921", these pictures were taken and printed the year after. Two different albums were printed, as documented by holdings in the U.S. Library of Congress:
a smaller format album, presented here, contains 16 photographs;
a larger format album contains 48 photographs;
both feature (contact) prints 8½ x 13½[2] cm. in size.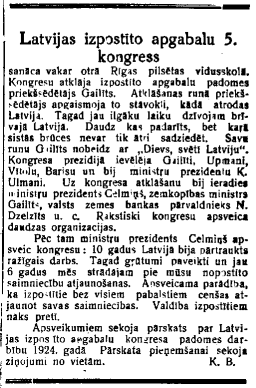 Unfortunately, the Library of Congress web site sheds little further light on the albums or their origin. We first came upon them listed as relating to the Third Reich Collection (Library of Congress) DLC, having been "presumably confiscated in Germany by U.S. military intelligence authorities, 1945-1946."[3] Our inquiry to the LOC inquiring why the albums would be incorrectly associated with Nazi Germany revealed that the LOC came into their possession as part of materials seized by the Allies in Germany after WWII. We would speculate they were likely carried by a Latvian Legionnaire[4] as a reminder of WWI, when Latvians drove both German and Russian invaders from their homeland; that the albums subsequently somehow wound up in Nazi hands and were then confiscated after the war. The Legionnaires carried Latvian flags folded under their uniforms in hope for the day Latvia would be free of both invaders—the smaller album could have been similarly and easily tucked away in one's uniform, the larger, in their rucksack.
Latvijas Izpostito Apgabalu Kongresa Padome operated from June 1, 1921 to September 4, 1934,[5] most active during the 1920's, and had under it several divisions, chief among them, child welfare. In January, 1922, together with international child welfare and Swedish "Rädda Barnen" organizations it purchased a large shipment of children's clothes which were distributed throughout Latvia. The Congress also provided aid to farmers seeking to re-establish their farms. When its own financial resources dwindled in 1927-1928, it coordinated foreign aid for child welfare. Assistance was directed where most needed, particularly Latgale,[6] which had suffered the most, having also been partly in the path of the Polish-Bolshevik war.
There appears to be very little available on the Congress on the web—mostly accounts of annual convocations of congresses, such as the one at right, reported in the March 15, 1925 issue of Latvijas Kareivis[7]: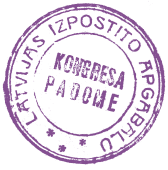 "The 5th Congress of Latvia's Devastated Regions convened yesterday the city of Rīga's #2 High School. The Congress was opened by the president of the Devasted Regions Council Gailītis. In his opening speech, the president shed light on the condition in which Latvia finds itself. Much has been accomplished, but the wounds inflicted by war are not so quickly healed. Gailītis concluded his speech with "Dievs, svētī Latviju".[8] Elected to the leadership of the Congress were Gailītis, Upmanis, Vītolis, Bariss, and former prime minister K. Ulmanis. Attending the opening of the Congress also were prime minister Celmiņš, agricultural minister Gailītis, land bank president N. Dzelzītis, and others. There were letters of salutation to the Congress from many organizations.
"After that, prime minister Celmiņš greeted the Congress: for 10 years, all productive work in Latvia had ceased; and now for 6 years already we have been working at renewing our devastated farms. Let us salute the phenomenon of those who have been devasted who—lacking all assistance—are still striving to renew their farms. Our government will reach out to them.
"At the conclusion of greetings there followed a review of the activities of 1924 by the Devastated Regions Congress Council. News from various regions was related after adoption of the review."
While we still have many unanswered questions about the albums, the photographer is less of a mystery. As we read in Baiba Vanaga's The image of artists in 20th century Latvian photography of the 1920's and 1930's (our translation, copy-edited):[9]
Mārtiņš Lapiņš (1873–1954), a self-taught photographer, opened his photography works in Rīga at No. 16. Pērnava street in 1906. In the 1920's and 1930's his photo studio was located at No. 2. Marijas street. After the Second World War, Lapiņš was employed at "Rīga's Photo."

He participated in the founding of the LFB (Latvian Photographers' Society), was an active member, presented lectures at photography courses organized by the society, and participated in various exhibitions, both at home and abroad, achieving recognition for his work. Lapiņš "can be seen as the first photographer of theatrical life in Latvia"[10] and "one of the few who at the start of the 1920's organized photographing a chronicle of film."[11]

His primary sphere of photographic work was reportage, landscapes, genres, and portraits mostly of actors, authors, musicians, and other cultural personalities.

Lapiņš most often photographed artists in a three-quarters turn showing shoulders and upper torso, for the most part with their gaze to the side—into the distance. Models are seen in normal street clothes without superfluous accessories; usually with a conventional backdrop. His formal portraits typically show the model leaning sideways off the central vertical axis. Lighting is direct and most often falls from the side, illuminating the facial portrait in full. The portraits are clear, crisp, detailed, and with precise countours.

Lapiņš' photo-portraits have his photographer's mark embossed on one of the lower corners, also showing the photo studio's address. The person's name is also occasionally written on the photograph.
We will continue to search for additional information on the albums and their intended audience. Their purpose, however, is clear: to document the ravages of war upon Latvia. Lapiņš' stark imagery delivers that message with a clarity undimmed by time.
We have restored the photographs to the best of our ability. Look also for the pre-war picture we've included from one of our other albums, of the «Hotel Segewold», before the ruins of war.
Mouse over left/right side of image and click or use left/right arrows to navigate image groups. Click on 'X' or outside left/right of image to return.
---
[1]
Estonia concluded its peace treaty with the Bolsheviks on February 2, 1920. Lithuania concluded its peace treaty with the Bolsheviks on July 12, 1920.
[2]
The Library of Congress web site indicates a slightly larger size (9 x 14 cm.) than our measurements.
[3]
Latvijas izpostitie apgabali, at the Library of Congress web site, retrieved August 4, 2011
[4]
The Latvian Legionnaires, also known as Waffen SS units, were illegally conscripted by Nazi Germany to fight against the USSR on the Eatern front.
[5]
Biographical information on individuals and organizations, retrieved August 6, 2011 at www.bigraphien.lv
[6]
Anita Trušele, Bērnu sociālās problēmas un sociālās palīdzības veidošanās Latgalē 20. gs. 20. gados, at

www.arhivi.lv, retrieved August 4, 2011

[7]
March 15, 1925 issue of Latvijas Kareivis, retrieved August 5, 2011 at www.periodika.lv
[8]
"God bless Latvia," also the title of the Latvian national anthem.
[9]
Mākslinieka tēls 20. gs. 20.–30. gadu latviešu fotogrāfijā: Tipoloģiskais aspekts, Latvian Archive, retrieved August 5, 2011
[10]
Korsaks, P. Redzamākie 20.gadsimta sâkuma latviešu fotogrāfi. Book: Zeile, P. (editor) Latvijas fotomāksla. Vēsture un mūsdienas. Rīga: Liesma, 1985. p. 72 (reference in original source)
[11]
ibid. (reference in original source)
Mārtiņš Lapiņš' works are under copyright until January 1, 2025. Latvijas Izpostīto Apgabalu Kongresa Padomes izdevums uzņemts u. izdots 1921 g. is reproduced here as a Non-Protected work of reportage under Latvian Copyright Law §6. ¶4. Our reproduction for informational, educational, and research purposes additionally qualifies under §20. and §21.