A Manual of Latvian Cooking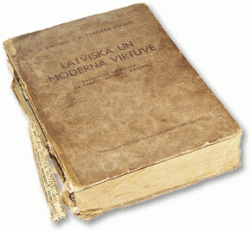 This well-worn book is another from the D.P. camp years. It's "Latviskā un Modernā Virtuve — Padomi Nama Matēm Kā Pareizi Sagatovot Uzturi" (The Latvian and Modern Kitchen — Advice for Mistresses of the House on How to Properly Prepare Sustenance), published by the "Fišbachas latviešu komitejas literatūras apgāde", that is, the Fischbach Latvian Committee's publishing arm, authored by Hilda Stabulnieks-Birziņa and Anna Švāgers-Vīksne. The title page is inscribed: "L. Auniņa" (Silvija's maternal grandmother, Lina) "Antverpē-Flensburg, 22.VII.49".
It has been nineteen years since we first translated and featured two of our favorite recipes, one for pīrāgi, aka speķa rauši—crescent shaped Latvian bacon- and onion-filled rolls, and for galerts, pork aspic. Since then, we've uncovered additional information about this cookbook.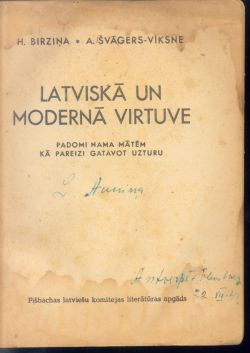 Lina Auniņa
, in Antwerp-Westerallee Displaced Persons Camp, Flensburg, British Zone, Germany, July 22, 1949.
---
A year before its voyage to America aboard the USNS
General Harry Taylor
, our family's cookbook had already traveled 800 kilometers from Fischbach in south central Germany to Flensburg, on the border with Denmark.
Latviskā un Modernā Virtuve was first published in 1936 by J. Grīnbergs
A second printing was issued in 1939
Our Fischbach DP edition was published in 1948 and is a facsimile of the pre-war publication
A second facsimile was published in the Dillingen DP camp, in 1950
Of course, having a recipe to follow isn't the only ingredient for success. Once, Silvija asked her other (paternal) grandmother, why her food came out so wonderful while Silvija's own, though quite good, and using the exact same ingredients and following the exact same steps, would somehow wind up missing that je ne sais quoi. Her answer? "You have to cook with love, not speed!"
Our favorite part of the book? If you really want to peek into the culture of Latvia eighty-five years ago, all you have to do is read the exhaustive exposition on the proper method of entertaining guests!
Silvija read through the whole book to pick out her favorites, well over a dozen in all! It will take a while to translate, if not also cook, them all. Meanwhile (as mentioned) we've got a couple of favorites, including Latvian bacon rolls, pīrāgi, that helped bring us together. (It's a long story involving the fateful phrase, "Name your price.")
"Latviskā un Modernā Virtuve" remains under Latvian copyright and is presented for personal and educational use only. Our reproduction with commentary and selected translations qualifies as part of a protected collection and a protected derivative work under Latvian Copyright Law § 5. ¶ 1. © 2021.