The Latvian and Modern Kitchen
Fischbach D.P. Camp, Germany, 1949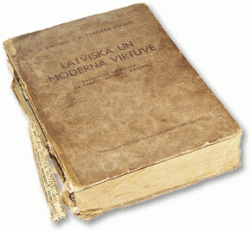 A Manual of Latvian Cooking
This well-worn book is another from the D.P. camp years. It's "Latviska un Moderna Virtuve — Padomi Nama Matem Ka Pareizi Sagatovot Uzturi" (The Latvian and Modern Kitchen — Advice for Mistresses of the House on How to Properly Prepare Sustenance), published by the "Fisbachas latviesu komitejas literaturas apgade", that is, the publishing arm of the Fisbach Latvian Committee, and authored by H. Birzina and A. Svagers-Viksne. The front-piece, inscribed in the owner's handwriting, reads: "L. Aunina" (Silvija's maternal grandmother, Lina) "Antverp-Flensburg, 22.VII.49".
Of course, having a recipe to follow isn't the only ingredient for success. Once, Silvija asked her other (paternal) grandmother, why her food came out so wonderful while Silvija's own, while quite good, and using the exact same ingredients and following the exact same steps, would somehow wind up missing that je ne sais quoi. Her answer? "You have to cook with love, not just speed!"
Our favorite part of the book? If you really want to peek into the culture of Latvia a half a century ago, all you have to do is read the rather lengthy and pedagogical section on the proper method of entertaining guests!
Silvija read through the whole book to pick out her favorites, well over a dozen in all! It will take a while to translate, if not also cook, them all. Meanwhile we've got a couple of favorites, including the Latvian dish, piragi, that helped bring us together (it's a long story!)