Peters grew up calling them mostly "speķa rauši," while Silvija grew up calling them mostly "pīrāgi", their more familiar name.

Wheat flour, 500 grams
Milk, one glass
Butter, 75 grams
Potatoes, 100 grams
Salt, "one tip of a knife"

Filling

Smoked bacon, 250 grams
Onions, 50 grams
Pepper, "one tip of a knife"
Caraway, 1/2 teaspoon
Sugar, "one tip of a knife"
Heat the milk, butter, and salt to 30 degrees C (86° F). Into the mix blend yeast [who knows how much? use fresh if available] and sifted wheat flour, forming the dough, during the kneading of which add boiled diced/minced potatoes. Take the well-kneaded dough and let it rise in a warm place, press it back into the bowl, let it rise again, then separate into about 20 equal pieces. Flatten each piece of dough, put about one tablespoon of filling into the middle, press the edges together and place it on a greased pan with the seam on the bottom, formed into the shape of a crescent moon. Let them rise again on the pan, coat with a half-beaten egg (or not), and cook in a really hot (literally, "powerful") oven for about 10 minutes. Eat hot or cold.
For the filling, cut the bacon into small cubes, then add diced onion, pepper, sugar, and caraway according to taste. If you wish, you can lightly brown the bacon with the onion.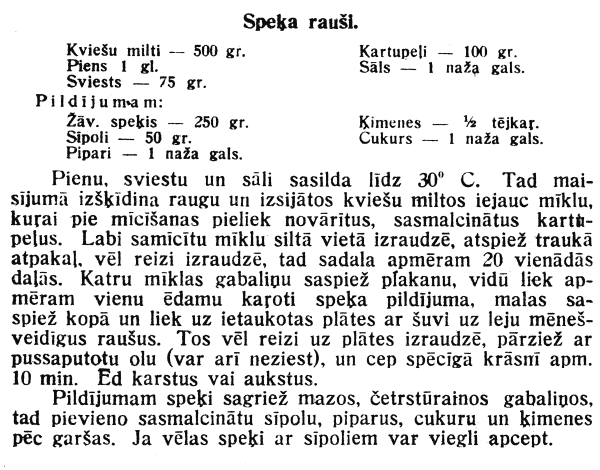 Latvian original, from page 24 of The Latvian and Modern Kitchen
Silvija's take...
Dough

1 1/2 cups milk (I use 2%, but the Latvians in Latvia would cringe!)
1 1/2 stick butter (or margarine for the cholesterol conscious)
3 tsps salt
3 tbsps sugar
3 eggs
3 packages rapid rise yeast
6 cups flour (I hope this is right....I do the flour by feel)

Filling

3 lbs bacon (I use the 40% less fat variety, again, Latvians in Latvia would cringe, but then the piragi you eat over there are filled with what they call bacon, and what I call pure fat!!)
3 pretty big, but not huge, onions (how's that for exact measurements??)
1 1/2 lbs lean sliced ham
fresh ground pepper, to taste
I always make the filling ahead of time so that it has time to chill in the fridge, this makes it much easier to work with when you're forming your piragi.
To make the filling: Dice the bacon and onions. Start cooking the bacon in a large non-stick pan, after it's good and hot, add the onion. Stir often and cook until the onions are pretty much cooked to death, but neither the bacon nor the onion should be brown. Drain in a colander (I actually give it a little rinse and then blot with paper towels; I keep trying to tell people you can make Latvian dishes without every bite dripping with fat!) Dice the ham and stir it into the bacon/onion mixture, then refrigerate
The dough (getting this right decides the success of your piragi...no pressure!): In a small saucepan heat the milk, butter, salt and sugar just until the butter melts. Remove from heat, pour into a large bowl, let cool for about 5 min. With a wire whisk, stir in the egg and yeast until the yeast is well blended. Add 1/2 the flour, again stir till well blended. Cover with a towel and allow to rise 1/2 hour. Add remaining flour, knead well (I use my hands, or Peters' when he's around, but you can cheat and use your Kitchen Aid dough hook if you must!) You might need to add a little more flour and knead until the dough no longer sticks to your fingers. Place the dough on a flat surface, cover with the bowl, throw a towel on top, and allow to rise 1 hour. Then you're ready to form them, the fun part, of course!
Cut the dough into about one inch squares. With each one, roll or pat flat, into a circle, and fill each with a very rounded (very, very) teaspoon of filling (don't be shy here!).** Fold the dough over to cover the filling, squeeze the edges shut. They should be somewhat in the shape of a crescent. Place on a cookie sheet sprayed with cooking spray, seamed side down. After all are formed, make egg-wash (beat one egg with about 1/4 cup water). Using a pastry brush, brush egg-wash over the piragi (this gives them their shiny glaze).
Bake at 400 degrees,
about 15-20 minutes, until golden brown. I mist them gently with water right when they come out of the oven so they stay moist. Enjoy!
Peters' take... Piragi are the Latvian woman's secret weapon. None can withstand their delightful onslaught!
**I should mention that Latvians complimenting Silvija's piragi always exclaim, "Oh! So much meat!"
Bon appétit!
Updated: April, 2018
Authentic pīrāgi/speķa rauši (Latvian bacon buns) recipe
"Latviskā un Modernā Virtuve" remains under Latvian copyright and is presented for personal and educational use only. Our reproduction with commentary and selected translations qualifies as part of a protected collection and a protected derivative work under Latvian Copyright Law § 5. ¶ 1. © 2020.