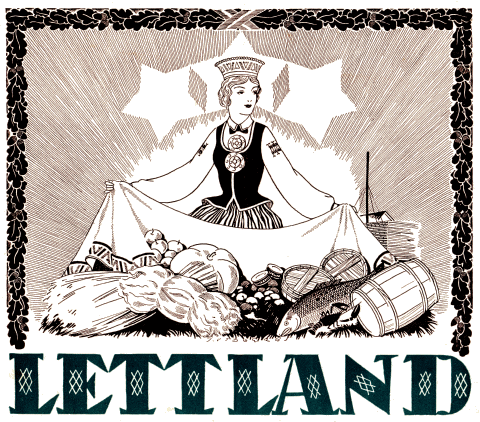 Travel guide cover.
The original measures 8 inches by 10 inches and contains fifteen pages.
Here is an official travel guide to Latvia—as indicated by its printer: Lettische Staatspapierdruckerei, Riga, L. Maskavas ielā 11., that is, the Latvian State Printers.
The guide does not indicate a year of publication; however, it does mention the year 1936, proudly announcing that the new Ķemeri sulphur baths spa sanatorium building had just opened, featuring all the latest facilities and amenities. That the war was only few years away makes these memories of Latvia's first period of independence all the more poignant. Ķemeri's subsequent history has been a microcosm of Latvia's. The invading Nazis pillaged the facility. The returning Soviets refurbished the facility, at first dedicating it to the recuperation of Red Army veterans, then later to become the spa of choice reserved for the Communist Party leadership and apparatchiks. Even today, twenty-eight years after the collapse of the USSR, Ķemeri continues to be a favorite among Russian clientele.
We have made the guide available in both digitized and facsimile formats. Below, a gallery of photographs in the brochure.
Mouse over left/right side of image and click or use left/right arrows to navigate image groups. Click on 'X' or outside left/right of image to return.
"Lettland für Reisende" (Latvia for Travelers) is a publication of the Latvian government and therefore considered a work in the public domain. The version presented here qualifies as a protected derivative work under Latvian Copyright Law § 5. © 2017.