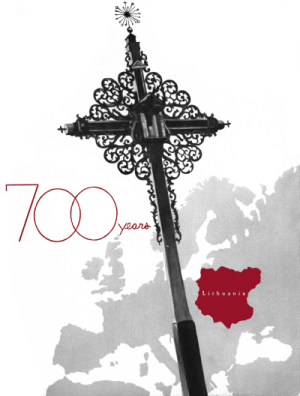 "The Festival of Lithuanian Art and Music" program cover, June 20-21, 1953
Lithuania is far older than the 20th century sovereignty of the current Lithuanian republic, celebrating its centenary in 2018, might imply.
The first historical indication of the unification of Baltic tribes is marked by the signing in 1219 of a peace treaty between Lithuania—as represented by 21 dukes as signatories—and Galicia-Volhynia. The first Lithuanian ruler to hold the title of Grand Duke was Mindaugas, traditionally regarded as the founder of the Lithuanian state, crowned King of Lithuania in 1253.
Mindaugas was also Lithuania's first Christian ruler, having been baptized in 1251. However, Mindaugas broke the peace treaty with the Livonian Order in 1261, was assassinated in 1263, after which Lithuania reverted to a pagan kingdom for more than a century.
It was only in 1386 that Lithuania's then pagan prince, Jogaila, unified Lithuania and Poland by marriage and conversion to Catholicism, becoming its first ruler—Władysław (Ladislaus) II Jagiełło.[1] Poland-Lithuania eventually grew to become the greatest kingdom of its time, stretching from the Baltic Sea to the Black Sea.
Lithuania marked its 700th "original" anniversary in 1953. That celebration, however, could not take place in Lithuania, occupied by the Soviet Union. Instead, that day was marked by the Lithuanian exile community world-wide, including an event held at the Hotel Statler in Washington D.C., consisting of an:
Art Exhibition, held Saturday and Sunday, June 20-21, and a
Banquet and Concert, held Saturday, June 20th, at 8:00 P.M.
We are proud to reproduce the 700th anniversary celebration program and congratulate Estonia, Latvia, and Lithuania on the centenary in 1918 of their independence in the modern era.
---
INTRODUCTION
Title pages
History
Committee
Events
Facsimile