The atelier of photographer Carl Anton Schulz
Our interest with what Latvia used to be like, once upon a time, is driven by that same impulse that wonders what Latvia would have been like had the Latvia our parents told us of had continued, not laid waste by three occupations and half a century of Soviet occupation. Among other attributes, a country renowned for its natural beauty.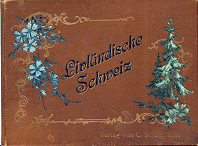 Let us turn back the clock back 120 years or so, to the latter part of the Victorian era—whose influence on design sensibilities extended even to Latvia, judging a contemporary picture album by its cover (right). This album was produced around the early 1880's by photographer Carl Schulz, who ran a successful photography business in the latter half of 19th century Latvia.
Carl Anton Schulz was born Feburary 21, 1831 (d. 1884) and was schooled as an artist. His sons also joined him in his photography business—Oskar, with a studio in Libau (Liepāja, Latvia); Arthur, in Dorpat (Tartu, Estonia); and Eduard in Rīga—the pictures of scenes of Rīga from the late 19th and early 20th century attributed to C. Schulz's studio were taken by Eduard. Their photographic atelier exhibited at the Exposition Universelle of 1900 in Paris, and at the 700th anniversary of Rīga exposition in 1901—for which their studio produced the lithographed flyer (PDF).
The stationing of Soviet troops on Latvian soil in 1939 under the terms of the Mutual Assistance Pact was widely feared as a portent of Sovietization. Carl's granddaughter and her husband left Rīga that year. Sadly, the family today has only a few pictures left of their family's photographic heritage, intertwined with that of Latvia for the half century that saw the transition from empire, through war, to independence.[1]
Carl Schulz's album is titled Livländische Schweiz—a collection of photographs of the "Livonian Switzerland," as the valley of the River Gauja (the Livonian Aa) in the area of Sigulda was known—a popular tourist destination in the 19th century.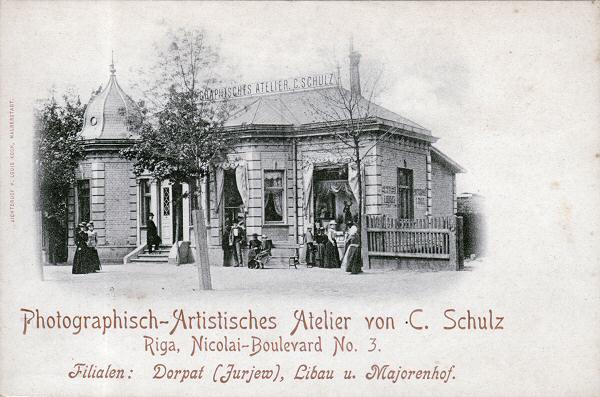 C. Schulz's studio, pictured on the back inside cover of the album, note the Victorian typeface both here and on the cover. The fine print running vertically at left indicates it was printed by V. Louis Koch, of Halberstadt, Germany. Below, the approximate size and condition of pages in the album.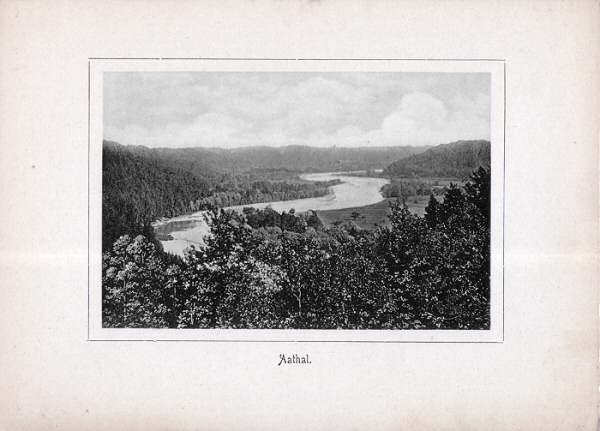 ---
| | |
| --- | --- |
| [1] | Our thanks to Dr. A. Krueger, the great-great-grandson of Carl Schulz, for contacting us after seeing the album at LATVIANS.COM to share his family history. |
The atelier of photographer Carl Anton Schulz
"Livländische Schweiz" was photographed and published by Carl Anton Schulz. Works of the 19th century are in the public domain regardless of country. Our appreciation to the Krueger-Schulz family for their interest and pride in their long family heritage in Latvia.