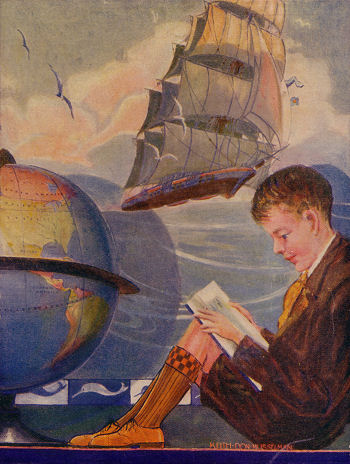 In searching for materials contemporary to the Baltics' first independence, we came across The New Human Interest Library, published by Midland Press (Chicago) in 1928. Volume V, Around the World, contains short articles on the countries of the world, among them the recently independent Baltic states.
The portrait of our youthful armchair traveler, above, appears on the cover and inside at the front of the volume. We wonder what he might have thought, reading for the first time of the far-away Baltic countries. The words of the immortal Samuel Johnson are inscribed beneath:
"Let observation with extensive view
Survey mankind from China to Peru;
Remark each anxious toil, each eager strife,
And watch the busy scenes of crowded life."
We hope you find the articles informative and enjoyable.
Reproduced from "The New Human Interest Library, Volume V," Midland Press, Chicago, Copyright © 1928. We have attempted to ascertain copyright status and have found no record of renewal. That does not verify these materials are in the public doman. They are reproduced here for personal and academic use only.