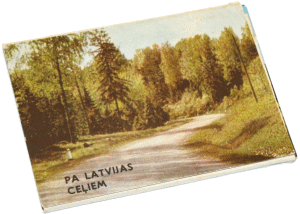 Postcard folder
This set was certainly meant to extol both the scenery of Latvia as well as road building progress under the Soviet system—judging by the popularity of highway overpasses. With the occasional car or bus wending its way towards its destination, it's a bit like a Soviet version of the 1960's television commercial of the same era inviting us to "See the U.S.A. in your Chevrolet!"
Still, there is a feeling of green unspoiled countryside, the charm of neatly tree-lined roads (with no mention it was Karlis Ulmanis' beautification project), and a sense of portraying Latvia's scenery at its best. And always those expansive blue skies and billowing white clouds.
The set was originally published by the «Liesma» publishing house, priced at 3 kapekas (kopecks) for a single card, or 51 kapekas for the entire set. Being that descriptions of the pictures are printed in Latvian, Russian, French, and English on each card, these were definitely meant for the tourist trade—fuzzy pictures, cheap paper and all. The set is nearly intact, only 3 of the 16 cards are missing. We're hoping to eventually find the rest.
The set were originally a birthday gift from Māra, Silvija's mother's close friend going back to Latvian, that is, pre-Soviet, times.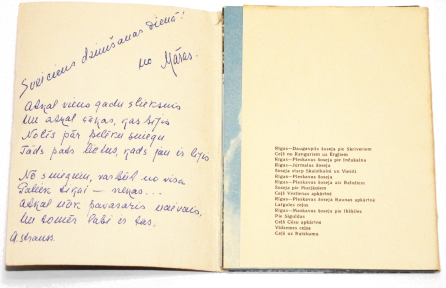 Sveiciens dzimšanas dienā, no Māras
Greetings on your birthday, from Mara
Atkal viens gadu slieksnis
Un atkal sākas, kas bijis
Nolīs pār pēleku sniegu
Tāds pats lietus, kāds jau ir lījis.

No sniegiem, varbūt no visa
Paliek tikai — nekas...
Atkal nāk pavasaris naivais
Un tomēr labi ir tas.

Another threshold of another year
It all starts over again
And on the gray snows will rain
The same rain, that already fell.

Of the snows, perhaps of everything
Remains only — nothing...
Once again naive Spring arrives
And it is good, for all that.
— A. Strauss
It's customary for Latvians to inscribe a gift with a poem to mark its time and place in one's life: that of the giver, of the receiver, often both—and so, hope eternal under Soviet rule... Spring, not knowing or caring what went before, ignorant of the present, comes once more. And it is good, for all that.
An internet search turned up another of J. Opmanis' images preserved at zudusilatvija.lv ("Lost Latvia"), a project of Latvijas Nacionālā bibliotēka, the Latvian National Library. While another "along the roads" image, it does not appear to be part of this set.
Mouse over left/right side of image and click or use left/right arrows to navigate image groups. Click on 'X' or outside left/right of image to return.
"Pa Latvijas Ceļiem" was published during the Soviet era. Photographs attributed to J. Opmanis. Our reproduction for informational, educational, and research purposes qualifies under Latvian Copyright Law §20. and §21.