As historians and cultural anthropologists remind us, language is culture. Life in the Displaced Persons ("DP") camps after World War II, primarily in West Germany, was what Latvians made it: creative, vital, treasuring and preserving their cultural identity. Even as they left the camps for a new life and dispersed into the diaspora—most families to never reunite as one again with their homeland—the power of words would continue to bind them together.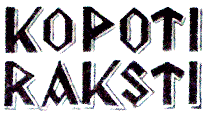 Cover graphic
Kārlis Skalbe's (1879–1945) Kopoti Raksti, "Collected Works", is typical of works published during the DP years, one of countless pocket-books for Latvians to carry their culture into exile.
It contains a fairly lengthy biography of Skalbe, though not complete—stopping around 1937, and collections of poems authored during various periods of his life. It's "Volume I" of an anticipated two-volume set, published by Auseklis in Stuttgart, 1947, authorized by UNRRA (the United Nations Relief and Rehabilitation Administration).
Skalbe was perhaps the most accomplished of all Latvian story-tellers; that gift comes through in the visions and sensations he evokes in his poetry. In the forward to the volume (our translation from Latvian):
A forward to this publication in exile.

Printing Skalbe's collected works here, in exile, our purpose is to imbue our people traveling unknown roads with something valuable to strengthen our spirit. One kind of "walking stick" which we can lean on to support us is, without a doubt, our literature; and in this case, I have chosen selections from the works of our lyric cornerstone — those of Skalbe. I have taken J. Roze's publication as the source. I anticipate completing Skalbe's biography and collecting his last works for a future final volume.

In view of the near impossibility of obtaining paper, and also to keep them from taking up too much room in our meager baggage, the volumes have been prepared in a compact format set in small type.

Honored readers, please don't judge me too harshly for any technical shortcomings; my main goal was that Skalbe's works be spread among our people, be accessible to all those who esteem him—that we need not worry about losing that part of ourselves, dragging it along our road into exile, scattering to the winds.

the Publisher.
It seemed perfectly natural we should have opened the book to this poem, from one of Skalbe's poetry collections entitled "Apple blossom time." We hope our translation communicates some sense of Skalbe's mastery of imagery:
Ziedoņa idille
Man teciņa — linu audeklis,
Uz pļavas balināt klāts.
Es eju par viņu sapņodams,
Un tu pie rokas man nāc.

Spīd zālē bezdelīgactiņas
Un pieneņu ziedu zelts,
Un debess pār zemi nolaižas
Kā zilgans zīda telts.

Ap baltiem namiem ābeles zied,
Plaukst vārpas tīruma,
Un smiedamies mūsos noskatas
Mazi bērniceļmalā,

Zalē iebriduši,
Pirkstiņus mutē ielikuši.
A Spring idyll
My trail — a bolt of linen,
Lain out over the meadow to bleach in the sun.
I stroll upon it, dreaming,
And you come and take me by my hand.

The primrose glistens in the grass
And the dandelions' blossoms gold,
And the heavens settle down upon the land
Like a silken azure tent.

About the white houses, apple trees blossom,
The long grasses flower in the clearing,
And giggling as they look upon us
Toddlers by the roadside,

Waded into the grass,
Little fingers in their mouths.