Appendix 5
The Latvian "People's Government" Deports Minister of War, General J. Balodis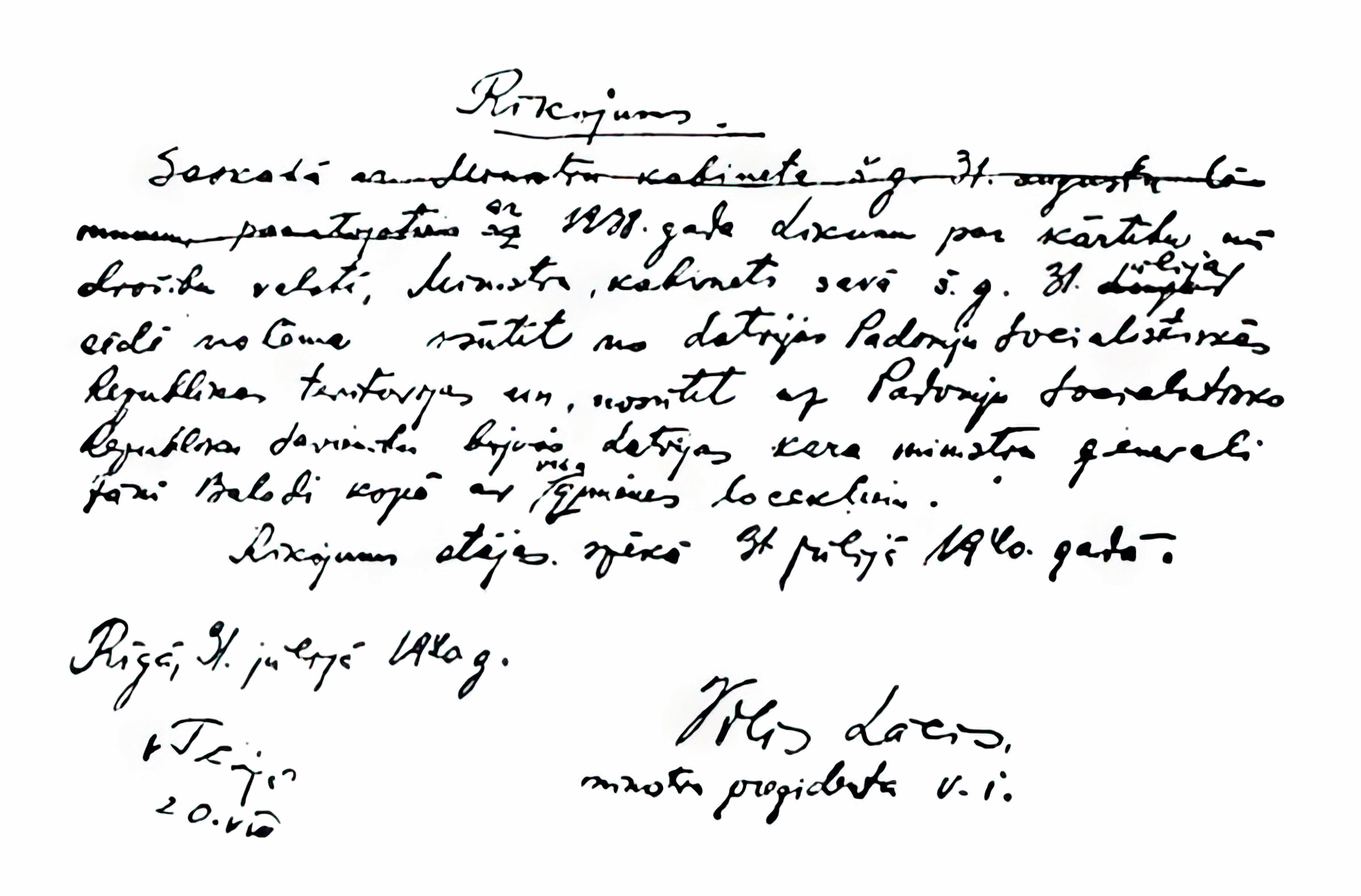 Prior to the large-scale deportations on June 13 and 14, 1941, of Latvian citizens, many Latvian statesmen and prominent official persons and politicians were arrested and deported by individual orders. The above is an example of such an order, issued on July 31, 1940, by V. Lacis who was Vice-Premier and Minister of Internal Affairs of the then Latvian "People's Government". The order refers to the deportation of the former Minister of War, General J. Balodis.
[Our translation follows...]
Edict.
In accordance with the Cabinet of Ministers' resolution of 31. August of this year based on with the 1938 law on order and national security, the Cabinet of Ministers in its 31. [August] July session this year resolved to eject from the Latvian Soviet Socialist Republic territory and deport to the Union of Soviet Socialist Republics the former minister of war Janis Balodis together with his family members.
This edict takes effect July 31, 1940.
Riga, July 31, 1940
[the text below is unclear and appears
to be in different handwriting]
Vilis Lacis
acting Ministry President
[v.i. meaning acting in the position of]
Many Latvian citizens who had been condemned or had simply been missing, were afterwards exhumed from secret NKVD mass graves. The shooting of the victims was executed without a previous court sentence, on the ground of a simple order. Appendix 7 shows the last page of a list containing the names of 78 executed Latvians and, at the end, a remark written in Russian and signed by S. Shustin, Commissar of NKGB: "Considering the social danger they represent, all must be shot." S. Shustin. June 26, 1941.
Copyright © 1982, The Latvian National Foundation. The Latvian National Foundation, Box 108, S-101 21 Stockholm, Sweden, retains all rights. Materials from "These Names Accuse" reproduced by express permission. For personal and academic research use only. Republication is prohibited.