Appendix 15
Satellite Photo of Labor Camp Location
A strict regime prison is located several hundred kilometers east of Moscow in the city of Wladimir. The prison maintains special complexes for political prisoners.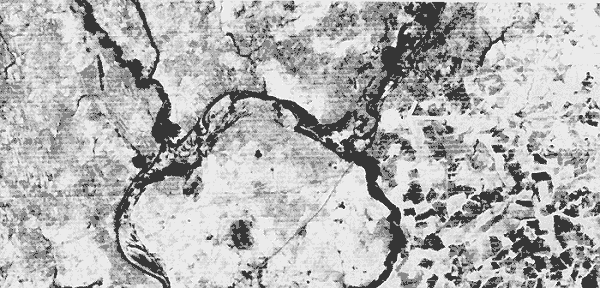 April 21, 1978
Gunars Rode is one of many freedom fighters who has been confined to this especially inhuman place. 1966, he was sent to Wladimir prison for two years because he had allegedly influenced other prisoners in a Mordovian labour camp with anti-Soviet propaganda. In Wladimir prison, Rode suffered through malnutrition caused by insufficient food rations. He was sent there again in 1970 to serve a three year sentence. From 1975 to 1977, Rode served his third term in Wladimir prison. The satellite photo is made during his last period of imprisonment.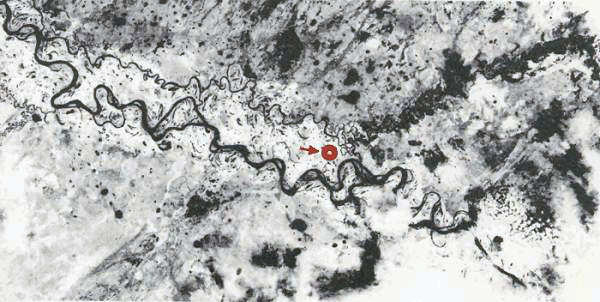 May 4, 1979
During deportations or imprisonment, thousands of Latvians were transported back and forth along Siberia's mighty Ob river. Working as slave labourers, they died of torture, disease, cold and hunger on the banks of this waterway.
Ruta U. (Upite) whose diary "Dear God, I wanted to live!" was published recently in the West, was deported at the age of 14 together with her younger sisters Maija and Dzidra to the vicinity of the Ob in 1941. Her mother and grandmother died there from the extreme conditions imposed on them through forced exile. Ruta U. was kept in the vicinity of Kolpashevo township[1] until 1946. In 1951, together with her father and sisters, Ruta was sent here again.
---
[1]
We checked satellite images of the area today indicated in the lower satellite photograph. While there is nothing where marked, a search along the northern bank of the Kanerovskaya River several kilometers northwest outside Kolpashevo itself uncovered the ruins of some sort of building complex. Otherwise there is nothing but tundra in every direction, punctuated only by tiny hamlets.

Satellite view of some sort of former building complex on the Kanerovskaya River.
Updated: December, 1969
Copyright © 1982, The Latvian National Foundation. The Latvian National Foundation, Box 108, S-101 21 Stockholm, Sweden, retains all rights. Materials from "These Names Accuse" reproduced by express permission. For personal and academic research use only. Republication is prohibited.