Latvian National Foundation, second edition, 1982
Appendix 8
Surviving the Forced Labor Camps to Return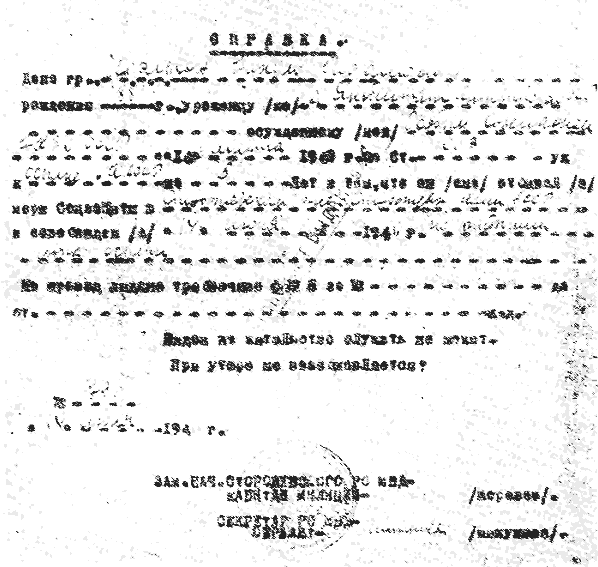 After deportation, the deportees were in some cases sentenced for insubordination from 5 to 25 years' imprisonment in the forced labour camps. The certificate reproduced was issued to a Latvian citizen, deported on June 14, 1941, after he was dismissed from the Storozhevsk camp in the Komi region where he had spent 5 years of settlement to which he was condemned for insubordination. Cases of release of deportees and convicts after they had done their time are extremely rare.
Appendix 6, Deportation trains
Appendix 7, "All must be shot"

Appendix 8

, Release certificate

Next 

Appendix 9, Baltezers victims (photo)
Appendix 10, Dreiliņi mass grave (photo)
Appendix 11, Prison yard corpses (photo)
Appendix 12, Slave labor camps (photo)
Appendix 13, 1st edition, List of names
Appendix 14, Prison system (satellite view)
Appendix 15, Wladimir prison (satellite view)
List of Names, Key to list
List of Names, First page of list (facsimile)
List of Names, Pages listing those taken
Copyright © 1982, The Latvian National Foundation. The Latvian National Foundation, Box 108, S-101 21 Stockholm, Sweden, retains all rights. Materials from "These Names Accuse" reproduced by express permission. For personal and academic research use only. Republication is prohibited.