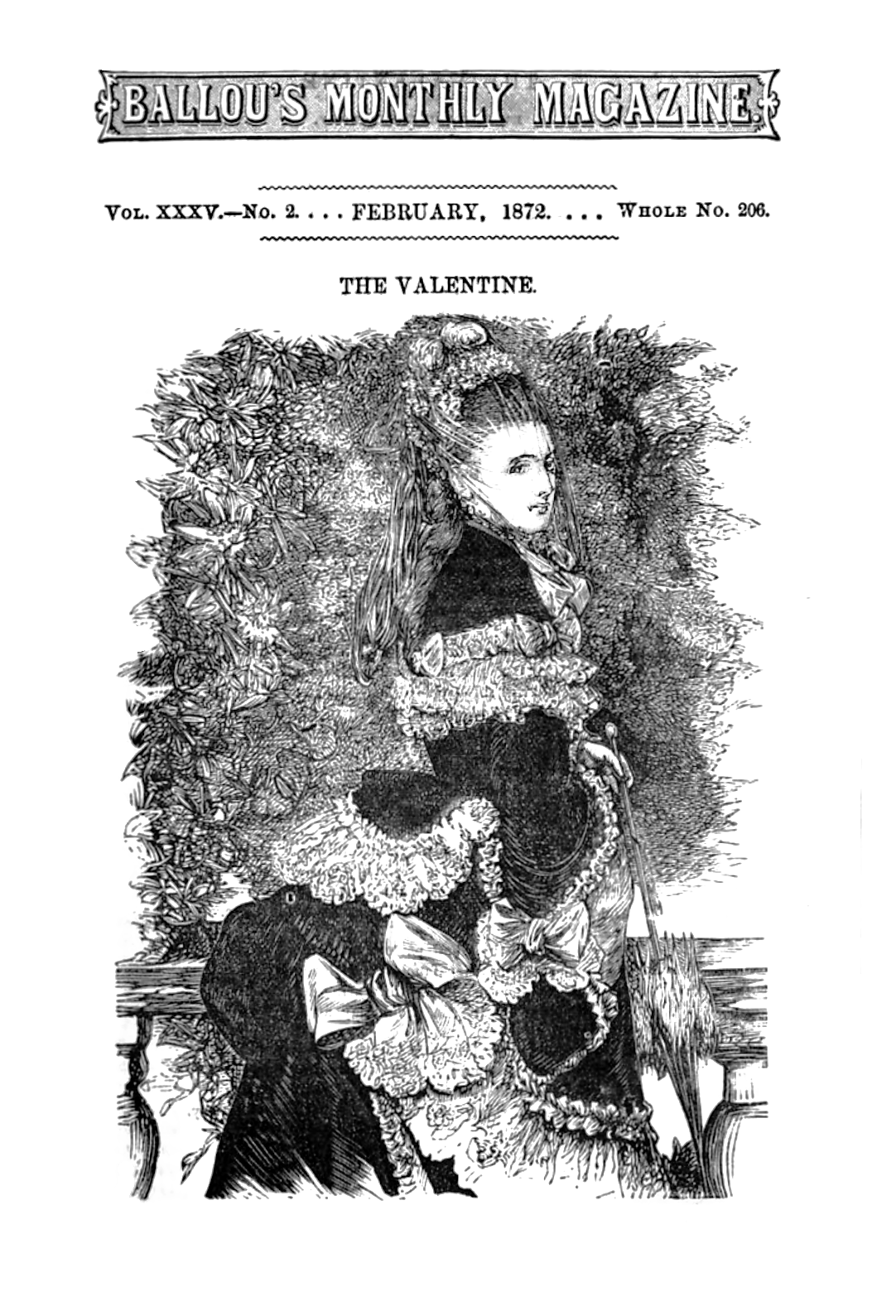 February 1872 cover page
Ballou's Monthly Magazine
Maturin Murray Ballou (1820–1895) wrote his first piece for a local weekly paper while still in his late teens and went on to become a notable author and publisher in Boston. From 1859 or thereabouts to 1893, he published a monthly magazine under various titles: Ballou's Dollar Monthly, the Dollar Monthly, and lastly Ballou's Monthly Magazine commencing in 1866, where we came across the article "The Town of Riga" in the February issue of 1872.
Our interest in the article was piqued by mention of its illustration of Rīga's harbor. We were disappointed, however, when we recognized it as a cropped version of an illustration already on our web site, published in The Illustrated London News edition of May 15, 1847, "Foreign Corn Ports — Riga". Moreover, when we returned to this article to add notations, we discovered that its contents came from an earlier more extensive article in Volume XIV of the "Penny Cyclopaedia," [1], itself based on an 1817 three-volume history of Livonia.
Despite its quarter-century old illustration and half-century-old content, the article still provides an informative summary of Rīga near its zenith as the second largest port of the Russian empire and of the history, geography, fauna, and inhabitants of Livonia—today's Estonia and Latvia. Ballou's readers of the time certainly came away knowing more about the region and its people than before.
Maturin Ballou
Maturin Ballou was the son of Hosea Ballou, first president of Tufts University. From the 1903 "New Standard Encyclopedia"[2]:
Ballou, Hosea (ba-lö´), an American Universalist clergyman, journalist, and historian, born at Halifax, Vt., Oct. 18, 1796; was the first President of Tufts College (1854–1861), and was very successful as editor of the "Universalist Magazine." He wrote "Ancient History of Universalism" (1829) and a hymn book (1837). He died at Somerville, Mass., May 27, 1861.

Ballou, Maturin Murray an American journalist, son of Hosea Ballou, born in Boston, April 14, 1820. Besides editing "Ballou's Pictorial," "The Flag of Our Union," "Ballou's Monthly," etc., and making a valuable compilation of quotations, he wrote "History of Cuba" (1854); "Biography of Hosea Ballou," "Life Work of Hosea Ballou." Becoming in later life an extensive traveler, he wrote a number of books of travel, including "Due West," "Due South" (1885); "Due North," "Under the Southern Cross," "Footprints of Travel," etc. In 1872 he became one of the founders and the editor-in-chief of the Boston "Globe." He died in Cairo, Egypt, March 27, 1895.
Ballou's Due North cataloged his travels across Scandinavia and Russia. Contemporaneous reviews extolled Ballou's "vivid" and "authentic" accounts, commending Due North "alike for for its novel information and for its constant fascination." Unfortunately while Ballou made it to Cronstadt, the port for St. Petersburg, he did not travel on further to Rīga.
Ballou's Monthly Magazine
---
| | |
| --- | --- |
| [1] | Society for the Diffusion of Useful Knowledge. The Penny Cyclopaedia of the Society for the Diffusion of Useful Knowledge: Limonia - Massachusetts, Knight, 1839. LINK first published in 1839, with subsequent editions. |
| [2] | Colledge, W.A. and Dole, N.H. and Hagar, G.J. The New Standard Encyclopedia, University Society, 1903. LINK |
Pages 109-110, "Ballou's Monthly Magazine, Volume XXXV From January to June 1872, Number 2.—February, Boston: Thomes & Talbot, Publishers, No. 63 Congress Street. Our annotated presentation qualifies as part of a protected collection and a protected derivative work under Latvian Copyright Law § 5. ¶ 1. © 2020