Latviešu Trimdinieka Kalendars, 1947
Latvian Exiles' Calendar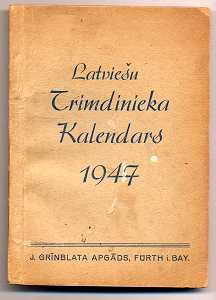 Having finished our first project to bring These Names Accuse to the web, we considered what else would be of interest. When Peters picked up the "Latvian Exiles' Calendar 1947" from the bookshelf upstairs at his mother's house, it seemed as good a place as any to begin sharing historical artifacts. Not only for its preservation of events, including a calendar of historic events, births, and deaths, but especially for its pictures and poetry longing for home.
Ever-practical as Latvians are, it also includes other features, such as names' days, an 1801-1980 perpetual calendar and time zones for major cities.
It's our sense that there is very little available on the web that speaks directly to the personal experiences of this period, of life in the DP camps. We hope this is at least a small start in presenting a window into that time in the life of our parents and of the collective Latvian past.
OUR INTRODUCTION TO THE WORK