Masthead of the Latvian soldiers' newspaper in Zedelgem POW Camp,
Laika Griežos
(Through the Ages)
in mimeograph purple.
"Most Latvian soldiers in Germany were at first kept in British prisoner-of-war camps in Germany. In the fall of 1945 most of them were transferred to a POW camp 2227 at Zedelghem in Belgium. They had naively expected the Western Allies to understand the reasons why they had fought on the side of the Germans. Instead of understanding, they at first received beatings, and occasionally they were used for live target practice by the guards. They were released during 1946 when the Western Allies concurred that the Latvians were not Nazis despite their SS uniforms."
— Visvaldis Mangulis in Latvia in the Wars of the 20th Century
Zedelgem is a microcosm of the Latvian experience in World War II.
Latvians only seeking to free their homeland after multiple invasions labelled and treated as Nazis, their self-help organization, Daugavas Vanagi being denounced by the Soviets as a Nazi front—charges of Nazism that still echo today.
The story of how Zedelgem came to be is the story of the Baltics of World War II. The town of Zedelgem is now working to save and preserve for posterity the last remaining bits of POW camp 2227 so that the story of what happened there can be told for generations to come. A story which above all else eloquently tells of the Latvian spirit and will to survive.
The project to preserve Zedelgem consists of several efforts. First is preservation of this, and other camps in the area, an effort supported by the town council. There is also an initiative to recognize the Flemish soldiers who also fought communism on the Eastern front—of course, this is more problematic, as Russia still officially denounces anyone who is anti-Soviet in WWII as a Nazi. Finally, there is a private initiative to publish a history of the the camp, the town, the events, and the history surrounding them. Together, these will be a lasting memorial to to both Flemish and Latvian soldiers who died at the Eastern Front.
We have been privileged to have been contacted to assist with this project in translating materials. We have been given permission to reproduce those here and will add them as work progresses.
POW camps in and around Zedelgem
Camp 2227, which was generally used for Baltic soldiers, was not the only camp in the area. Camp 2226 was used for Germans; other Zedelgem camps were used for other nationalities or for segregating POWs by military rank. Following is page from an inventory of POW camps which includes Zedelgem—the POW population across all camps totaled 63,459, including more than 16,000 in Camp 2227.

21 Army Group was under Field. Marshall Montgomery commanding.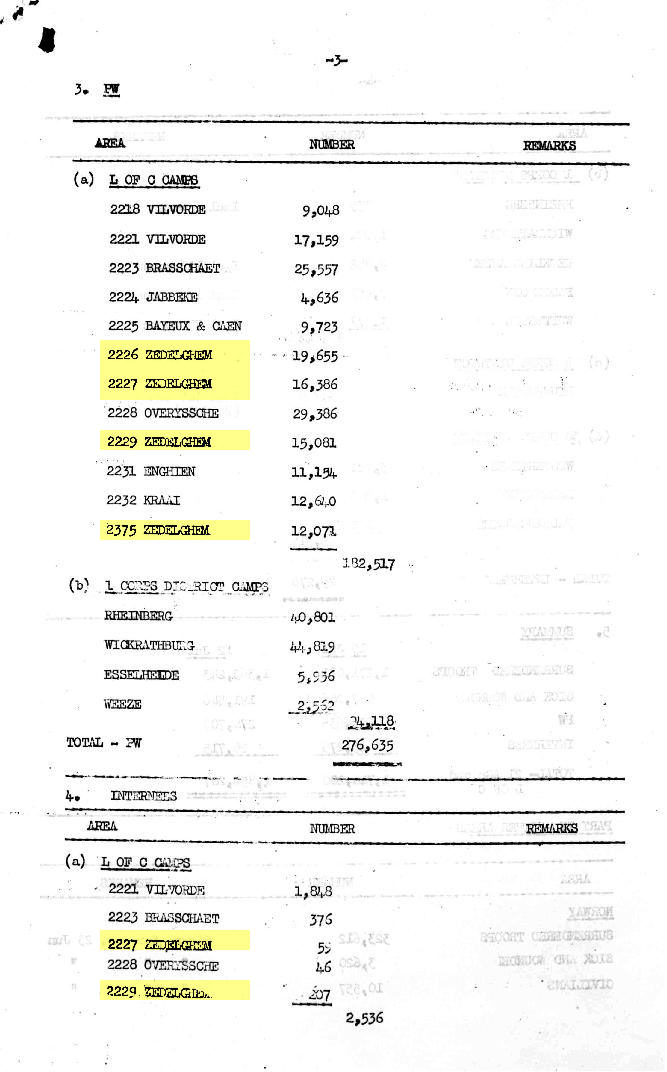 We have resurrected the "official" Zedelgem POW camp web site www.zedelgem-pow-camp.be with new content. Unfortunately its original content was lost; it has only been partially captured at archive.org (in Dutch, Google translate works reasonably well).