Latvian Mailer
December 20, 2013
Along with consolidating and adding to our content in this, our 15th year, we're also bringing back our Latvian Mailer after an extended hiatus. General news coverage and awareness of Latvia has increased significantly since we first launched our mailer on AOL as part of our weekly "Lat Chat" reminder. We ourselves now feature current news feeds covering Estonia, Latvia, Lithuania, including any mention of the Baltics on RT.com, formerly Russia Today, the official Russia state media outlet. We plan to focus our mailer on
examining media portrayal of Latvia and Latvians, and
keeping an eye on geopolitical developments "at home."
Our more immediate plans, however, are to get ready for Christmas, including baking an extra large batch of pīrāgi aka speķa rauši. And so, we'll simply close with our warmest wishes to everyone for a very Merry Christmas and Happy New Year! And offer a greeting from seasons past.
| | | |
| --- | --- | --- |
| Priecīgus Ziemassvētkus! | | |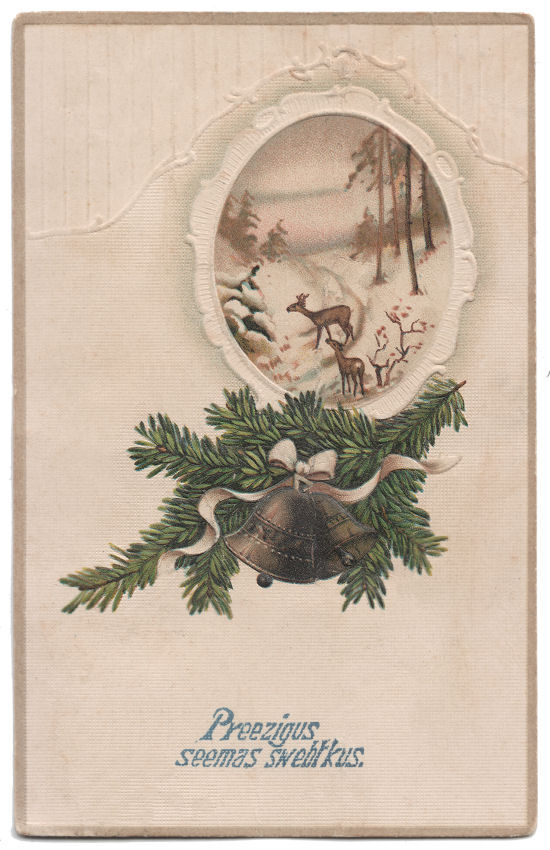 Merry Christmas, originally posted in 1912, 101 years ago, before creation of the modern Latvian
orthography
and before adoption of the Gregorian calendar—that is, Christmas came 13 days early.