| bit.ly/lvm2017
Sveiki, all!
Personally, we're still dumbfounded by anyone whose heritage includes the peoples who suffered half a century of post-WW2 Soviet occupation and domination having voted for Trump. We have been following Russia's war on Crimea and eastern Ukraine closely since those began. Now, we find ourselves worrying about Putin's next targets, particularly if President Trump eases or lifts U.S. sanctions unilaterally.
For our old-time readers, we're hoping to return to at least a semi-regular publishing schedule. Keep up with our Twitter feed (at left, or on mobile via the hamburger icon) for breaking news.
In this issue:
Ar visu labu,
News
Holocaust Remembrance Day: LA man shares harrowing story of survival
"Rumbla" represents the largest two-day killing of people in the history of Latvia. For a deeper dive into history, we recommened Prof. Andrew Ezergailis' essay, "Rumbla: A Perspective on the Perception of the Holocaust" LINK
For most of his life, Joseph Neustadt couldn't bring himself to talk about his teenage years during the Holocaust.
It was only when he and his family watched the 1993 film "Schindler's List" that he began to share his memories. The Latvian-born Neustadt, the sole survivor in his family, now speaks freely about those four horrific years and has even shared his story to high school and college students.
"God kept me alive and chose me to be a witness," the 89-year-old resident of the Los Angeles Jewish Home's Eisenberg Village in Reseda tells them.
Friday is International Holocaust Remembrance Day, which was designated by the United Nations General Assembly to commemorate the memory of the roughly 6 million Jews and 5 million non-Jews killed by Nazi Germany more than seven decades ago.
"These next few years will kind of be the last chance we have to hear Holocaust survivors' personal narratives," said Jordanna Gessler, the Los Angeles Museum of the Holocaust's director of education. "We have these eyewitnesses who can teach us so much about what it means to persevere and to survive and to be resilient individuals, and it also speaks to the firsthand accounts of humanity's vast destruction and cruelty."
Neustadt recently recalled the joyous celebration of his bar mitzvah, a Jewish rite of passage, as a 13-year-old boy in his hometown of Riga, Latvia, in June 1940. By the following year, the Nazis had taken over this tiny northern European country, killed thousands of Jews and burned down all but one synagogue, he said.
His family was forced out of their home and sent to live in a Jewish ghetto outside the capital. One frigid morning in the main ghetto, after his father and brother had left with the other slave laborers for the day, Neustadt's mother and two sisters survived a mass, indiscriminate shooting by the Nazis.
Later, after thousands of people were rounded up and taken to mass graves in the Rumbali forest to be executed, Neustadt's mother forced him to escape one night to the "small ghetto," a separate fenced off area where his brother and father were kept, by crawling under the barbed wire fence. Within days, his mother and two sisters were rounded up with the others in the main ghetto and sent to the forest.
"We never saw them again," Neustadt said.
Neustadt, his brother and father were later sent to the concentration camp Kaiswerwald in Latvia. There, they had to strip, form a single line and were directed to go to either the right or the left, just as portrayed in "Schindler's List," he said.
The Nazi soldiers examined Neustadt's father and sent him to the left, which Neustadt only later learned meant almost certain death.
Neustadt and his brother were then sent to another concentration camp, Stutthof, where hundreds of people were gassed each day, before they were sent to a city in Poland to work 12-hour days building tracks for the railroad.
"We were still hoping one day to be free and live a normal life," he said.
One of his most difficult days was in April 1945 when the Nazi guards, frightened by Russian bombs, crowded him and his brother into a cargo ship..
"I saw how the guards took live people and threw them overboard because there were so many people," he said.
The guards then abandoned them a few hours from the German shore, telling them they would be blown up by mines beneath them. However, they made it safely to land and were soon liberated by the British Army. His brother Jacob died 11 days later from typhus, leaving the then-18-year-old Neustadt "all alone."
He moved to the United States in 1954 after living in Canada and now enjoys an active life at the Los Angeles Jewish Home, where he belongs to a social group of Holocaust survivors, volunteers in the mail room and receives regular visits from his children.
"I'm very happy here," he said.
Beware of Fake News: Europe's Eastern Front Warns West
Russia has been waging so-called "hybrid" warfare throughout the post-Soviet period. Its main characteristics are military aggression on the ground in "support" of "legitimate" social and political movements, backed by a broad and well-financed propaganda campaign to promote that "truth." This has been a Kremlin tactic dating back to Yeltsin and Russia's intervention in Moldova's Trans-Dniester region.
(Bloomberg) -- From the corner of the former Soviet Union where cyber warfare erupted almost a decade ago, one leader has a warning for his allies in western Europe after U.S. intelligence services accused Russia of hacking the presidential election.
Hybrid attacks using propaganda and false news narratives now represent a danger to this year's elections in France and Germany, according to Latvian Prime Minister Maris Kucinskis. His nation of 2 million people has watched hackers target its Baltic neighbors, and has firmly backed European Union sanctions after Russia aided separatist rebels and flooded Ukraine with fake news.
"Our arguments didn't resonate" until these tactics appeared in Germany and elsewhere last year, Kucinskis said in an interview in Riga, Latvia's capital, on Tuesday. "There's been a tendency to spread disinformation, to engage in hybrid warfare. Considering the upcoming elections in France and Germany, I'm not very optimistic that things will suddenly change."
Those votes could be pivotal in deciding the course of European politics in the wake of the populist revolt that heralded Brexit, undermined the Italian government and propelled Donald Trump to the White House. Closer to home for Latvia, leaders in Poland and Hungary are ha anti-establishment forces to challenge the EU mainstream.
The three Baltic countries, which border Russia, were unwilling members of the Soviet Union and broke from Moscow's rule in the early 1990s, eventually joining the EU in 2004 along with other former communist states. They have been warning that Russian President Vladimir Putin may deploy techniques he used in Ukraine to sway voters in western Europe.
The Baltic region has fallen prey to cyber warfare before. In May 2007, many Estonian government, media and banking websites were repeatedly rendered unavailable for hours due to attacks overwhelming servers with requests. The nation's then-president blamed the assault, which followed the relocation of a World War II memorial, on the Kremlin; Russia denied involvement. In Lithuania, the Defense Ministry said in 2015 that an army website had been targeted by hackers posting false information on military exercises in the region.
Cyber Security
"We've paid a lot of attention" to cyber security, Kucinskis said. "Our defense system has developed very strongly" and is integrated with NATO.
Germany is taking precautions in case a campaign similar to that seen in the U.S. is mobilized, Steffen Seibert, spokesman for Chancellor Angela Merkel, said this month. The same groups that hacked the Democratic National Committee in the U.S. are active in France, the country's cyber-security watchdog said in December.
In Latvia, the prime minister also warned of the power of Russia's state-controlled television channels, which can be hard to compete with because of lavish funding and easy availability, even beyond their home country's borders. "Russian TV channels provide information really professionally," said Kucinskis, 55, who became premier in February last year. "They have interesting and exciting content, and a lot of shows, and films."
There's concern in other parts of eastern Europe too. The Czech government has set up a center to fight false information and propaganda, identifying phony reports in the media and on social networks, and working alongside police, army and secret services. It began operating at the end of last year.
Accusations Denied
Putin has denied accusations of a Russian hacking campaign aimed at bolstering Trump. He said it was a case of the losing Democrats looking for someone to blame.
While the Baltic states are cautious on the prospects for Trump's presidency, they're also raising military expenditure as members of the North Atlantic Treaty Organization. Trump called the alliance obsolete, though Kucinskis said he doesn't see American military commitment to the region wavering. Attempts to seal closer ties with Putin are "normal," he said.
Kucinskis said Latvia will meet NATO's spending goal of 2 percent of economic output next year, and didn't rule out following neighboring Estonia by going even higher. If circumstances change militarily, the country would act, he said. "For that kind of priority, of course, we'll find the money," Kucinskis said.
--With assistance from Ladka Bauerova
'Droneboarding' Adds to Winter Fun in Latvia
Even RT, the Russian state (propaganda) news service featured this story.
Still a work in progress, the tech project could also be used in search and rescue operations thanks to the drone's lifting power.
A Latvian tech company has created a drone prototype that could change extreme winter sports and, potentially, other industries too. A brainchild of the Latvian specialists at the company Aerones, the drone is three meters (nine feet) long, has 16 propellers, and, if fitted with tow ropes with handles, can pull up to four snowboarders at a time, AFP writes.
Speaking about the project, Aerones CEO Janis Putrams told AFP that it had been in the making for two years, and started out with a small, two-propeller drone.
"But the idea was always to build something big, to see how much power it could have. Luckily in Latvia we have both great engineers and great winters, so it's ideal for droneboarding," Putrams told AFP.
There are, however, several caveats. Although the drone can reach a speed of up to 150 kilometers (94 miles) per hour, higher speeds render piloting more difficult. Additionally, the drone is battery-powered, which restricts its flying time to only 10 minutes. Finding a way to extend its life would ultimately also increase its potential uses.
"We could use it to lift someone from the roof of a burning building, or a hose could be sprayed on parts of a fire that would be inaccessible to ladders," Putrams said, adding that his company is seeking partnerships with search and rescue and firefighting organizations to further develop the project.
A few months ago, a drone developed by Aerones pulled a wakeboarder along the river Daugava near the city of Ogre in central Latvia, ALTUM writes. Wakeboarding involves riding a small, thin board on the surface of a body of water.
Neighboring Estonia has also been turning to drones, in this case to boost its surveillance capabilities, faced with Russia's increased militarization.
Trump Says It's 'Very Early' To Discuss Lifting Russia Sanctions
Lithuania already circulated a booklet on guerilla warfare tactics some months ago in preparation for a possible Russian assault. If Trump unilaterally lifts sanctions, it will encourage further Russian aggression against its neighbors, NATO members or not.
WASHINGTON -- U.S. President Donald Trump on January 27 said that it is premature to discuss the possibility of lifting sanctions against Russia, though his senior adviser said earlier in the day that such a move was "under consideration."
The comments by Trump and Kellyanne Conway came one day before Trump's first postinaugural telephone call with Russian President Vladimir Putin and amid speculation in Washington that Trump could remove sanctions imposed by his predecessor, Barack Obama, over Moscow's interference in Ukraine and alleged interference in the U.S. presidential election.
At a joint news conference in the White House with Britain's visiting Prime Minister Theresa May, Trump brushed off a question about the possibility of lifting sanctions on Russia.
"As far as the sanctions, very early to be talking about that," Trump told reporters following his talks with May, his first face-to-face meeting with a foreign leader since his inauguration last week.
Earlier on January 27, Conway was asked in a television interview whether the issue of sanctions would be "on the table right away."
"All of that is under consideration," Conway said.
At his news conference with May, Trump said that he hopes to have a "fantastic relationship" with Putin, while conceding that this might not occur.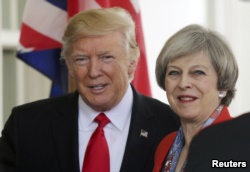 U.S. President Donald Trump greets British Prime Minister Theresa May as she arrives at the White House in Washington on January 27.
May, for her part, said U.S. and EU sanctions should stay in place pending full implementation of the Minsk accords aimed at bringing an end to the conflict in eastern Ukraine, which has killed more than 9,750 people since April 2014.
"We believe the sanctions should continue until we see that Minsk agreement fully implemented, and we've been continuing to argue that inside the European Union," she said.
Washington has been awash in speculation this week that Trump is closely examining the possibility of removing sanctions against Moscow over its annexation of Ukraine's Crimea territory and backing of armed separatists in eastern Ukraine.
The reports triggered a backlash of criticism from some Republican lawmakers, including U.S. Senator John McCain, the Republican chairman of the Senate Armed Services Committee.
In a critical statement on January 27, McCain vowed to pursue legislation that would cement sanctions against Russia into law if Trump tries to lift the punitive measures.
"For the sake of America's national security and that of our allies, I hope President Trump will put an end to this speculation and reject such a reckless course," McCain said. "If he does not, I will work with my colleagues to codify sanctions against Russia into law."
Because Obama used executive orders to impose several waves of sanctions to punish Russia for its 2014 annexation of Ukraine's Crimea territory and its backing of armed separatists in eastern Ukraine, Trump could undo these measures with his own executive orders.
But legislation to enshrine the sanctions in law would tie Trump's hands in the matter, and lawmakers could override any White House veto should such a bill garner sufficient support in both houses of Congress.
Another Republican senator, Rob Portman of Ohio, also backed the idea of putting the sanctions into law, saying that lifting the punitive measures would send "a dangerous message."
"We must stand by our allies in the region, including Ukraine," Portman, co-chairman of the Senate Ukraine Caucus, said in a January 27 statement.
Asked whether Russia would have to change its ways in order for the United States to ease sanctions -- a reference to Moscow's intervention in Ukraine and Syria -- Conway said that Trump "will call out other nations when he believes [what they are doing is] not in the American interest, in the interest of humanity."
"But that's what these conversations are for, these private conversations with world leaders," she said.
Conway spoke after Putin's spokesman, Dmitry Peskov, said that Trump and Putin are due to speak by phone on January 28.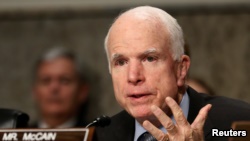 U.S. Senator John McCain: "I hope President Trump will put an end to this speculation and reject such a reckless course."
The White House confirmed that and said Trump will also speak to German Chancelllor Angela Merkel and French President Francois Hollande.
The Reuters news agency quoted an unnamed source in Berlin as saying that Merkel's conversation with Trump is expected to focus on Russia.
Peskov said the Putin-Trump call is expected to be held late in the day Moscow time. He stressed that it is an initial contact, saying that "one should hardly expect that this phone call will involve substantive discussions across the whole range of issues."
Peskov said that he has no information about the possibility of an order from Trump lifting sanctions.
In a separate appearance on CBS, Conway said that Trump and Putin are likely to discuss the fight against Islamic militants among other issues.
"I assume they will discuss, in the interests of their respective countries, how to come together and work together on issues where you can find common ground and where these two nations could maybe defeat radical Islamic terrorism," she said.
Trump has praised Putin and voiced hope for improvements in relations with Russia, which have been badly strained by Moscow's seizure of Crimea and support for separatists in a war in eastern Ukraine, as well as what U.S. intelligence officials say was Russian interference on Trump's behalf in the U.S. presidential election.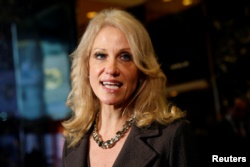 Kellyanne Conway: Trump "will call out other nations when he believes [what they are doing is] not in the American interest, in the interest of humanity."
Asked about rumors that Trump is considering an order to lift U.S. sanctions against Russia, Peskov said that he has no information about it.
The White House said after Trump was sworn in that defeating "radical Islamic terror groups" will be the top foreign policy priority and that the United States will "pursue aggressive joint and coalition military operations when necessary" to achieve that goal.
Speaking about the planned phone call on the CBS program This Morning on January 27, Conway said: "I assume they will discuss, in the interests of their respective countries, how to come together and work together on issues where you can find common ground and where these two nations could maybe defeat radical Islamic terrorism."
Speaking at a news conference in December, Putin cited Trump as saying that Russian-U.S. relations couldn't be worse and added: "I agree with him. Together we'll think about how to improve things," Putin said.
Russian Foreign Minister Sergei Lavrov said that U.S. and Russian interests "obviously coincide" and that Moscow is ready to consider concrete proposals from the Trump administration.
"Let me remind you that [Putin] called 18 months ago for the formation of a full-fledged, universal front for fighting terrorism, and this initiative is still on the table," Lavrov said on January 23.
In his January 27 statement, McCain said Putin "will never be our partner in fighting" Islamic State militants and accused the Russian leader of being a "murderer and a thug who seeks to undermine American national security interests."
McCain is a vocal hawk on Moscow who has repeatedly been accused by the Kremlin of stoking anti-Russian sentiment.
Trump and Putin last spoke after the November 8 election, when Putin called to congratulate Trump on his victory.
Meanwhile, in Berlin, a German government spokesman declined to confirm that Chancellor Angela Merkel was likely to speak on the telephone with Trump on January 28.
Ulrike Demmer, a deputy government spokesman, told reporters that such telephone conversations are only confirmed after they have taken place.
Earlier on January 27, the Reuters news agency quoted an unnamed source in Berlin as saying Merkel and Trump will speak on the phone and that their conversation is expected to focus on Russia.
Latvian minister of foreign affairs calls [for] abolishing visas for Ukrainians this year
Good news on fostering closer ties between the Baltics, Ukraine, and Georgia.
Minister of Foreign Affairs of Latvia Edgars Rinkēvičs during the annual foreign policy debate in the Latvian Parliament (Saeima) on 26 January 2016 stated about the support for Ukraine and Georgia this year.
An Ukrinform correspondent learnt this from the Latvian ministry's press service.
"This year we need to finally introduce the abolition of short-stay visas for citizens of Georgia and Ukraine entering into the Schengen zone," Rinkēvičs said.
He also recalled that Latvia "firmly stands for the territorial integrity of the countries of the Eastern Partnership and their right to choose their own destiny¨.
---
External content is reproduced herein under fair use for purpose of commentary. Links are provided to original content. Links to ARCHIVE.ORG are included in case content is no longer available at the original link.