| bit.ly/lvm2017
Sveiki, all!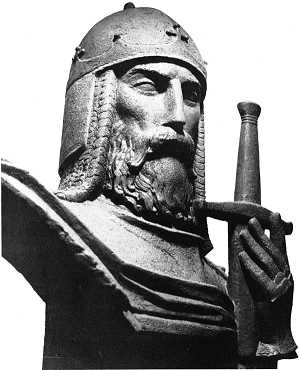 Bust of Mindaugas featured in Lithuania's 700th anniversary celebration festival program (1953)
Our congratulations to Lithuanians everywhere on the 99th anniversary, February 16th, of Lithuania's independence in the modern era! Estonia celebrates its 99th later this month, Latvia in November.
In honor of Lithuanians keeping their culture and dreams of freedom alive during the Soviet era, we are pleased to have just added to our site the program for the 1953 Festival of Lithuanian Art and Music, celebrating the 700th anniversary of the founding under Mindaugas of the first Lithuanian state, the Kingdom of Lithuania, in 1253.
LATVIANS.COM SITE LINK bit.ly SHORT LINK
This edition's news continues to focus on the crisis in eastern Europe. We also include pointers to stories on economics and tourism.
In this issue:
Ar visu labu,
Baltic Link(s)
Although the ancient Prussians, of the same Baltic tribes as the Latvians and Lithuanians, are no longer with us, they were central to the early history as the West knows it of central eastern Europe, even repelling invaders with pagan spells as late as the 16th century. However, the language—thus culture—had largely vanished by the early 18th century, the ancient Prussians having been assimilated into the Germans and Lithuanians. Their land known in the Roman empire for its abundant amber, Tacitus' amber-trading "Aesti" refers to the ancient Prussians (not to be confused with the Eesti, the Estonians' name for themselves). Despite their tenacity, they ultimately succumbed to repeated invasions and wars over the centuries, ones which continued over their homeland even after they were gone. Post-WWII Russian Kaliningrad is now all that remains.
More reading at Deep Baltic:
The Old Prussians: The Lost Relatives of Latvians and Lithuanians
@ARCHIVE.ORG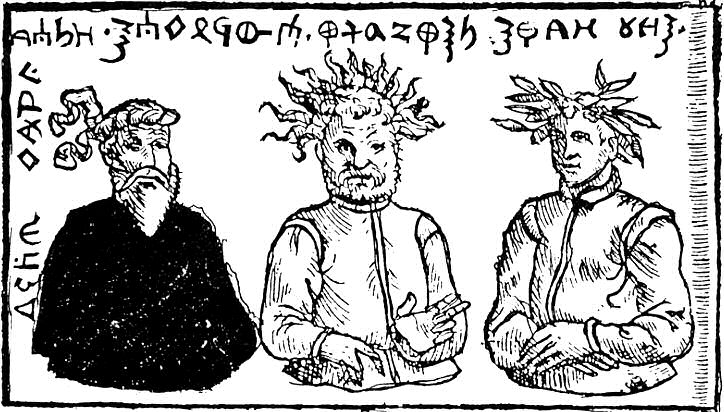 The ancient Prussian deities Patrimps, Parkuns, and Patolls @ WIKIMEDIA COMMONS
Our next link is to the fascinating story of how an entire collection of candid pictures from the end of the Stalin era in the Soviet Union came to light.
"The family of former U.S. Army Major Martin Manhoff invited Seattle-based historian Douglas Smith to take a look at some photos. Manhoff had been posted to the U.S. embassy in the Soviet Union from 1952 to 1954, and he had shot some colour photos while there. In boxes that had lain almost untouched for 50 years, Smith was soon gazing at a treasure trove of rare candid images from one of the most closed societies in human history."
The article includes a small selection of Manhoff's images, including Stalin's casket passing by during his funeral procession. Reminders of our own families' past under Soviet rule.
More reading at:
An uncensored look behind the Iron Curtain: Long-lost images of Stalinist Russia snapped by a U.S. diplomat
@ARCHIVE.ORG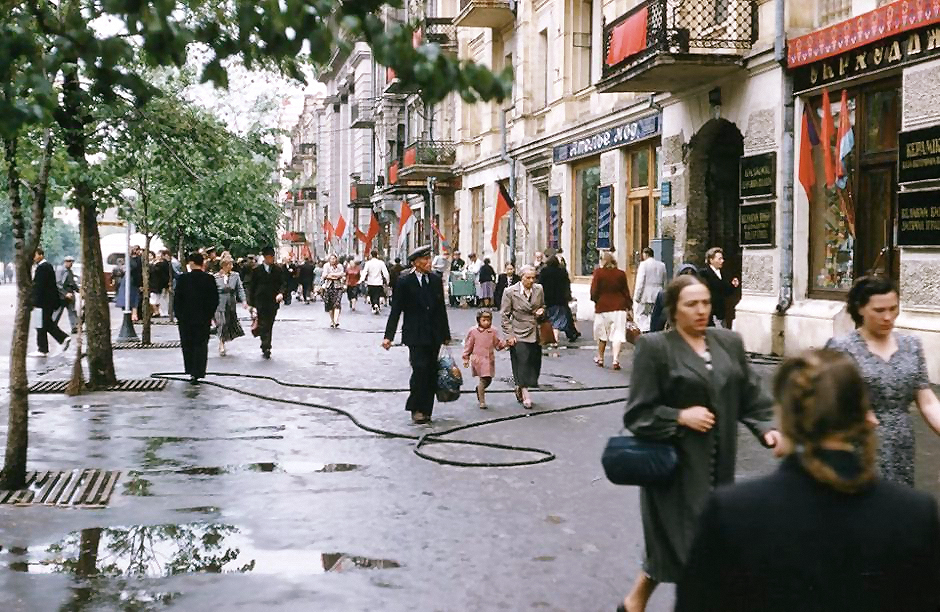 The streets of Moscow, mid-1950s, from the article
News
Putin planning to send 100K troops to Baltic border for drills?
The Baltics are rightly concerned over Putin's sabre rattling scheduled for autumn this year—as many as 100,000 Russian troops conducting exercises along their southern flank. These would be the third in the series of "Zapad" (Russian for "West") exercises. However, the prior ones in 2009 and 2013 were significantly smaller. For example, Russia indicated at the time that the 2013 exercises mobilized 10,000 troops—although some analysts did put the number closer to 70,000.
Such moves by the Kremlin only fuel further tensions and distrust, proving Russia is a threat to its neighbors, particularly as it has recently escalated its war against Ukraine.
You can read the full story at the link, above.
Britain begins deporting immigrants who have no registered residence or job
Similar to the step-up of deportations in the U.S., Britain has stepped up its deporation of immigrants, in the U.K.'s case, assuming that anyone who did not respond to the Home Office's inquiry is homeless and therefore deporatable.
"Four Latvian nationals are currently in one such immigration removal center in Portland, Dorset. One of them, Gvido Osins was detained by the British police more than a week ago after he was unable to produce an official rental agreement, and the British authorities consider him a homeless person.

"There is no information as to where we could seek help. They only gave us documents we had to sign to confirm that we wanted a free ticket to Riga and that we would be banned from entering Great Britain for one year. I don't even know who made the decision. This is not a court decision that I have to be deported to Latvia," Osins told LNT. [Latvian National Television]
This action appears to have been sudden and without any public warning or chance to reach out for assistance, since neither the Latvian Foreign Ministry nor Latvian Embassy in London have received any calls for help.
You can read the full story at the link, above.
Belarus introduces visa-free travel for 80 countries
As the Belarussian-Russian bromance continues to disintegrate, Lukashenko opens the doors to the West, introducing fice-day visa-free travel for 39 countries, including the entire EU and, for Estonia and Latvia, its "stateless" and "non-citizens," that is, residents who immigrated during the Soviet era, are legal residents, but have chosen to not naturalize. A number of conditions do apply: you must "cross the border" at the Minsk National Airport, have proof of funds to pay for your stay, and proof of medical insurance valid in Belarus.
You can read the full story at the link, above.
Programmer Days Commence in Latvia [IN LATVIAN]
Latvijā sākas programmētāju dienas
The Latvian Information and Communications Technology Association (LICTA) in conjunction with Latvian higher education institutions has organized "Latvian Programmers' Days" activities, to take place from February 13th through 17th. It will consist of a high-level conference, as well as creative workshops where students, professionals and other interested parties will be able to try out the latest technology.
Topics and issues explored will include the Internet of Things (IoT), Artificial Intelligence, and Big Data. Workshops will be held in Rīga, as well as in Jelgava, Liepāja, Pāvilosta, Aizpute and Saldus.
You can read the full story at the link, above.
Quadrilateral meeting of prime ministers of Ukraine, Latvia, Lithuania, and Estonia to be held in spring
The prime ministers of Ukraine, Estonia, Latvia, and Lithuania will be meeting in Kyiv some time this spring. Ukraine regards the Baltic states as "reliable partners."
You can read the full story at the link, above.
Tax burden in Latvia the heaviest in Baltics - Swedbank Institute of Finances
To people in other countries, a decrease of three-and-a-half euros a month owing to a lowering the monthly income exempt from income tax may seem paltry. Yet the minimum wage in Latvia, for example, has only gone up by 10 euros a month, to 380 euros—meaning that wage earners see less than two thirds of that increase.
Workers in both Lithuania and Estonia are in better shape, earning the same or greater minimum wage but with substantially higher levels of monthly income being exempt from income tax.
You can read the full story at the link, above.
Visitor number at tourist accommodation establishments in Latvia up by 1 million
The number of tourists overnighting at accommodations in Latvia rose 7.7% in 2016 over 2015, up by one million since 2010. The average stay was just under two nights. The largest number of visitors came from Russia, followed by Germany, Lithuania, and Estonia.
The article includes a number of statistical graphs and a detailed table of visitors by country.
You can read the full story at the link, above.
Latvia won't surrender to threats
Given the importance of Foreign Minister Edgars Rinkevics's opinion piece, we are reproducing in full. Originally carried in the U.K. Telegraph.
The country is not just a consumer of security, it also a contributor and is on the front line in a new conflict that puts the whole of West at risk.
We are used to unpredictable weather on Europe's front line. But now we Latvians see storm clouds gathering over our friends and allies too. Established beliefs about the rules-based international order on which our prosperity and freedom depend have been challenged. The result is the most severe test to the transatlantic alliance in our lifetime. It affects both Britain and Latvia — countries that share a common outlook, common values and common interests. We both consider the United States as our most important security partner.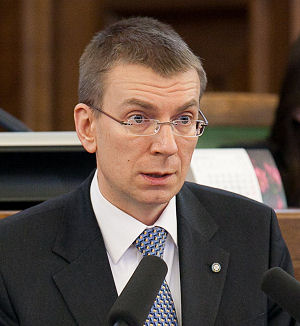 Latvian Foreign Minister Edgars Rinkēvičs
PHOTO BY LATVIAN SAEIMA
This year is the centenary of America's entry into the First World War — and the beginning of America's role as a European security power: A happy alliance of common values and common interests. For my country, America has always been a beacon of hope. The world's most powerful country was the best chance of defeating the Soviet regime. It also epitomised the world's most important ideas: Liberty, the free market and the rule of law. Even in our darkest hours, we believed that those ideas would one day triumph. Like you, we continue to believe that Euro-Atlantic security is indivisible. There is no such thing as "Baltic security".
Russia's toxic cocktail of cyberattacks, subversion, propaganda, economic pressure and military intimidation is a threat to every member of the NATO alliance. We are reassured by the language we hear from senior figures in the US administration. America's greatness stems not just from its strength at home. The US has more allies than any country has ever had. We are proud to be among them.
America is quite right to expect its European partners to do more, and we will rise to that challenge. We are rapidly increasing our defence spending, to reach the NATO target of 2 per cent of gross domestic product by 2018 — a level which the United Kingdom already meets. We appreciate Britain's increased commitment to European security. The main part of Britain's enhanced presence in the frontline states is in our neighbour, Estonia.
But we will give a warm welcome to the British personnel who come to Latvia for forthcoming military exercises. No one in Britain should be fooled by Russian propaganda: NATO is not recklessly "ramping up" its presence in its frontline member states. Nor are we hotheads eager for conflict. On the contrary, we have the most to lose. Our allies' presence on our soil is not an aggressive move: It is simply a deterrent. Deterring attack is the best way of ensuring peace.
As we approach our centenary of statehood next year, we remember the sacrifice of the British soldiers and sailors whose service in the Baltic region at the end of the First World War was crucial in pushing back the German and Russian forces, which wanted to snuff out our newly won independence. Another lesson of the World Wars is that a shot in a Balkan backstreet, a bunch of thugs gathering in a Munich beer hall, or a deal made by big countries over the heads of small ones, can have fateful consequences. We should learn those lessons. We are not a "far away country", in Neville Chamberlain's dreadful phrase, of which the British people "know nothing".
We have welcomed thousands of British tourists to Latvia since we regained independence in 1991. They appreciate the architecture of Riga, our music and our tranquil, unspoiled forests and shores. Many have stayed: The Anglican church in Riga, built on imported British soil by merchants 160 years ago, has a thriving British and Commonwealth community. Thousands of our people have gone to the UK to study, work and invest. We have six daily flights between Britain and Latvia. My message to my British hosts during my visit this week is this: We are determined to stay free and safe.
In Riga, a NATO centre of excellence for strategic communications is developing world-class abilities to deal with the "trolls" and "bots" that infest social-media platforms such as Facebook and Twitter. Our Baltic neighbours Estonia and Lithuania have their own specialisms, too. We are not just consumers of security, we are also contributors — including to our friends in the United Kingdom.
Cory Booker calls Putin cause of global terror, slams Trump for 'cozying up' to him
Senator Cory Booker (Democrat, New Jersey), delivered a withering criticism of Putin, Russia, and of Trump for "cozying up." Booker is quoted regarding his meeting with the ambassadors of the Baltic countries:
I sat down with ambassadors from Baltic countries, Estonia, Latvia, Lithuania yesterday. And see the fear that their country has because they are experiencing serious Russian interventions trying to undermine their democracies. This is one of the worst actors on the global stage, that is doing very serious things, now not just globally where the European Parliament is taking action, but also here in the United States and we need to treat it that way.

I do not understand, I have no explanation of why our president seems to be cozying up to someone who is causing so much global chaos and terror, violence and crimes. I do not understand.

There is no explanation possible for why we should be doing this. What we should be doing is right now is stepping up our actions against Russia, whether it be added sanctions, or more continued support for those literally trying to defend themselves from Russian encroachments like the Ukraine.
You can read the full story at the link, above.
Sports
Inside the High-Flying World of Estonian Extreme Swinging
Estonia is truly a country for swingers. No, not those with loose morals. "Kiiking," the Estonian sport of extreme swinging, involves going around a full 360 degrees. Frankly, bungee jumping looks tame by comparison. Worth reading just for the pictures of the colossal swings the Estonians are building.
You can read the full story at the link, above.
Picture Album
This edition's picture is an homage to Rīga's Jugendstil (German Art Nouveau) architecture. If you look closely, you'll notice the chains, reminiscent of the heroic Važu rāvēji, "Chain Breakers," later incorporated in the Freedom Monument motif by that name.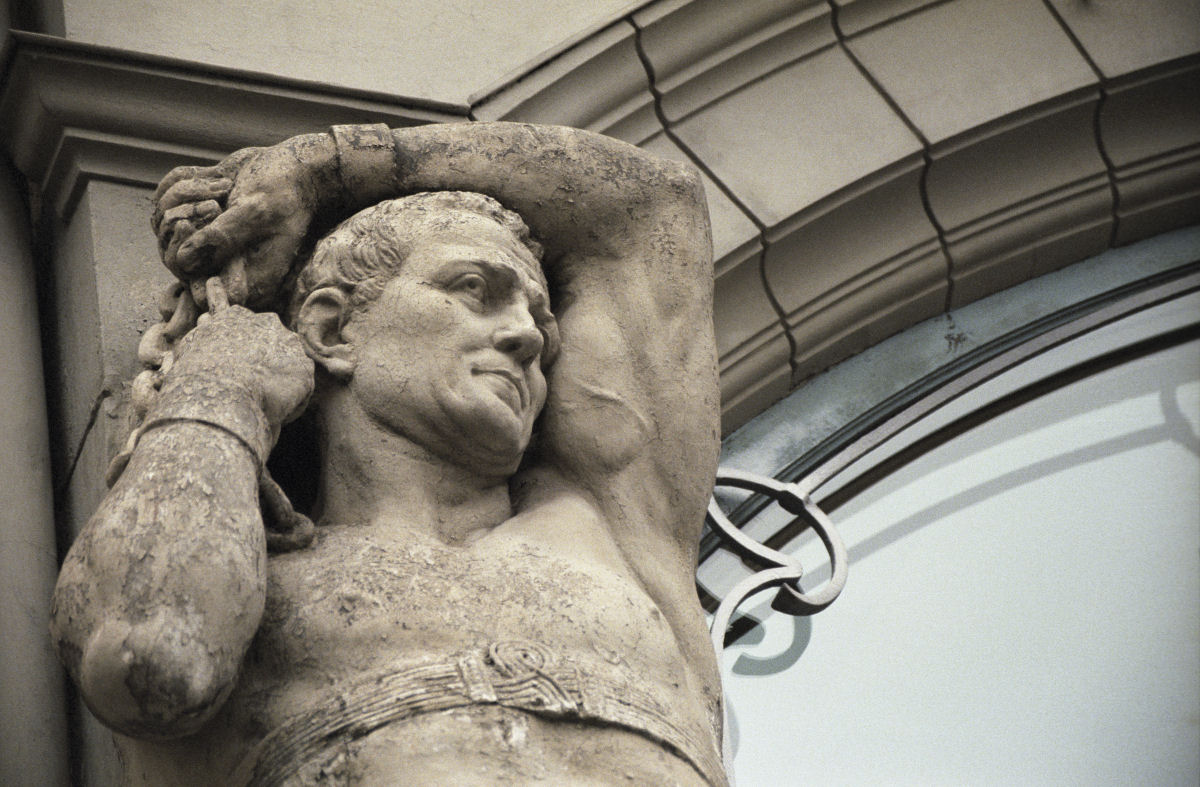 Jugendstil artistry in Old Rīga, a male figure
---
External content is reproduced herein under fair use for purpose of commentary. Links are provided to original content. Links to ARCHIVE.ORG are included in case content is no longer available at the original link.