| bit.ly/lvm2017
Sveiki, all!
First and foremost, our congratulations to Estonians everywhere celebrating the 99th anniversary of the founding of the Republic of Estonia, celebrated this Friday, February 24th!
NATO, Russia's war in Ukraine and threat against the Baltics, global geopolitical uncertainty over a maverick media-phobic U.S. president, were all in the news again. The Kremlin's aggression against its neighbors appears constant as the North Star—regimes change, but never their behavior. Indeed, not long ago Putin declared that Russia knows no borders. We are just as unsurprised that U.S. news services are now consumed with speculation on how deep Russia's penetration of the Trump campaign and administration goes.
As an antidote, this issue's news has a more local flavor, including some articles translated from Lithuanian- and Latvian-language sources.
In this issue:
Ar visu labu,
Baltic Link(s)
The Estonian Institute includes an English-language web site with numerous articles covering a wide range of topics about Estonia. Well worth exploring!
News
British soldiers given guide to strip clubs while taking part in NATO training exercise in Estonia
UK NATO forces training in Estonia received a booklet, "Tallinn guide for friendly forces." Information for off-duty soldiers includea where to find strip clubs with attractive dancers, how much to tip them, and whether or not private are available. The BBC uncovered the guide's existence during the course of a Freedom of Information request.
In fairness to NATO, Tallinn strip "baars" are prominently featured on Estonian tourism web sites and mainstream guides. For the curious, doing a Google search for "city plus 'strip clubs'" shows New York and London leading the pack in web popularity:
City
"Approximate"
Matches
New York
3,520,000
London
3,050,000
Paris
2,380,000
Tokyo
1,310,000
Copenhagen
405,000
Stockholm
413,000
Riga
192,000
Tallinn
108,000
Vilnius
51,000
You can read the full story at the link, above.
Latvia earned EUR 8.5 mln from Estonians' alcohol purchases
Continuing somewhat in the same vein as our first story, besides being a popular destination for stag parties, Latvia appears equally attractive for booze tourism. Clearly, Latvians are not consuming all the alcohol being purchased in-country:
[An] average of 50 liters of beer, 13 liters of cider, 10 liters of vodka, 7 liters of long drinks, 6 liters of wine and 5 liters of spirits other than vodka per head of population was bought in Latvia last year.
Indeed, while Finns travel to Estonia for cheaper liquor, Estonians travel to Latvia.
We can't say this is the best image for Latvia to project on the world stage, but it does attract sorely needed revenue into state coffers.
You can read the full story at the link, above.
The penalty imposed on Ušakovs for tweeting in Russian and English is upheld
On the one hand, we have to give credence to the statement that conveying information to the public only in the official language disadvantages Russophones. On the other, from our own experience interacting with Russians in Latvia, it has become quite clear to us that anyone who has not learned Latvian in the last twenty-six years since the collapse of the Soviet Union has no desire to do so. We have taken a sample language competency test; it covers the basics of daily living, no more.
Naturalizations peaked at 10,000 to 20,000 a year in the late 1990's and early 2000's in both Estonia and Latvia. In more recent years, the rates of naturalization have totalled no more than 1-2,000 a year. There were 987 naturalizations for 2016 in Latvia. Estonia publishes its detailed population report later in the year.
The Vidzeme District Court of the city of Rīga left as-is the decision of the director of Riga State Language Center (VVC) to fine Mayor Nils Ušakovs ("Harmony" party) a total of 140 euros for conducting municipal communication activities in social networks also in foreign languages—Russian and English. TV channel LNT carried the news on Monday. One can conclude from the judgement that the local government must only use the state language in communicating with residents on social networks.
Ušakovs had appealed the Center Director's decision in court, however, the court concurred with the opinion of the VVC. Nevertheless, it is still possible to appeal the judgement, and Ušakovs has also indicated that he plans to do so.
State Language Law stipulates that state and local authorities convey information intended for public only in the official state language, with exceptions only in individual cases—in a foreign language.
"Those are the explicit demands of the law, yet also from the from the human point of view—if we want to involve the person beside us who speaks a different language, for example, a Russophone, we in no way help them integrate, we are only strewing boulders in their way, in the path to integration," remarked VVC Deputy Director Ingrīda Berziņš.
This is the first ever judgement in the Latvian courts concerning municipal communication in social networks.
As reported, the VVC also launched proceedings in an administrative violation case in connection with the "Job Shadow Days" event [February 15th][a] held at the Rīga City Council, when Ušakovs answered participants' questions in Russian.
Reader's Comments
The guardians of the Latvian language attack the Russians, but don't even notice that the Latvians themselves don't speak Latvian anymore.
---
| | |
| --- | --- |
| [a] | "Job Shadow Day(s)" is a popular career event during which students "shadow" professionals in a day or more in their workplace to get a better sense of the day-to-day activities and responsibilities of the jon. |
| [b] | Ušakovs is the grandson of Russian Red Army general who retired in Soviet occupied-Latvia after WWII. He is regarded as allied with the Kremlin, including supporting Russia's annexation of Crimea. Prior to his career in politics, Ušakovs was a Russian journalist. |
A picture posted by the city of Rīga, not with the article, of Job Shadow Days at the Rīga city police. Our translation of the caption.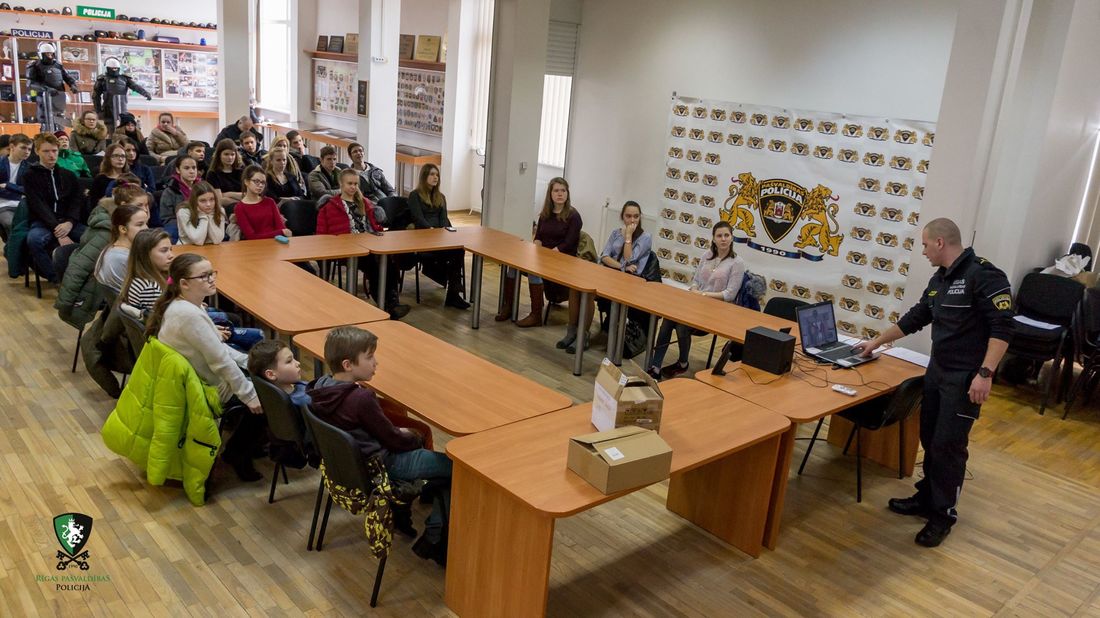 38 students familiarize themselves with the work of the Rīga city police during job Shadow day. Among the "shadows" was also a girl from Gulbene who had gotten up at 5:00 in the morning to travel to Rīga.
A Latvian woman describes how she has already been living on public assistance for 15 years; working is not convenient
One can fault this woman for living on public assistance, yet this is a story not unfamiliar to other countries, small and large. Efforts in the U.S. to force welfare recipients to work fail—as in Latvia—because of "all or nothing" support for the impoverished. The safety net exists and functions only at the very bottom. With no universal day care, no universal health coverage, without housing assistance for those getting on their feet, not only is there is no benefit to working, but getting a job will materially worsen their condition. The problem of the "welfare state" is not that it exists, but that support does not materialize until individuals and families have lost everything.
Doing nothing is far more convenient than working, a 38 year old town inhabitant admitted to the LTV1 broadcast "Studio 4." The woman has been subsisting on assistance already for 15 years and doesn't intend to work at all. Her poverty status entitles her to significant relief—living in a communal home, support for child care—and so, in her mind, it's more convenient to not work.
"When you start working, they then tell you: perhaps you can go to live somewhere else [leave the communal house]... that's of no use to me at all," the woman confesses in an anonymous interview.
The woman, whose family include a young child growing up, reveals that her parents had been very industrious people. "You could never spend a day sitting at home," she says of her old life.
One more bonus, which perpetuates her poverty status, is a 24x7 day care center. "I sleep. My child is in day care kindergarten. I relax... That's all, that's how I live," she says.
She began subsiding on assistance when she was 22 years old, she is now 38. Nor does she intend to work in the future, because she has come to understand, she doesn't want to. "If I work, I will immediately lose my poverty status. That's one thing. Immediately, I no longer received anything. [Past tense in the original indicating she did work at some point. — PJV], the rules are that I can no longer receive anything anymore from the parish [meaning local government, as in Britain — PJV])."
For our Latvian-speaking readers, the article video, "A lifetime on welfare," follows.
<
Prime Minister Saulius Skvernelis visits Germany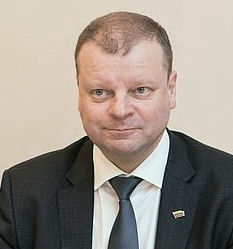 Lithuanian Prime Minister Saulius Skvernelis
Credit:
Saeima
-
Ināra Mūrniece tiekas ar Lietuvas premjerministru
,
CC BY-SA 2.0
,
Link
Prime Minister Saulius Skvernelis arrived in Berlin Wednesday evening, where he will meet on Thursday with German Chancellor Angela Merkel to discuss the European Union (EU) agenda, energy and security issues.
This meeting is a microcosm of the degree to which problems have supplanted progress as a primary focus of the European Union. The lack of strong and persistant resistance to prior Russian aggression until the fall and annexation of Crimea has come home to roost. Even now, the EU's growing energy dependence on Russia only ties the EU's hands and dilutes the effect of sanctions.
This is the Prime Minister's fourth time visitng abroad since taking office in December. During the bilateral meeting, the Prime Minister and Chancellor are expected to discuss the future of the EU. Anxiety is growing within the union which threatens its unity: Brexit, Russian aggression, radical islamic terrorism, and uncertainty in U.S. foreign policy. Diplomats indicated the Lithuanian Prime Minister will seek Germany's support to synchronize the Baltic electricity transmission systems with the West, and present the Lithuanian government's concern over the safety of the [Russian-designed — PJV] nuclear power plant being built in Belarus. The Lithuanian and German governments will also discuss the issues of migration and EU budget. The visit will also focus on the security situation and the stationing of German troop in Lithuania in order to deter Russia.
Picture Album
Rīga mayor Nils Ušakovs' name in the news prompted this issue's pictures recalling Latvia's historical heroes and occupiers.
This issue's first picture dates back twenty-five years to Peters' first trip to Latvia and first time at Rīga's Brāļu kapi, "Brethren" or "Brothers" Cemetery, established as a military cemetery for Latvia's fallen in WWI and its War of Independence. It was first established featuring a formal garden. Its monumental aspects were added later, designed by Kārlis Zāle, also the architect of Latvia's Freedom Monument.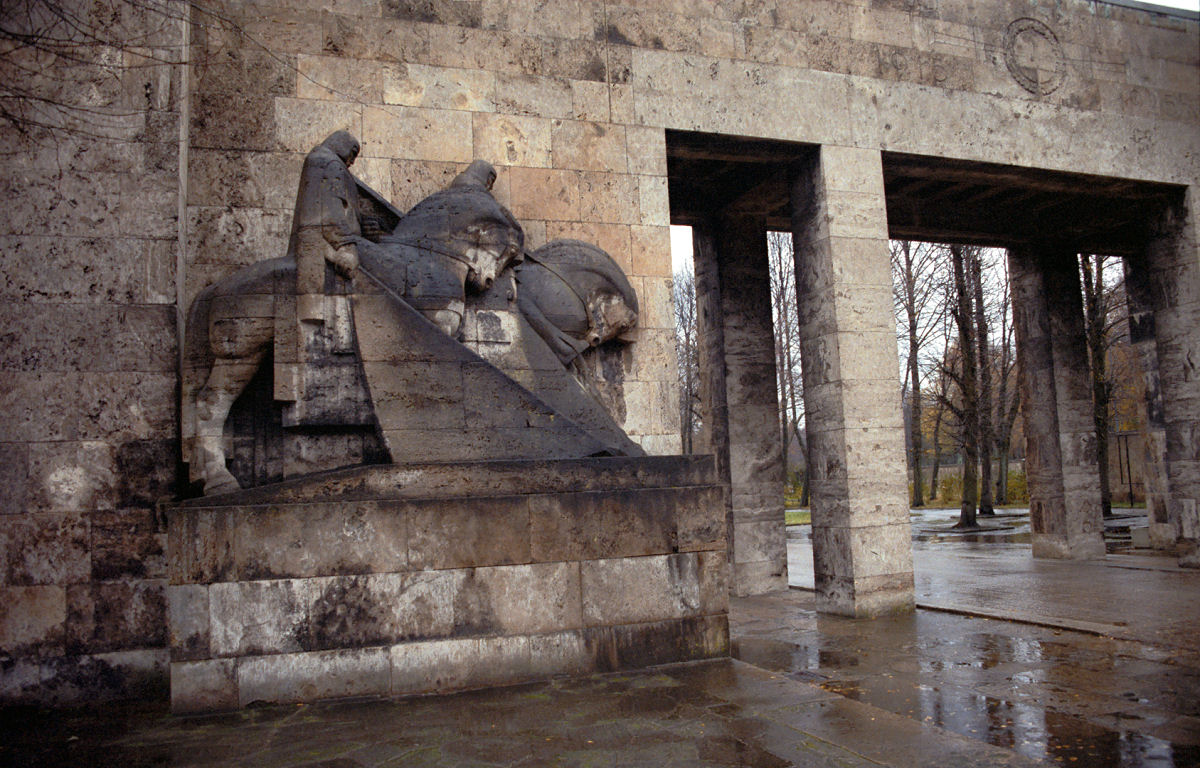 The gate to
Brāļu kapi
, October, 1992
Our other picture is from thirteen years ago and Raiņu kapi, Rainis' Cemetery, across the way, where Rainis, the founder of modern Latvian literature, is buried. Many notable Latvians of the past have their final resting place here as well—there is even a tourist guide at the gate. But closest to Rainis' memorial—Rainis' political leanings as a socialist were co-opted by the Soviets, even putting Rainis on the one ruble coin—are buried senior Red Army officers who lived out their retirement in Soviet-occupied Latvia. When Peters took this picture, he was merely curious who it was that was entitled to a taller monument. Little could he anticipate it was of a general whose grandson would five years later be elected mayor of Rīga.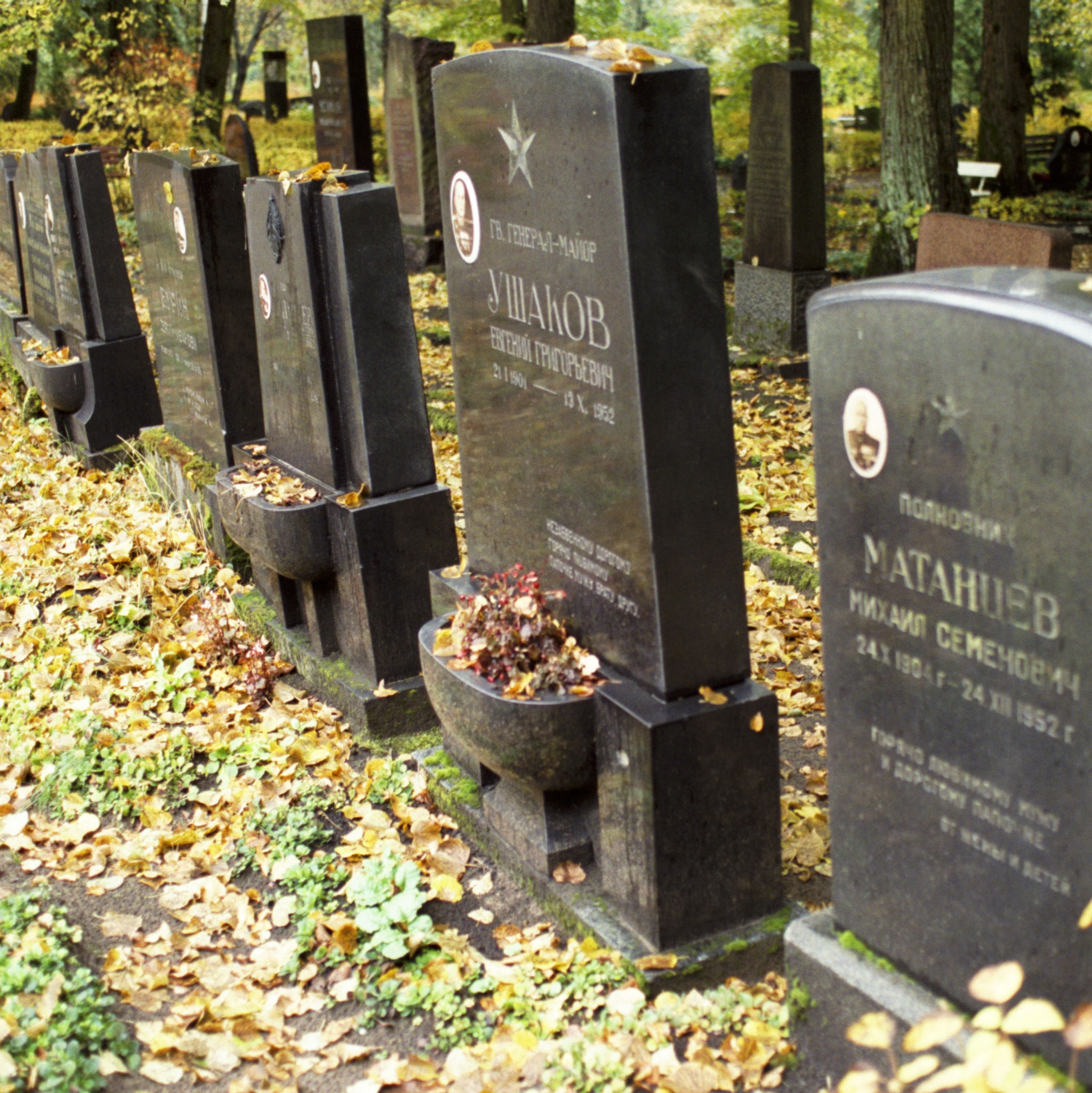 Evgenijs Ušakovs—in Latvia now—above others even in death
A higher rank in life likely entitled future Rīga mayor Nils Ušakovs' grandfather to a taller memorial in death. The article about Evgenii Ushakov in Russian Wikipedia indicates that as a colonel he led units south of the Baltics as the Red Army advanced on the Eastern Front—and was not among the forces re-subjugating Latvia. However, he was among vast number of Red Army stationed in Latvia after the war: from 1946-47 head of the Baltic Infantry Officers' Advanced Training Course; from 1947-49 (retired), head of the Combined Officers' Advanced Training Course, Baltic Military District.

---
External content is reproduced herein under fair use for purpose of commentary. Links are provided to original content. Links to ARCHIVE.ORG are included in case content is no longer available at the original link.