| bit.ly/lvm2017
Sveiki, all!
A baker's dozen plus of stories, apologies for the late publication of this Friday's issue. A potpourri of stories, including an alarming one outlining the Kremlin's plan for fragmenting and Russifying the Baltic states, and a misguided analysis that believes that the 21st century battles are still primarily waged with weapons, not information.
In this issue:
Ar visu labu,
News
Estonia–Latvia–Lithuania: Independence centennial to be celebrated with new commemoratives; have your say in design competition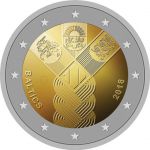 We voted for coin #2
"The Bank of Estonia, the Bank of Latvia, and the Bank of Lithuania have announced that all three Baltic countries will be participating in a joint issue to celebrate their centennial anniversaries of statehood and independence, which will be taking place in 2018. Six designs have been short-listed by the public in all three countries, and the three banks have announced that interested members of the wider public will have a say as to which coin is jointly issued next year."
The coins will be struck in the €2 denomination. You can view and vote at www.balticcoin.eu and can enter a drawing for a Brilliant Uncirculated edition set of all three countries' coins.
You can read the full story at the link, above.
Latvia's property tax is unfriendliest in the Baltics
Latvia's property tax has been surveyed as being the "unfriendliest among the Baltic states."
More properties taxed, higher duty paid on apartment purchases, the only country with an annual property tax on apartments, and lastly:
...calculation of cadastral values in Latvia is unfair. "The cadastral value is calculated based on the property transactions in the neighborhood. If there is a hut next to a palace, and the palace has been sold three times for a higher and higher price, the hut's cadastral value will grow along, even though its actual value has not improved."
You can read the full story at the link, above.
Latvia exports and imports less than Lithuania and Estonia in January
For the first month of this year, Latvia both imported and exported less than Estonia or Lithuania. Among the greatest discrepancies, Lithuania both imported and exported a billion euros more that Latvia, that is more than double. Meanwhile, their trade deficits are similar. Estonia, however, has the greatest trade deficit, more than twice the others', and has the highest percentage of imports from other EU countries.
You can read the full story at the link, above.
Russian propaganda site incites breaking up Baltic countries
This article was originally published in Paul Goble's "Window on Eurasia" blog under the title Moscow Outlet Describes How Russia Should Break Up Each of the Baltic Countries. The complete article appears below.
Arguing that the Estonians, Latvians and Lithuanians are more russophobic than any other nation in the world, the Russian propaganda site, SputnikPogrom, outlines how Moscow must work to split up the three countries into smaller units dominated by ethnic and linguistic minorities to put them on course for reabsorption into a Russian empire.
The 3,500-word unsigned article, entitled "How We Will Reorganize the Baltic Region", is one of the most detailed offerings of its kind, something intended to support Moscow's claim that the three Baltic countries are not full-fledged states and to sow fear and division in each of them.
The article begins with a broad attack on the three: "The Balts to this day," it says, "are conducting an ethnocide against the Russian people," they supported Chechen separatists in the 1990s, and "applaud" Ukrainian separatists now. They are a NATO place des armes against Russia, and they all have "territorial claims" against Russia.
Despite what their governments claim and what many in the West believe, the portal says, "the countries of the Baltic region are not monolithic. Each has its own wound which Russia not only can but must exacerbate … in order to completely reform the political space [there] in the national interests of Russia without war or a clash with NATO."
The way forward, SputnikPogrom says, is to "support regionalists" in each of the three, to "assist" those in various parts of Estonia, Latvia and Lithuania, to recover their genuine identities that Tallinn, Riga and Vilnius have sought to repress, to promote the rights of Russian speakers, and to transform the historical narratives of the three countries.
Among the mechanisms Moscow should use, the portal continues, are "promoting the historical memory of residents of the regional communities", demanding they be given "regional autonomy or self-administration" and "the transformation of regional dialects into independent languages or alternatively the revival of ancient but now forgotten languages".
All those things are intermediate steps toward the acquisition by these regions of "independence" from the three Baltic countries and then either their integration into Russia in the manner of Crimea and Sevastopol or their close alliance with Moscow on the pattern of South Ossetia or Abkhazia.
But the portal argues that "the most likely points of potential instability and thus for the application of soft force are [the three Baltic capitals] where a significant part of the population consists of representatives of national minorities, and chiefly of the Russian-language community".
Next, it says, Moscow should focus on "existing regional projects" like Latgale in Latvia, the Narva region in Estonia, and Vilno kray in Lithuania even as it promotes new regional movements like Klaipeda (Memel) kray, Suvalkia (Yatvyagia) and Zemaitiia in Lithuania, Courland in Latvia, and the islands of Hiiumaa and Saaremaa in Estonia.
The article discusses in detail the situation in each of these places, the levers Moscow can use, and what it describes as "the best outcome for Russia" in each case. And then it turns to a discussion of how to "strengthen pro-Russian influence among the three titular nationalities by promoting a broad rewriting of the national narratives of those peoples".
The article concludes that Moscow will likely have the greatest success in promoting its ideas in Latvia, given the high rate of inter-ethnic marriage – "20 per cent of Latvians are married to representatives of other nationalities, in the overwhelming majority of cases with Russian speakers – and the large share of Russian speakers among Latvians".
Moscow will face more problems in dealing with the Estonians, the article continues, because the rate of inter-ethnic marriage is much lower – only seven per cent – and Russian language knowledge is less as well. It recommends that Moscow promote itself as "the chief homeland" of the Finno-Ugric peoples as a way around this.
The Latvians, Lithuanians, and ancient Prussians would point out that the "Volga" is a Baltic, not Russian, toponym. And that even Soviet documents confirm that Abrene—prior known as Jaunlatgale, "New Latgale,"
is Latvian
. And Kaliningrad, of course, was east Prussia, home of the ancient Prussians before they were eventually assimilated by the early decades of the 19th century. One should not laugh off the documentation of such seemingly far-fetched plans in Russian media accounts. The Kremlin has a way of boasting regarding its information assaults (as in, clearly outlining how they would disrupt the recent American presidential election) before putting them into play. It would be grossly negligent to not view this development with concern and not start instituting a campaign to counter it.
To get this process moving, the SputnikPogrom portal says, Russians should stop using Baltic toponyms and replace them in every case with Russian names in order to stress the Russianness of the region. Thus, "not Tallinn but Reval or Kolyvan, not Tartu but Yuryev, not Ventspils but Vindara" and so on.
It also suggests that Russians are fully justified in doing so given that the Balts substitute their national names for Russian ones in the areas they claim: thus, Latvians call Putalovo in Pskov oblast Abrene, Estonians call Ivangorod Jaanillinn and Lithuanians refer to Kaliningrad as Karalyaucius.
What is striking and undoubtedly intended to be striking is the level of detail this article offers. While decision makers in the Kremlin may not do everything the article calls for, clearly there are many in Moscow who have been thinking long and hard about how to break up three NATO member countries by using soft power and other means.
That should be a matter of concern given that Moscow has demonstrated elsewhere that it views regionalism in other countries but not of course in its own as an important resource it can use to promote Russian interests by weakening the countries where such regionalism exists or can be created.
---
Paul Goble is an American analyst, writer and columnist with expertise on Russia, Eurasia, public diplomacy and international broadcasting. Trained at Miami University and the University of Chicago, he is the editor of four volumes on ethnic issues in the former Soviet Union and has published hundreds of articles on ethnic and nationality questions. Goble served as special adviser on Soviet nationality issues and Baltic affairs to Secretary of State James Baker. Goble also served as a visiting scholar at the University of Tartu, Estonia. In 1995, Goble received Order of the Cross of Terra Mariana from President Lennart Meri, for his role in supporting Estonia's re-independence.
Estonian books attracting attention at the London Book Fair 2017
Readers took notice of Estonia's extensive display at the London Book Fair 2017, featuring interviews and storytelling. Readership is on the rise in the UK; there was significant focus on Estonia's part on translated works. Author Piret Raud's children's books, for example, has been translated into X languages (a statistic we looked up ourselves — PJV).
You can read the full story at the link, above.
Fortum moves forward with Lithuania waste-to-energy CHP plant
Fortum commissioned Lithuania's first waste-to-energy, combined-heat-and-power plant in 2013. It has now announce a joint venture project to build a waste-to-energy (WTE), combined-heat-and-power (CHP) plant in Lithuania. Construction is planned to start this fall.
You can read the full story at the link, above.
European Commission sees Rail Baltica as a priority project
Lithuania continues to make progress on Rail Baltica, a priority project for the EU. Rail Baltica is the 1,435 mm standard gauge railway which will eventually connect all three Baltic capitals with each other, and Europe. Most rail lines are historically the wide-gauge Russian 1,520 mm from the Baltics' time under the Russian empire.
You can read the full story at the link, above.
'Russia Is a Threat … to All of Europe,' Grybauskaitė interview
Dalia Grybauskaitė, the president of Lithuania, is interviewed on a range of topics, but focusing primarily on the threat Russia poses to Lithuania and the rest of Europe. She is as direct about Putin as diplomatic about the new U.S. administration. The FP piece is an excerpt of her interview with Lally Weymouth of the Washington Post.
You can read the full story at the link, above.
What Lithuanians read - and what they want you to read about them
Lithuanians are a nation of bookworms. (Books abound in the Baltics, per capita, but another story.) While the Estonians were busy at the London Book Fair, the Lithuanians have been similarly occupied at the Leipzig Book Fair. Insight into Lithuanian reading habits and the Lithuanian psyche.
You can read the full story at the link, above.
The U.S. Shouldn't Fear Russia: America Is Vastly More Powerful
Doug Bandow's biography page at Huffington reads:
Doug Bandow is a Senior Fellow at the Cato Institute and served as a Special Assistant to President Ronald Reagan. He also is a columnist with Forbes online and frequent contributor to National Interest online and American Spectator online. Formerly a columnist for antiwar.com, a nationally syndicated columnist with Copley News Service, and editor of the monthly political magazine Inquiry, he has been widely published in such periodicals as Time, Newsweek, and Fortune, as well as leading newspapers including the New York Times, Wall Street Journal, and Washington Post. He has written several books, including Foreign Follies: America's New Global Empire (Xulon Press), The Korean Conundrum: America's Troubled Relations with North and South Korea (co-author, Palgrave/Macmillan), and Tripwire: Korea and U.S. Foreign Policy in a Changed World (Cato Institute).
Nevertheless, we have never read a more naive and backward-looking geopolitical analysis. Bandow completely misses that "power" is no longer about military hard power but influence. Russia needs just enough military power to accomplish its aims while it keeps the rest of the world "talking." We were gobsmacked to read Bandow's inept pronouncements.
...the Cold War truly is over. There is no Red Army poised to plunge into the Fulda Gap and race to the Atlantic Ocean.
Except for perhaps a year at most under Yeltsin, the Cold War never ended.
Which leaves Georgia and Ukraine. Their plight is unfortunate but, truth be told, also unimportant for America. Of course, to point out the obvious horrifies advocates of the two. But Washington never worried about either region when they were part of the Russian Empire and then the Soviet Union. Tbilisi and Kiev matter even less geopolitically to America after the U.S.S.R.'s break-up.

Moscow has treated them badly, but it did not act irrationally. The U.S. and Europe heedlessly expanded NATO up to Russia's borders, dismantled Serbia, a historic ally of Moscow, proposed bringing Georgia and Ukraine into NATO, the historic anti-Russia alliance, pushed to overthrow Russo-friendly governments in both nations, and sought to reorient Ukraine's economy westward. Of course in principle Washington and Brussels had every right to act as they did, and Tbilisi and Kiev had every right to respond as they wished. But to assume that Russia's nationalistic and ruthless government which felt ever more aggrieved would accept such treatment was foolhardy, even reckless. And both Georgie and Ukraine paid the price.
A more incompetent Russia-enabling narrative cannot be had. First of all, Russia began attacking its neighbors a generation ago, while Yeltsin was still in power. And the same thugs who murdered freedom demonstrators in the Baltics before the fall of the USSR, who then subjugated Moldova's Trans-Dniester territory under Yeltsin, are now in Ukraine. Russia has only its own continuous, uninterruped, unprovoked aggression to blame for the former Soviet republics on its western border falling over each other to embrace NATO and the EU. The notion that NATO expansion "aggrieved" Russia is utterly preposterous.
Russia certainly expressed that it was aggrieved. But Bandow swallows the Kremlin's posturing that it is upset hook, line, and sinker. Bandow's advice at the end of the day? Don't stand up to the bully, you'll only upset him. That logic doesn't work in the schoolyard, and it doesn't work in geopolitics.
Georgia and Ukraine have, certainly paid a price, but not for aggrieving Russia. Georgia paid the price for Western inattention to Moldova and for NATO troops disobeying orders to engage Russians attempting to occupy Serbia's Pristina airport—now part of the Kremlin's historical DNA that threats of World War III stop NATO in its tracks. Ukraine, in turn, paid the price for the West allowing its outrage over Georgia to simply fade away and permitting normal relations with Russia to resume with no lasting penalty.
Ukraine is not "unimporant for America." There is no civil war with "ethnic Russian separatists." It is a Russian invasion. It is the West's last chance to stand for morality. To halt Russia's hybrid warfare. Score another useful idiot for the Kremlin.
You can read the full story at the link, above.
Tillerson to skip April NATO meeting
Our only other NATO-related news item this week is the Grybauskaitė interview. We have, frankly, been puzzled by the gutting of the U.S. State Department and Tilleron's operating so far under the radar as to be largely imperceptible. Tillerson skipping the foreign minister's meeting in April only fuels speculation that the current U.S. administration is ignorant to the importance of a stable and secure Europe.
You can read the full story at the link, above.
Latvia heads off Russian gas mischief with legislation on strategic companies
Latvia moves to prevent sale of strategic assets, such as gas distribution networks, to parties whose majority control or ownership could threaten Latvia's security.
You can read the full story at the link, above.
Stolen Russian billions ended up in EU states
$20 billion has washed from Russia through banks in Moldova and Latvia into nearly every EU state. Sobering reading on European corruption.
You can read the full story at the link, above.
Picture Album
A cold winter day a decade and a half ago along Artilērijas iela in the Grīziņkalns section of Rīga. That is St. Paul's church in the distance.
As we re-processed the photo (from 680 × 453 to 1200 × 779), we also did some investigating to determine where we were standing when we took the picture. Cross-referencing to Google Maps street views, we came up with these GPS coordinates: street view at 56.955604, 24.146028
If you click on the image, it will open full size or as large as your browser window will allow.
View toward St. Paul's Church, in the Grīziņkalns section of Rīga
---
External content is reproduced herein under fair use for purpose of commentary. Links are provided to original content. Links to ARCHIVE.ORG are included in case content is no longer available at the original link.