Latvian–Baltic Mailer
Volume XI Nr. 11
October 31, 2017
Sveiki, all!
We've been on hiatus, but not by choice. News has been a flesh-eating bacteria chewing away at the quality of our lives. Our daily existence revolves around cable news and is consumed by the next possible Trump administration- and Republican-induced calamity. First it was "Repeal and Replace." Our best estimate was that our medical insurance for the two of us would balloon to $3,000 or more a month if it passed -- getting old, pre-existing conditions, and all. Now, with Trump's "Cut Cut Cut Act", and looking at medical insurance costs no longer being deductible, losing state and local tax deductions,... another potential calamity barreling toward us. All to put money into the pockets of corporations whose profits, by the White House economic adviser's own figures, have been growing by 11% per year while wages have stagnated. We are to believe that increasing corporate profits even more will put $4,000 to $9,000 more a year in wages in working Americans' pockets.
Enough of that for now, here. More at our sanity-preserving project while we've been "away": saveworkingamerica.com
Therefore, on to our mailer, a mix of the informative and sobering. Needless to say, whatever else 2018 brings, we will be joyously celebrating Latvia's centennial!
In this issue:
Ar visu labu,
Baltic Link(s)
"Lolitas Brīnumputns" will tour Latvia in conjunction with the 2018 Latvian Song Festival and Latvia's 100th birthday. If you have musical family or relatives in Latvia, you might still sneak in under the wire. The project's musical director and composer, Andrejs Jansons, left for Latvia only several days ago.
It's a wonderful musical, if you have a chance to see it in Latvia, bring the whole family!
Full disclosure, Peters is the webmaster.
"Lolita's Wonderbird" contest and performances celebrating Latvia' centenary
@ARCHIVE.ORG
We weren't aware of the European Health Insurance Card, which Latvian citizens and non-citizens (bezpilsoņi) are entitled to. From the EHIC brochure:
YOUR FREE PASSPORT TO HEALTHCARE IN 31 EUROPEAN COUNTRIES
Whether you're traveling for business, pleasure or to study abroad, you never know when you might need medical care. With a European Health Insurance Card (EHIC) you don't have to worry. The card makes visiting a state-run hospital, doctor's surgery or dental practice in 31 European countries easier and means you'll be treated in the same way as someone who lives in that country.
Better still, you'll pay the same price for your treatment as the locals – which, in some countries, means you might not have to pay anything.
It couldn't be simpler or more cost-effective.
LUCKY YOU HAD A EUROPEAN HEALTH INSURANCE CARD!
@ARCHIVE.ORG
We ran across this UK web site including a write-up of web resources for job-hunting in Latvia
Job websites

Recruitment agencies

Newspapers

Other sources
News
Great minds think alike: thieves Dzhemo and Vyatlag live next door in Latvia
We wonder if Latvia will ever get beyond its Russia-originated criminal underworld. You can only imagine how many palms were greased to wind up with a situation where crime lord Dzhemal Mikeladze, supposedly in jail in Italy, is living the high life in Latvia. Considering the Russian constitution prohibits the extradition of any Russian citizen, that Russia extradited Mikeladze to Italy because he was too corrupt even for Russia.... Chilling, sobering, immensely disappointing.
Family of tragic Ilze so grateful for the generosity of Spalding people
The town of Spalding reaches out to their own, a Latvian family whose mother was tragically killed in an auto accident. There is a link for crowd-sourcing of donations to assist the family.
Macron's Vision for EU Hits Resistance in Euro-Member Latvia
French President Emmanuel Macron laid out his vision for a "profound transformation" of the EU, to counter nationalism with closer integration and cooperation. Response has been mixed to skeptical. Quoting from the article:
Latvian Prime Minister Maris Kucinskis joined the ranks of leaders who have reacted coolly to the French president's proposals to overhaul the world's largest trading bloc. Rather than start new projects, the premier said the EU should stick to its existing agenda, which focuses on shoring up external borders, tightening immigration standards and tackling economic challenges—such as youth unemployment—that are rankling the region's almost half billion citizens.
Russia may have tested cyber warfare on Latvia, Western officials say
It's highly likely that Moscow disabled mobile communications along Latvia's Baltic coast at the end of August and disrupted emergency services 112 phone service on September 13th during its "Zapad" war games.
West failing to tackle Russian hacking and fake news, says Latvia
We are flabbergasted that the West has been caught flat-footed by the breadth and depth of Russia's information war. It has been going in since Russia invaded Moldova's Trans-Dniester under Yeltsin, a toxic and potent combination of Russian maskirovka and Western stooges taking it at face value. Organizations advocating for Transnistrian "rights" and legitimacy of the Russia-fueled coup included "The International Council for Democratic Institutions and State Sovereignty," which ran a sophisticated campaign: web site, scholarly papers, misappropriated scholarship,...and then there was an army of (paid) Russian operatives editing Wikipedia, advocating for Transnistria's legitimacy. Where Russian hybrid warfare is concerned, the West has been asleep at the wheel for a quarter century. There's no excuse for surprise.
Latvia warns there's much more where that came from.
Latvia population keeps declining; Riga population increases
Rīga is gaining population while Latvia as a whole and everywhere else in Latvia is losing, Latgale the most.
A Writer Visits Latvia in Search of Her Roots
An insightful review and journey through Inara Verzemnieks' memoir, "Among the Living and the Dead." We expect to be reading it ourselves—in it we find echoes of our own families' journeys into both exiles, Siberian and to the West, and our personal growing up in the diaspora where we, too, "learned of the existence of our true home, the one we could no longer see."
Freedom in the World 2017, Latvia Country Report
History and Soviet legacy considered, Latvia is doing fairly well in its "freedom of..." ratings, even with the issue of non-citizens still outstanding. We can't say it's a good thing or a bad thing that the overall report regarding the genral state of our planet gives us more concern:
The troubling impression created by the year's headline events is supported by the latest findings of Freedom in the World. A total of 67 countries suffered net declines in political rights and civil liberties in 2016, compared with 36 that registered gains. This marked the 11th consecutive year in which declines outnumbered improvements.

While in past years the declines in freedom were generally concentrated among autocracies and dictatorships that simply went from bad to worse, in 2016 it was established democracies—countries rated Free in the report's ranking system—that dominated the list of countries suffering setbacks. In fact, Free countries accounted for a larger share of the countries with declines than at any time in the past decade, and nearly one-quarter of the countries registering declines in 2016 were in Europe.
You also need to read the 2016 report for complete background (noted in the report), the link is to this year's report. Following, we've highlighted (black bars) the positions of Estonia, Lithuania, Latvia, and Russia on the all countries freedoms spiral. Both Estonia and Lithuania outrank the United States in overall freedoms.
What the Riga Elections Say about Latvian Politics
The Harmony (Saskaņa) and Honor to Serve Riga! (Gods Kalpot Rīgai!) alliance continued to hold its majority on the Rīga city council, although only by a thin margin, losing 7 seats on the 60-seat council. However, it's not as simple as pro-Russian versus pro-Latvian factions battling it out at the polls. We found it informative reading.
In the end, our litmus test is who does, and doesn't, support the Kremlin line on Crimea and other acts of Russia's aggressions, whether cyber or disinformation or military. Ušakovs unequivocally fails that test. We expect that same failure has tainted his image in the eyes of others as well.
When New York City Was the Capital of American Communism
We thought ourselves well-steeped in New York City's multicultural past, and so were surprised to find that Riga-born socialist leader Morris Hillquit won more than a fifth of the votes cast in the 1917 New York City mayoral election.
Maurice Isserman pens a fascinating and informative essay on the history of the Communist Party in New York City during the 20th century. We would add that there was also an active Latvian communist movement in the U.S. at the time.
The Communist Party U.S.A. still has its headquarters in New York City, at 235 West 23rd Street. The building generates significant revenue, party members are apparently split of the capitalist question of continued revenue versus a killing on the real estate market. We estimate a one bedroom one bath condominium in the building is valued in the $1,000,000+ range.
Picture Album
This issue's photo is from a cool, overcast, damp October in Raiņa kapi, Rainis' Cemetery, at the end of another day of raking leaves. Rainis' monument is at the end of the promenade.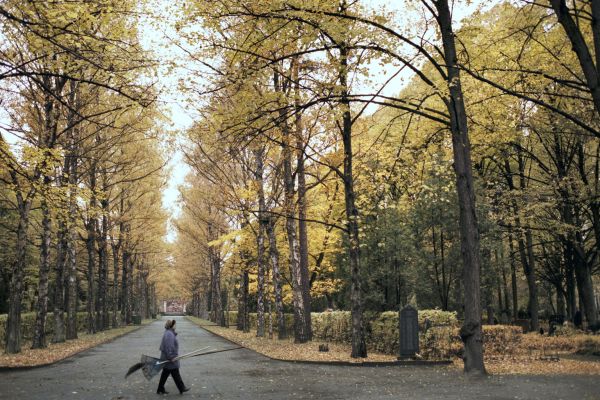 October leaves in Raiņa kapi, Rīga, Latvia
---
External content is reproduced herein under fair use for purpose of commentary. Links are provided to original content. Links to ARCHIVE.ORG are included in case content is no longer available at the original link.