| bit.ly/lvm2017
Sveiki, all!
Welcome to our end-of-year mailer.
Priecīgus Ziemassvētkus un Laimīgu Jauno Gadu!
Our sincerest and warmest wishes for a Merry Christmas and a Happy New Year!
Our mailer has been on another hiatus as we process the political and economic fallout of this year in American politics, whether the unnatural relationship between Trump and Putin or the direct, detrimental impact of Presidential and Congressional actions on our personal finances, future retirement, and general well-being.
More positively, we closed out the year finishing up two major reference projects for our web site:
We look forward to 2018 and bringing you more materials of interest from the Latvian and Baltic past, and to visiting Latvia for its 100th anniversary of independence and adding to our travelogues!
In this issue:
Ar visu labu,
Baltic Link(s)
Retrospect—and judgement being passed today by those who did not live through Stalin's and Hitler's brutal and murderous occupations—has branded the comparison of the evils of Nazism and Stalinism in WWII an immoral choice, a question whose consideration is as horrific as the devastation which Hitler and Stalin wrought.
It is therefore ever more important to look back to the moment and to the participants in that history. Seventy-four years ago, 189 signatories of the Latvian Central Council—representing a wide swath across pre-war Latvian society and public service, sent their memorandum to Rudolfs Bangerskis, the General-Secretary of the Latvian Legion. It calls for de facto restoration of independence, re-formation of Latvia's constitutional government and renewal of governmental institutions, in particular to defend against the "imminent" Soviet re-invasion. It offers conclusive evidence that Latvians considered Russia, not Germany, to be the pre-eminent existential threat to their survival.
March 17, 1944 Memorandum of the Latvian Central Council
@ARCHIVE.ORG
We recently ran across a widely-reproduced graphic of European language-learning difficulty, attributed to the Foreign Service Institute: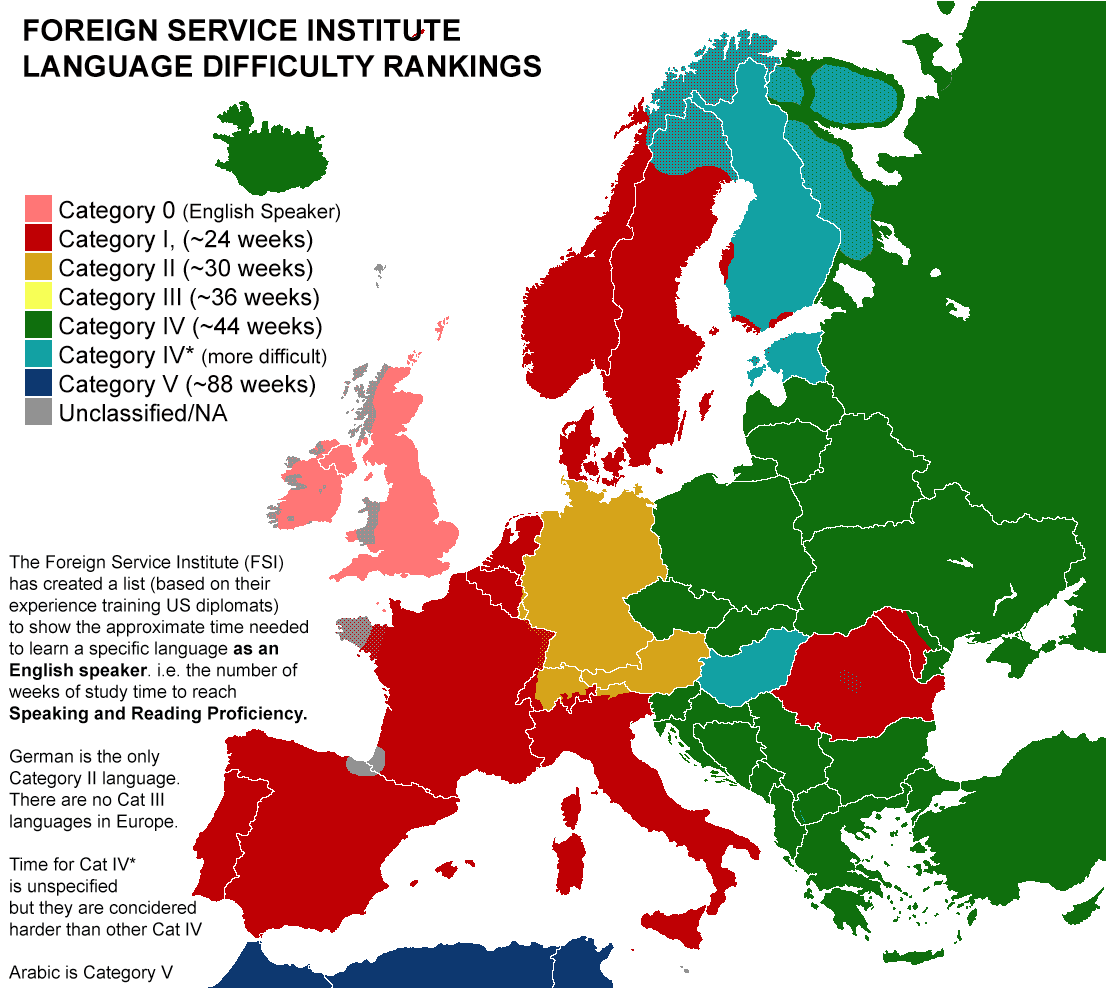 Foreign Service Institute (FSI) Language Difficult Rankings
While we were unable to track it to its originator, we did find a fairly comprehensive language learning difficulty list attributed to the FSI. Latvian is in the middle of the difficulty pack. Personally, we are not sure what to make of the fact that Indonesian, Malaysian, and Swahili all rate as easier to learn than a host of eastern European languages. Note that Estonian, along with the Finno-Ugric Finnish and Hungarian, is rated as somewhat more difficult that the Baltic Latvian and Lithuanian, and Slavic languages. We would add a bit of trivia, that the question of which, Baltic or Slavic, represents a "branch" off the other, meaning, which of the pair claims the "proto-language" crown, is still a matter of dispute.
Language difficulty ranking for English-language speakers
@ARCHIVE.ORG
While investigating how other sites organize and present cultural and historical information for web consumption, we came across Google's Arts & Culture beta site, www.google.com/culturalinstitute/beta/. Searching for Latvia brought up a variety of interesting links and articles, organized by "places," "collections," and "stories."
Google Arts & and Culture BETA, Latvia
@ARCHIVE.ORG
We were privileged to attend the second conference on the preservation of Latvian history in the diaspora, held in Washington D.C. at, and with the assistance of, the Latvian Embassy and U.S. Library of Congress. Attendees were treated to a visit into the LoC's vast archives to view some of their maps of the Baltics. As it turns out the LoC and United Nations Educational, Scientific, and Cultural Organization (UNESCO) support the "World Digital Library" site. Searching for "Latvia" turned up well over 100 different archival items of all sorts, from maps to playing cards to books.
World DIGITAL LIBRARY—Latvia
@ARCHIVE.ORG
Searching for "Latvija" instead returned just one item, serendipitously the Latvian original of the March 17, 1944 memorandum of the Latvian Central Council whose translation we shared as our first link, above:
Click on a thumbnail to view the picture. Mouse over the either side of the picture and click to navigate or use the left/right arrow keys.
We've spent close to, now, three years supporting a Swedish historian with translations of Latvian Legion materials, often the hand-written war-time diaries of Legionnaires requiring transcription. We appreciate likely more than most the challenges of dealing with such documents. Even language fluency and familiarity with historical scripts doesn't guarantee a document can be fully deciphered.
We were happy to find that, in conjunction with the celebration of Latvia's 100th in 2018, a project has been launched to crowd-source the transcription of historical documents, funded by the "Krišjānis Barons Folksong Cabinet." Originals span all the languages associated with Latvia's territory through the centuries: Latvian, Latgalian (ancient Latvian dialect), Liv (kin to Estonian), Lithuanian, Estonian, Russian, Belorussian, Hebrew, Romani ("Gypsy"), Polish, and German. The site is in Latvian.
Simtgades burtnieki
@ARCHIVE.ORG
It's eleven years since our interview for Pēteris Cedriņš' Marginalia LINK, which included some of Peters' own thoughts touching on the integration of Latvian society:
Who's closer to most Latvians, in your experience — the Russian next door, or a diaspora Latvian? — When it comes to my mother being targeted as an elderly person who should be cheated out of her money by, for example, slipping a rotten cabbage into her shopping bag instead of the fresh one she pointed to, more often than not it's a Latvian that's behind the store counter. The need to lie and cheat to survive does not discriminate in its eventual corruption of morality. Stripping away the nationalist versus apartheid rhetoric, there's more in common than different. The Latvian and the Russian next door share largely the same experience; more importantly, they now share the same choices: I have met Russians who make wonderful Latvians; I have met Latvians who make miserable Latvians—no one can decide for you what kind of person you are or whether you truly value your homeland; only you can decide and then demonstrate your decision through your actions.
Twenty-six years after the collapse of the USSR, societal integration remains a challenge. The Ministry of Foreign Affairs of the Netherlands has funded a European Association of History Educators (EUROCLIO) Latvian History Teachers' Association program to promote a teaching of history promoting integration. From the project web page:
We in Latvia: Six Themes

This publication is one of the outcomes of the "Integration of Society in Latvia: a Combined Approach for History and Debate" project and provides a methodological tool for History Teachers. This project aimed to intensify the mutual integration of the population of Latvia, especially with regards to the Russian speaking group. The approach of this project ran on two parallel tracks. First, an organised and guided dialogue between journalists, politicians, academics and teachers was started about the topic, and second, educational material for history and civic education was developed, to train teachers how to use it and to provide it to as many schools and teachers as possible. The outcomes of the dialogue are be implemented in the educational material and the material was assessed and discussed in the dialogue. The result is an intensified public discussion and public awareness of the problem of integration and a balanced high quality approach for education which is actually used in schools.
МЫ В ЛАТВИИ, щесть тем (Russian)
@ARCHIVE.ORG
Picture Album
Instead of a photo this issue, several videos we found celebrating Latvia's 99th birthday.
---
External content is reproduced herein under fair use for purpose of commentary. Links are provided to original content. Links to ARCHIVE.ORG are included in case content is no longer available at the original link.