| bit.ly/cfbh1945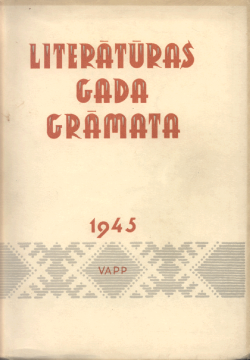 In mid-2017 we were searching for a Latvian calendar from the past with the same days of the year as 2018, to feature as a historical—yet eminently practical—artifact. We chanced upon the 1945 Latvian Literary Almanac—published as World War II still raged along the Courland front 50 kilometers from the heart of Rīga.
Anyone following geopolitics since the fall of the Soviet Union twenty-eight years ago is familiar with the evolution of radiomaskirovka in the digital age, virtually unchanged in content and method from the heydays of Soviet power, but far more sophisticated and instantaneous in its delivery to the unsuspecting.
Those who follow such matters can discern fact from propagandistic fiction. But there is another perspective to propaganda, from the viewpoint and experience of those who lived under Soviet rule. That is the systematic and insidious pollution of indigenous cultures with Soviet mores. Russian songs and odes to Stalin infiltrating folk song festivals. Historical and cultural accounts extolling the centuries-old friendship of nation [fill-in-the-blank-here] with the now Russian ruling class.
The Red Army re-occupied Rīga on October 13, 1944. However, the Latvian Legion and German Army held out in Courland (
Kurzeme
) until the end of the war in May, 1945. Subsequent Soviet and Russian accounts of the war indicate the Red Army bypassed the
Courland Pocket
as non-strategic. In reality, Stalin was bent on eradicating the last vestige of Latvia, repeatedly ordering the Red Army to their slaughter, in the end, some 300,000 dead and wounded.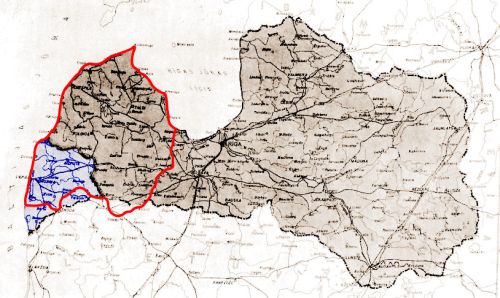 Blue = minimum territory held by Latvians against the Bolsheviks in post-WWI war of independence, Red = Courland front in WWII where Latvians held out to the end of the war
From that perspective, then, this almanac is one of the earliest tangible examples from the returning Soviet occupation documenting how the Soviet state propaganda apparatus operated to usurp Latvian culture to serve the state. We were curious investigate it further.
About the almanac
The almanac consists of two parts, the first a calendar of each month noting names' days, the facing page listing historical—largely from the literary world—people and events associated with dates of that month. Following that, a collection of traditional and propagandistic literature featuring poems, short stories, and essays. Our presentation here includes the full facsimile and several excerpts.
The calendar and woodcut facsimile pages link to restored high-resolution copies.
Facsimile: JanFebMarAprMayJunJulAugSepOctNovDecRebuilding RīgaOld RīgaSt. Peter'sDaugava railway bridge
About the cover artist—Kārlis Sūniņš
Kārlis Sūniņš (February 27, 1907, Laidzes parish—February 13, 1979, Rīga) was a Latvian painter, one of the founders of the Latvian watercolor school after WWII.
We would not be surprised if he and Pēters' father knew each other, as both attended the Latvian Academy of Art, and Peters' father worked there after his own graduation during Sūniņš' time of study. And Peter's aunt and mom might have known him from Stende and Talsi.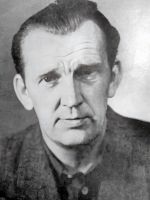 Kārlis Sūniņš at lv.wikipedia.org
Sūniņš was encouraged during his high school years to pursue a career as an artist, going on to attend the Latvian Academy of Art (1927—1934) where he matriculated Prof. Jānis Kuga's fine arts painting master workshop. In 1944 he became a member of the Artists' Union, and began his career in pedagogy at the Rīga High School of Applied Arts (1944—1967), teaching composition. He was awarded the title "Artist of the Latvian SSR" in 1972.
In the 1930's, Sūniņš worked as a muralist, creating decorative panoramas in public buildings, including the Cēsis sanatorium, the Sigulda Writers' Palace, the State Land Bank, and the residence of the President of Latvia, using the tempera technique. The themes generally represented idealized Latvian life and work inspired from folk songs. Later works portrayed folk costumes and ethnography in closer detail.
Preserved from Sūniņš early years is also the mural which preserved his graduation "paper." At K. Valdemāra Steet #1B, on the second floor of the central staircase, is a panorama of six scenes: Hay balers, Sower, Fisherman, Clearing, Apple-pickers, and Shepherd Girl. The works were executed in tempera on canvas, which was then glued to the plaster. THey were restored by Karl Söhne in 1990.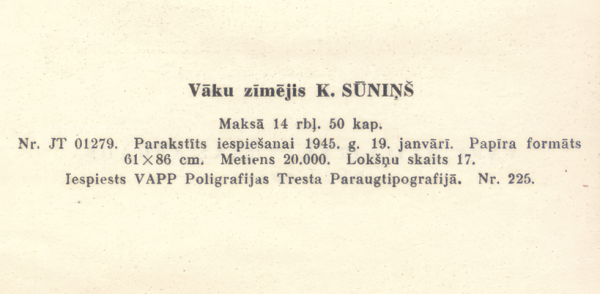 Cover artist K. SŪNIŅŠ
Price 14 rubles 50 kopeks
Nr. JT 01279. Prepared for printing 19 January 1945. Sheet size 61 x 86 cm. Printing run 20,000 copies. Sheet count 17.
Printed at VAPP Printing Monopoly Sample Workshop. No. 225.
[1]
A significant area of creativity for Sūniņš was book illustration, his first work being for a translation of Rabindranath Tagore's "Stray Birds" and "The Golden Boat". Sūniņš went on to illustrate many literary works encompassing folk tales, poetry, novels, even returning again to Tagore and his "The Gardener," with a particular focus on Latvian and Eastern themes.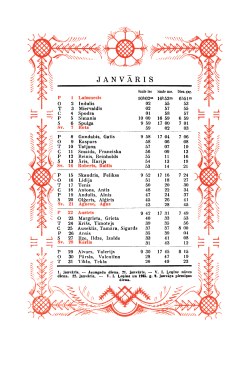 January, 1945—
and 2018
, the original impetus behind our acquisition
Sūniņš favorite subjects for his paintings were landscapes and still lifes, also reflected in his murals in romantic skies and golden sease. Today, his works can be found in the former USSR republics, Germany, Poland, Finland, Sweden, and Bulgaria.
Sūniņs passed away in Rīga in 1979 at the age of 71.
From our personal perspective, Sūniņš favorite themes were very much in keeping with that generation of Latvian painters, mirroring post-WWII exile Latvian art. Adapted from Sūniņš biography at Latvian Wikipedia. There's no indication if he was also the artist for the calendar pages' decorative border.
About the editor—Edgars Damburs
Edgars Damburs (August 23, 1910, Naukšenu parish–October 21, 1971, Rīga) was a Latvian literary critic and author.
Born into a farmworkers' family, Damburs' elementary schooling took place in Rūjiena, then Rīga. The family moved to Brazil in 1925 to work a coffee plantation. Upon the family's return in 1933, Damburs participated in Rudolfs Egle's literary studio, attended Krijānis Barons State University, and composed poetry, short stories, and essays.
Damburs was employed as a factory worker from 1935 to the Soviet occupation in 1940, also getting published in the newspapers "Work" (Darbs) and "Literary News" (Literatūras Avīze).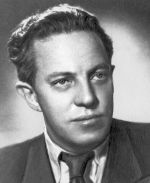 Edgars Damburs at literatura.lv
During WWII, Damburs served in the Red Army and also wrote as a war correspondent for "The Latvian Rifleman" (Latvijas Strēlnieks) and "The Soviet Rifleman" (Padomju Strēlnieks). He worked at the journal "The Flag" (Karogs)—periodically from 1941 to 1981, After the war, he worked at the Academy of Sciences Language and Literature Institute in the 1940's, as an editor at the periodicals "Literature and Art" (Literatūra un Māksla) and "Bauska at Work" (Bauskas Darbs) in the 1950's.
Damburs' creative literary output included poetry, prose, and his memoir. His most widely published works, however, were his anthologies and literary criticisms. Authors whose full collected works Damburs edited include Ernests Birznieks-Upīts, Jānis Plaudis, Valdis Lukss, Meinhards Rudzītis. Damburs also edited collections of selected poems of Antons Austriņš, Anna Brigadere, Augusts Saulietis, Jānis Ziemelnieks, and others.
It is worth noting that Damburs ran slightly afoul of Soviet authorities in the 1950's, which were marked by Latvian demands for more autonomy. Damburs was banned from the Writers' Union for moral and ideological offenses in 1952, for six months, then for six years from 1953 to 1959.
Adapted from Damburs' biographical information at literatura.lv.
About the publisher—VAPP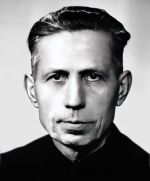 Jānis Niedre at lv.wikipedia.org
VAPP (Valsts apgādniecību un poligrāfisko uzņēmumu pārvalde, State Department for Publishing Houses and Polygraphy, literally "State Publishing and Printing Enterprise Management"), was founded in 1940 during the first Soviet occupation as the umbrella Latvian SSR government printer-publisher. The almanac blends a mix of poetry, short stories, and propaganda. Perhaps it is telling that it was produced by VAPP's fiction (daiļliteratūra) publishing division.
The first head of VAPP was a Latvian: Jānis Niedra, later Jānis Niedre, (May 24, 1909–December 8, 1987) was a Latvian journalist, author, and literary scholar. He was a member of the illegal Communist party and jailed for activities against the state from 1934 to 1937. Following his release he worked as a librarian, secretary, and from 1939 in the Health Promotion Society.
Following the Soviet occupation in May, 1940, he was appointed director of the state Press and associations department. That department was shortly liquidated and replaced, with Niedre at the head, by the Latvian SSR Main Literature Office, whose role was to censor the press. Niedre was subsequently appointed to head VAPP as well as the Latvian SSR Writers' Union Organizational Committee president. He evacuated to Russia during the Nazi occupation. After the war, he returned to Latvia, eventually successfully defended his doctorate in philology (1948) and devoted himself to writing.
Lastly, we should add that while the almanac seemingly bears the hallmarks of stereotypically uneven Soviet workmanship: poor stitching and inconsistent page sizes as it was never trimmed to size. But the message inside is far from disorganized or random. Never judge a book by its cover—or its binding.
---
| | |
| --- | --- |
| [1] | We read this as 17 sheets of 61 x 86cm paper stock were consumed in the printing of each copy. |
"Literatūras Gada Grāmata 1945" (Literary Almanac 1945) is a publication of the former [illegal] Soviet authority. Our presentation with commentary and/or translation qualifies as a protected collection and derivative work under Latvian Copyright Law § 5. ¶ 1. © 2020.