While searching for a picture of a kvass wagon recently, we ran across an entire fold-out set of images of Soviet-era Rīga that we had scanned well over a decade ago: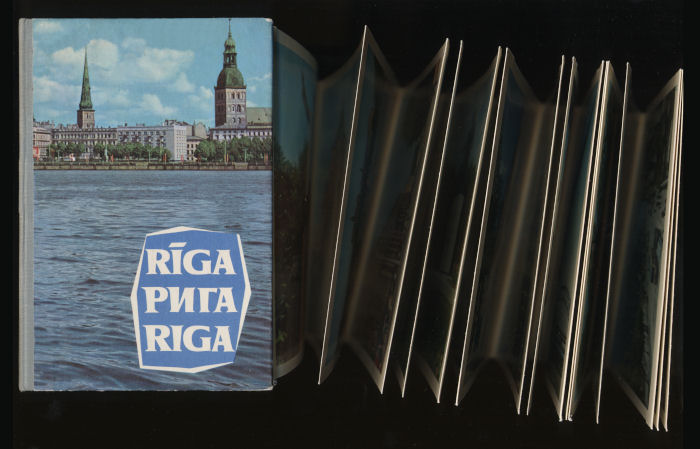 Soviet era Rīga photos fold-out, on the front cover: Daugava River, Komsomol Embankment
In addition to descriptions of the pictures, 32 in all plus covers, the album includes a short overview of Rīga in each of the languages included. Quoting the English version:
Capital of the Latvian Soviet Socialist Republic and second only to Leningrad in its importance as a Soviet port on the shores of the Baltic Sea, the city of Riga lies a little above the point where the Daugava River empties into the Gulf of Riga.

With a population of over 600,000 Riga is an important economic, cultural and scientific centre and one of the largest cities of the Baltic Republics.

It is in the years that followed the admission of Latvia into the family of Soviet Republics that the growth of Riga has been particularly rapid. Its industrial pattern has changed. In the past, industries manufacturing consumer goods predominated and while these continued to expand the city also witnessed a substantial development of such branches of heavy industry as metal processing, engineering, electrical engineering and chemistry.

Riga is the home of the Academy of Science of the Latvian S.S.R. with its network of research institutes and has, besides, 9 higher educational establishments, over 20 specialised secondary schools, 7 theatres and 9 museums.

Among the Baltic cities Riga is one of the most beautiful as well as one of the oldest. Historical landmarks such as towers, castles and churches dating back to the XIII-XVI centuries are to be found in the city's older quarters creating— together with the modern architectural ensembles of the newer quarters, the numerous parks and gardens and wide streets and squares—an unforgettable vista of the Latvian capital.
The set does betray its Kremlin origins. For example, it translates "Domas Cathedral" as "Thinker's Cathedral," misinterpreting Latvian (as "doma" meaning "thought", "domas" being the possessive) or attempting to wipe Germans from Latvian history—or both. In German, "Dom" or "Domkirsche" simply denotes a church of particular importance or special status. In this case, Bishop Albert moved the Livonian bishopric from Ikšķile (Uexküll) to Rīga in 1201, subsequently laying the Dom cornerstone in 1211.
Still, it's an interesting historical study carrying on the tradition of the Potemkin village glossing over authoritarian reality, including some heavy-handed retouching here. It's a microcosm of the Soviet "method":
glorification of the Soviet state: obligatory statue of Lenin, Lenin boulevards, and so on;
glorification of local communists: Pēteris Stučka's accomplishments include bombing an anti-Soviet rally, good enough to have his name put on the Latvian State University, monuments erected in multiple cities including Rīga, and having a town, Aizkraukle, renamed in his honor;
misappropriation of cultural icons: Rainis is extolled as a revolutionary hero, he was even minted in Soviet coinage—in fairness we must note Stučka married Rainis' sister;
re-purposing and re-branding all state institutions, with "Pioneer" stamped on everything from museums to the local cinema;
erecting Soviet pretension, viz. the Soviet "Palace of Knowledge" housing the Latvian S.S.R.'s Academy of Science; and
generally portraying a non-existant cheerful and industrious prosperity, including conspicuously placed (Communist party) sedans, sometimes in motion as if intruding on the scene by chance—whose presence can only be to imply that the common man in the USSR is mobile and affluent.
We hope you find these as informative a look into portrayals of the Soviet era as we did in "rediscovering" them.
Mouse over left/right side of image and click or use left/right arrows to navigate image groups. Click on 'X' or outside left/right of image to return.
Updated: November, 2014
The fold-out album "Riga" was published during the Soviet era by the Soviet authorities.
"Color photographs" are attributed to N. Granovskogo ("Цветное фото Н. Грановского"). We believe that to be notable Soviet photographer Naum Granovsky, best known for his iconic photographs of Moscow — if so, pointing to the value placed on positively portraying the Soviet occupation of the Baltics. Granovsky died in 1971; his works are considered under copyright until January 1, 2042. Our reproduction for informational, educational, and research purposes qualifies under Latvian Copyright Law §20. and §21.