World War II produced two communities of exiles, those that fled to the West, and those that Stalin deported. These Names Accuse—Nominal List of Latvians Deported to Soviet Russia, published by The Latvian National Foundation, brings that latter exile into sharp focus, recounting the Soviet deportations of the first occupation, 1940-1941, including the first mass deportation in 1941.

The book records those taken in the first mass deportation, here, the Ķulle family
This is, of circumstance and necessity, a personal introduction. Listed above are Peters' grandmother Emma, uncle Osvalds and his wife Erna, their children (Peters' cousins) Janis, Gaida, and Vija, grandfather Janis, and aunt Laura. The Russians came knocking at 7:00 in the morning on June 14, 1941 and gave them 15 minutes to pack. Laura recalls frantically throwing all the family pictures together, wrapped in a blanket. Our family still has those pictures, delicate pieces of paper that made it thousands of miles to Siberia and back.
Peters' uncle Osvalds was not home, but he went to the train depot voluntarily to be taken away with his family. Little could Osvalds suspect that the deportation "protocol" ( Appendix 1 ) stipulated that heads of households be separated from their families, ostensibly to keep the prisoners subdued, exiling the men to the harshest reaches of the Soviet gulags.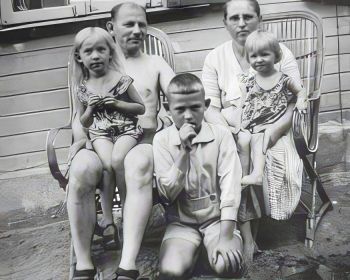 Happier times, 1940 (l-r, back) Peters' uncle Osvalds and Erna, their children (l-r, front) Peters' cousins Gaida, Janis, and Vija
Osvalds' wife, Erna, saw him from the the train, being led away. "There's your father!"—Erna's words—are Vija's only memory of her father. Luckily, Peters' mother had been told not to go home that day, escaping her family's fate. The Nazi invasion a week later put further Soviet deportations on hold—Peters' parents were were rescheduled for a later deportation order.
Peters' grandparents perished early on. They lie buried in unmarked graves under a tree somewhere outside Krasnoyarsk. Even so, the family was lucky. They had been deported to more of a kolhoz/village, not a prison camp. In the beginning, Erna stole livestock feed to supplement their meager rations. As the years progressed, they made a life for themselves. Gaida learned dancing in school. Eventually, they built their own family log hut—Gaida still remembers the rhythm of sawing the trees with her brother Janis (now passed away). Gaida also fell in love and married.
Gaida's husband, Linards, had his own tale of survival. He had been deported in a cattle car packed with men. Most had already died before even reaching the end of the railroad line in Siberia. After a forced march to their labor camp above the Arctic Circle, he was the only one left alive of those who had shared that same cattle car. Sadly, he passed away one year before Peters' first trip to Latvia.
Most of the family survived intact—a tribute to Erna's and Laura's fortitude and force of will—to return to Latvia after 15 years—but their home, Mordanga, now a kolhoz, remained off limits. Erna and Gaida were arrested and deported a second time, for 5 more years, spending a total of two decades in Siberia. Gaida's sister, Vija, raised Gaida's two sons, Arno and Maris.
---
Silvija's great-aunt was taken away in the same deportation. She, too, appears in the list of names:

We're hoping to find out more about her story when we visit Silvija's relatives and family friends. But such hopes are fading, as that generation that knew the most has almost all passed away. And it is increasingly difficult to get anyone to talk about Siberia—more and more it seems like some shame or curse better left forgotten. But if the story is not told, is that not worse? Now, twenty-nine years since Latvia restored its independence, the Russian government still insists Latvia voluntarily and legally joined the Soviet Union, and brands anything anti-Soviet "anti-'anti-fascist'"—Nazism and sends flowers to former Russian military still living in Riga who say of the deported that they were all spies and deserved it.
---
We contacted The Latvian National Foundation, and asked for their permission to share the story of These Names Accuse with you. Our sincere thanks to them, and to their founder, Andrejs Eglitis. As you read through the materials, please note that some of the pictures (Appendices 9, 10, and 11 in particular) are graphic and disturbing; we suggest care in sharing with younger children. We have reproduced the complete contents of the book (text and appendices) and have begun work on scanning and converting the list itself.
A final note on These Names Accuse: the book is the list of those Latvians deported in 1940 and 1941 by the Soviet Union, which the Latvian National Foundation received from the Swiss Red Cross based in Geneva, gathered after the Nazis invaded the USSR through Soviet-held territory, causing the Soviets to relinquish the Baltics. Those materials specify names, family relations, and last known residence only. The list likely also includes Latvian Jews deported by Stalin.
One widely respected site dedicated to the research of Jewish geneology, jewishgen.org, estimates a number in the thousands. Recent scholarship by Dov Levin has estimated Stalin deported 5,000 Latvian Jews—proportionally suffering more than any other ethnic group. Deportation of the Jewish civic and political leaders left Latvia's Jewish community ill-equipped to organize when the Nazis and the Holocaust swept into the Baltics a week after the first Soviet mass deportation.
Additional reading
For more background and a pointer to the Latvian State Archive's database of deported individuals, visit our Exile Experience section on the deportations to Siberia.
Copyright © 1982, The Latvian National Foundation. The Latvian National Foundation, Box 108, S-101 21 Stockholm, Sweden, retains all rights. Materials from "These Names Accuse" reproduced by express permission. For personal and academic research use only. Republication is prohibited.