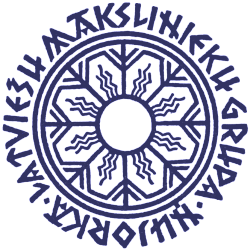 Latviešu Mākslinieku Grupa Ņujorkā
logo
Peters grew up surrounded by the post-war Latvian artist community in New York. They were family, more than friends. Most had known each other and worked together in Latvia, or worked together having gravitated to New York in building a new life. The artist Otto (Atis) Grunde and his wife Erika were Peters' godparents.
Pēters' father, Jānis Vecrumba, was a television scenic artist at NBC, and secretary of the Latvian Artist Group in New York, Latviešu Mākslinieku Grupa Ņujorkā, when he passed away suddenly in 1962 at only 57.
We keep hoping more of his papers will show up in some secret box stashed away somewhere, but that has become increasingly unlikely as we sift through Peters' parents' old house to make room for our own life.
If your family were or are among the New York Latvian artists' community, we would be honored to feature additional information and artifacts here.