Peter's grandfather installed a state of the art turbine to drive the mill in Mordanga, Kurzeme. Over seven decades later, during renovations, the old turbine came out: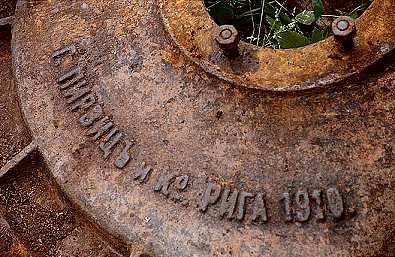 G. Pirwitz & Co. Riga 1910! We wondered what Rīga might have been like in those days... what was going on, what was being built? It may have still been part of the Russian empire, but it was Riga, nevertheless—economically autonomous, culturally vibrant.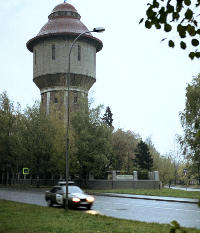 Āgenskalns Water Tower
It's hard to imagine the city more than a century ago, but we don't think it was any different from any great metropolis of today, always under construction, always changing. 1910 was the year that the Palladium Riga was constructed, still a concert venue today. Then there is architect Wilhelm Bockslaff's striking Āgenskalns Water Tower (at right) bordering Meža kapi, built to provide fresh drinking water to Rīga's exploding population. And Jānis Asaris' 5-story art nouveau edifice now housing the Viktorija Hotel. 1910 also saw the construction of the University of Latvia's iconic residence on Raiņa bulevāris, once featuring paintings on its facade by the acclaimed artist Janis Rozentāls.
And long before the Latvian Gambit, there was the match between Karl Behting and Aron Nimzowitsch featuring an uncommon King's pawn opening.
Since the Sailors' Home is the closing picture in the album—and the book is a paperback, easy to carry—it's likely it was intended as a memento for sailors to bring back home from their visit to the exotic Baltics—even the fictional Horatio Hornblower disembarked in Riga!
Below, an image of Pulvertornis, the Powder Tower in Old Riga—whose oval graces the album cover.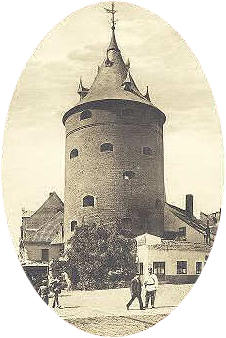 The pictures in this album come from the Riga atelier of Carl Anton Schulz (1831–1884), taken by his son Eduard. Our thanks to the Schulz family for contacting us with this information. You can read more about Carl Schulz on our "Livlandische Schweiz" ("Livonian Switzerland") page introducing his picture album of Latvia's
Gauja
river valley.