Appendix 14
Satellite Photo of Labor Camp Locations
Mordovian Prison Complex Satellite View
BARASHEVO, CAMP No. 3
LESNOYE, CAMP No. 19
YAVAS, CAMP No. 11
OZERNY, CAMP No. 17
ZUBOVA POLYANA
SHATCK
SASOVO
KADOM, CONFLUENCE OF VADA AND MOKSHA RIVERS
TONGUSHEVO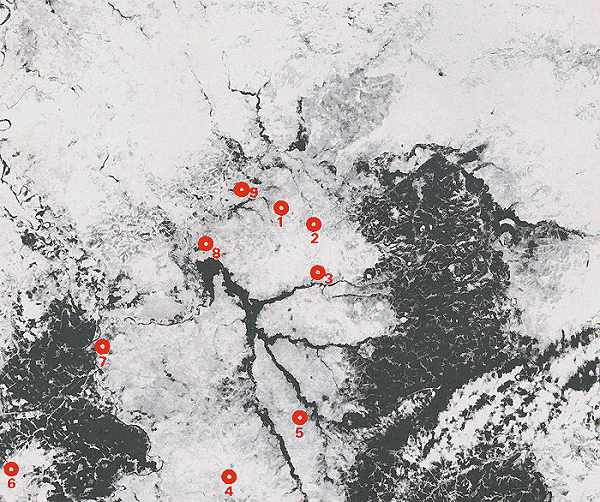 Presently many political prisoners have been placed in these prison camps. This USA satellite photograph of the area was taken on April 13, 1976. The ground is covered with snow.
Several hundred kilometers southeast from Moscow is the Mordovian A.S.S.R. where the Soviet regime has developed a vast system of slave labour camps.
One of best known "inhabitants" of these camps is former Latvian prisoner of conscience Viktors Kalnins. There have been many others. Among them: Gunars Rode, Uldis Olkants, Dailis Rijnieks, J. Kapostins.
Copyright © 1982, The Latvian National Foundation. The Latvian National Foundation, Box 108, S-101 21 Stockholm, Sweden, retains all rights. Materials from "These Names Accuse" reproduced by express permission. For personal and academic research use only. Republication is prohibited.