| bit.ly/lvm2017
Sveiki, all!
All in all a discouraging week. Visa and green card holders denied entry into the U.S. to return to school, to family, to home. Following Putin's and Trump's "constructive" call, seeming to point to a future unilateral lifting of sanctions by the U.S., Russia launched a major assault on the Ukrainian city of Avdiivka, triggering evacuations. Shelling is also rampant in Donetsk. The Russian commander there is Vladimir Antyufeyev—still wanted for murdering freedom demonstrators in Soviet Latvia. Meanwhile, Gazprom set a new record for gas exports to Europe, lessening the impact of sanctions and tightening Russia's grip on the EU's energy jugular. We look at these and other stories.
This issue's link looks into Latvia's distant Viking past.
Our picture is a reminder of the Soviet era. The building itself has long since been restored, but reversing the moral decay continues to be a challenge.
In this issue:
Ar visu labu,
News
The thaw in US relations with Russia offers a chance to fight terror together
The U.K.'s Independent hardly resembles its title. It was purchased by Russian oligarch Alexander Lebedev in 2010 and discontinued its print edition in early 2016. Unsurprisingly, Lebedev offers his "opinion" in typical Kremlinesque fashion, that mistrust is "mutual," invokes Churchill as a great man who recognized the value of partnering with Stalin against Hitler. Typically, there is no mention of Russia, at this point, as the driver of refugee flow out of Syria--bombing innocent civilians. Or pushing the meme that ISIS inspired terrorism has gripped America whereas the vast majority of mass murders in the United States have been perpetrated by non-Muslims. Lebedev insists the gravest threat comes from Muslims--not Russia.
Unsurprisingly, and in keeping with Kremlin's denouncements dating back to Soviet times, Lebedev minimizes the occupation of Crimea, ignores the ongoing warfare in eastern Ukraine, and ridicules the notion that the Baltics are next on Putin's list, that "his teetering economy is in no shape" to support recreation of the USSR.
Lebedev proposes a new Yalta: "Yalta II, even: Putin agreeing to respect Ukraine's borders, the West conceding Russia's right to Crimea." All in one, Lebedev demonstrates his loyalty to his Kremlin masters and clarifies Putin's current end game, that is, that to curry Putin's favor in the fight against ISIS, the West once again give away what it does not possess. Lebedev suggests the very symbol of Western betrayal is the most apt forward for the West in its relationship with Russia.
Putin's current tactics:
Maintain the pressure of refugee flow from Syria by bombing civilians and legitimate opposition forces;
Leverage and inflame the refugee crisis to drive a wedge between European states;
Keep al-Assad in power, preserving Russia's offshore drilling leases;
Continue to wage war in Ukraine, hoping Ukraine will sue for peace by renouncing sovereign claims to Crimea;
Lastly, simply outlast sanctions—Russia has little to offer the West other than gas, and that flow of Europe suckling at the Russian bear's energy teat has continued unabated.
Trump may be preening his feathers after being compared to Churchill in his relationship with Stalin, and to Margaret Thatcher in her relationship with Gorbachev. Not to mention that Clinton had Russia all wrong, thankfully we now have Trump instead. Let us hope scepticism triumphs over vanity.
Lebedev suggests the time is ripe to seize upon a "mutually beneficial" relationship with Russia. But there is no such thing as a "win-win" relationship with Russia. As George Kennan observed in his diary, from the Kremlin, neighbors are either vassals or enemies. And in this age of globalization, every country is Russia's "neighbor."
We recommend reading Mother Jones' A Guide to Mass Shootings in America, first published in 2012 and updated this January.
How much should be read into a new President's Oval Office decor is impossible to say, but much may hang on the meaning of Donald Trump's. I refer not to the fresh gold drapes but to the return of the Churchill bust that he proudly displayed to Theresa May during her visit to the White House. It could be that its reinstatement is merely a nod of thanks from President Trump to Nigel Farage or a gesture of goodwill toward his Scots-born mother's homeland.
Yet those of us who believe the future of global security depends on Trump thawing the permafrost with Russia will prefer to see it as a ray of tentative sunshine in a very dark sky.
Remember that Winston Churchill was no more an unreconstructed admirer of the Soviet Union than May is of Vladimir Putin's modern-day Russia. The man who described Russia as "a riddle wrapped in a mystery inside an enigma" and later foresaw a curtain of a baser metal than gold falling across Europe, famously from Stettin in the Baltic to Trieste in the Adriatic, was no naif. But he was earlier willing to form an alliance with Stalin to overcome an existential threat. As Churchill said after Germany invaded Russia in 1941, and these two powers found themselves in an unlikely alliance: "If Hitler invaded hell I would make at least a favourable reference to the devil in the House of Commons."
Today, the democratic world faces its gravest existential threat since the Cold War. Or, if you believe the danger of thermo-nuclear annihilation was exaggerated, since that struggle against the axis powers in the Second World War.
While some progress has been made in disrupting Isis in Syria, only last week it carried out mass executions amid the desecrated ancient ruins of Palmyra. Isis and its affiliates will not be easily erased. Its poison seeps far beyond the Middle East.
Buffeted by a desperate diaspora of refugees, Europe faces deepening turmoil. France, hurt by its own encounters with horror, threatens to send Marine Le Pen to the Élysée Palace. In Germany, Angela Merkel faces punishment at the polls for her compassion towards the migrants. America has suffered atrocities perpetrated in the name of Isis and fears that more may come. The freedoms and the sense of security we once took for granted are being taken from us.
Surely these dangers are clearer and more present than that of nuclear war? Yet the Cold War mentality endures in Washington. To Congress and the Pentagon, the gravest threat comes not from those who pervert the teachings of a great religion but rather from Russia. It is an outdated mindset that refuses to loosen its grip more than a quarter century after the Berlin Wall fell.
Whether due to that anachronistic dogma or because their careers depend on a deliberate misreading of the geopolitical runes, America's political and military classes will try to block any Trump-Putin embrace, citing cyber interference in the election and the occupation of Crimea as twin disqualifiers of an alliance that offers our best hope of crushing Islamist terrorism. They will say Putin means to invade the Baltics as the next stage of a master plan to recreate the Soviet Union, never mind that his teetering economy is in no shape to do so. /p>
Although I was born and spent my earliest years in Moscow, I make no claim to special insight. "I cannot forecast to you the action of Russia," was how Churchill put it in his enigma speech. Nor can this Russian émigré. But the high priest of realpolitik said this when asked just this week if he agreed with Joe Biden that Putin's main aim is to destabilise the West. "No," replied Henry Kissinger. "We are worried that this is his objective. He is worried that our objective is to undermine him."
The time has come to end this vicious spin cycle of mutual suspicion. Rebuilding trust won't be easy. Accommodations would have to be made and sealed at a suitably trumpeted summit or conference. Yalta II, even: Putin agreeing to respect Ukraine's borders, the West conceding Russia's right to Crimea.
A dime-bag panacea for all that challenges global security it would not be. But whereas Hillary Clinton so eagerly engaged in retro-Cold War brinkmanship, Trump presents the chance for a new start, to bury the paranoid perception of Putin as a rapacious imperial crusader and to work with him against a shared threat.
"Perhaps there is a key," Churchill intoned. "That key is Russian national interest."
Indeed. And today its national interest is also America's – destroying Islamist terrorism.
Trump should resist the reflexive negativity typified by John McCain and others. If he wants to offer Russia the respect it has been denied, if he regards Putin as a man he can do business with – as Margaret Thatcher did Mikhail Gorbachev – he should be encouraged.
"A pessimist sees the difficulty in every opportunity," Churchill said. "An optimist sees the opportunity in every difficulty." Today there is an opportunity of forging a mutually beneficial relationship with Russia. Let us be optimists and seize it.
Evgeny Lebedev is the owner of The Independent and the London Evening Standard. He is Russian by birth and a naturalised British resident by choice
---
The original article also includes multiple videos. Bolding is ours.
Telephone conversation with President of the United States Donald Trump
The Kremlin's report on the first policy conversation between Trump and Putin should worry everyone who lives in Russia's neighboring states, particularly any which had been part—legally or illegally—of the USSR.
Putin gets everything he wants, in return for, well, nothing at all.
License to continue Russian aggression against Syrian opposition and civilians under the guise of fighting ISIS.
"Sphere of strategic stability..." = Russian domination of the former Soviet space, "...and non-proliferation" referring to Ukraine, which destroyed its nuclear capability in return for worthless guarantees of its security.
"Also touched on... the crisis in Ukraine," pushing the Russian narrative on Crimea and eastern Ukraine, clearly without strong rejection from Trump.
"Partnership," there is no Russian "partnership" where Russia does not come out on top.
Lastly, Putin's contention of "ally in two world wars" ignores that
the Western allies backed defeated Germany against Bolshevik Russia, enabling the Baltic states, including Finland, to achieve independence; and that
Hitler and Stalin launched WWII in partnership, Stalin telegraphing Hitler prematurely to congratulate the Nazis on the fall of Warsaw, and occupying a majority of Poland once its partition between the Nazis and Bolsheviks was complete.
Last, but not least, is the indication that Trump may lift sanctions with no reciprocal action by Russia withdrawing from either eastern Ukraine or Crimea.
[Machine translation, with minor edits. Our emphasis.]
Vladimir Putin congratulated Donald Trump officially assuming office and wished him success in his future activities.
During the meeting, both sides demonstrated a disposition to actively work together on stabilization and development of Russian-American cooperation on a constructive, equal, and mutually beneficial basis.
They thoroughly discussed current international issues, including the fight against terrorism, the situation in the Middle East, the Arab-Israeli conflict, the sphere of strategic stability and non-proliferation, the situation around the Iranian nuclear program, and the Korean Peninsula. They also touched upon the main aspects of the crisis in Ukraine. They agreed to establish a partnership cooperating in all these and other areas.
Simultaneously, they highlighted the priority of joint efforts in the fight against the primary threat—international terrorism. The Presidents called for establishing a real coordination of US and Russian actions in order to defeat ISIS and other terrorist groups in Syria.
The importance of the restoration of mutually beneficial trade and economic ties between the business communities of the two countries was stressed, which could further stimulate progressive and stable development of bilateral relations.
Vladimir Putin and Donald Trump agreed to issue instructions to work out the possible dates and venue of their personal meeting.
Donald Trump asked [Putin] to convey the wishes of happiness and prosperity to the Russian people, noting that the American people are sympathetic to Russia and its citizens.
Vladimir Putin, in turn, stressed that the Russian experience similar feelings towards the Americans. He recalled that America has supported our country for more than two centuries, was her ally in two world wars, and now considers the U.S. an important partner in the fight against international terrorism.
The leaders agreed to maintain regular personal contacts.
The conversation took place in a positive and business-like manner.
---
[a]

Телефонный разговор с Президентом США Дональдом Трампом

Состоялся телефонный разговор Владимира Путина с Президентом США Дональдом Трампом

28 января 2017 года

Владимир Путин поздравил Дональда Трампа с официальным вступлением в должность, пожелал успехов в предстоящей деятельности.

В ходе беседы с обеих сторон был продемонстрирован настрой на активную совместную работу по стабилизации и развитию российско-американского взаимодействия на конструктивной, равноправной и взаимовыгодной основе.

Обстоятельно обсуждены актуальные международные проблемы, включая борьбу с терроризмом, положение дел на Ближнем Востоке, арабо-израильский конфликт, сферу стратегической стабильности и нераспространения, ситуацию вокруг иранской ядерной программы и Корейского полуострова. Затронуты также основные аспекты кризиса на Украине. Условлено наладить партнёрское сотрудничество по всем этим и другим направлениям.

При этом выделена приоритетность объединения усилий в борьбе с главной угрозой – международным терроризмом. Президенты высказались за налаживание реальной координации российских и американских действий с целью разгрома ИГИЛ и других террористических группировок в Сирии.

Подчёркивалась важность восстановления взаимовыгодных торгово-экономических связей между деловыми кругами двух стран, что могло бы дополнительно стимулировать поступательное и устойчивое развитие двусторонних отношений.

Владимир Путин и Дональд Трамп договорились дать поручение проработать возможные сроки и место проведения их личной встречи.

Дональд Трамп попросил передать пожелания счастья и процветания российскому народу, отметив, что народ США с симпатией относится к России и её гражданам.

Владимир Путин, в свою очередь, подчеркнул, что в России испытывают аналогичные чувства к американцам. Он напомнил, что наша страна на протяжении более чем двух столетий поддерживала Америку, была её союзником в двух мировых войнах и сейчас рассматривает США в качестве важнейшего партнёра в борьбе с международным терроризмом.

Лидеры условились поддерживать регулярные личные контакты.

Беседа прошла в позитивном и деловом ключе.
2017 Pickle Festival logo revealed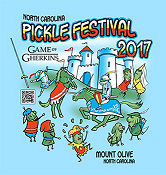 Pickle Festival logo
On the lighter side of the news, we can report that this year's logo for the 2017 North Carolina Pickle Festival has been revealed—inspired by the Baltic travels of Mount Olive's Chamber of Commerce President, Julie Beck. "I fell in love with Tallinn, Estonia, an exceptionally complete and well-preserved medieval city that was built in the 13th century by crusading knights, and overlooked the city," said Beck. "I was impressed with the scenery, atmosphere, layout and architecture of the city. It was stunning and spoke to my heart and soul."
You can read the full story at the link, above.
Gazprom becomes shareholder of 34.1% in new Latvian gas operator
Gazprom announced record exports of natural gas to Europe ("non-CIS countries") in January, with the strongest growth coming from Hungary, Serbia, and Bulgaria. Their single day record was 636.4 million cubic meters. At roughly $200 per 1,000 cubic meters, that's $125+ million dollars per day.
Latvia's law liberalizing the gas market means that means Russia's Gazprom, which holds shares in "Latvia's Gas" (Latvijas Gāze) monopoly, will also own more than a third of Latvia's new gas transport operator, Conexus Baltic Grid once gas transit and storage are split off as separate functions.
Between them, Russia's Gazprom (34%) and Rosneft (16%) own 50% of Latvijas Gāze.
You can read the full story at the link, above.
The Trump Administration's Curious Reaction to Renewed Fighting in Ukraine
Ukraine is already suffering the effects of Trump's conciliatory tone with Putin. Why we think the situation gets worse.
The first Putin-Trump call signalled a rapprochement with Putin and could even be taken a portending future unilateral lifting of sanctions by the United States. Were there any doubts, there have already been 5,600 cease-fire violations this week (as of 1 February) as the Russians launch a major assault on the Ukrainian city of Avdiivka.
Yet the only statement by the new Trump administration has been this[a]:
The United States is deeply concerned with the recent spike in violence in eastern Ukraine around Avdiivka-Yasynuvata. Since January 28, the OSCE's Special Monitoring Mission has reported a dramatic increase in fighting, including with heavy artillery and other weapons proscribed by the Minsk agreements. The fighting has caused dozens of Ukrainian military casualties and 10 civilian casualties. It has also left 17,000 civilians, including 2,500 children, without water, heat, or electricity. To avert a larger humanitarian crisis, we call for an immediate, sustained ceasefire and full and unfettered access for OSCE monitors. We also reaffirm U.S. support for full implementation of the Minsk agreements.
This bland, formulaic statement of "concern" could have just as easily come from the Kremlin, except the Kremlin accuses Ukraine—the victim—of attacking Avdiiva[b]:
"Nothing else but a provocation," [Kremlin spokesman] Peskov told the Russian Dozhd television channel, commenting on the aggravation of the situation in the region. Peskov said earlier Tuesday that Moscow had reliable data that the Ukrainian independent armed groups, supported by the Ukrainian Armed Forces' artillery, were behind the attack on Avdiivka.
The U.S. administration sets policy. With the former head of Exxon now confirmed as Secretary of State, we believe the Trump administration's preferred outcome is:
Tillerson "brokers" deal whereby Russians "withdraw" from eastern Ukraine in return for keeping Crimea.
Trump lifts U.S. sanctions on Russia in reward for "peace in Ukraine" and Putin's commitment to fight ISIS.
Trump declares a "great, great" achievement with his partner Russia, bringing peace to Ukraine and bringing the fight to ISIS.
Putin's fight "against ISIS" continues to bomb civilians and al-Assad's opposition, and to exacerbate the refugee crisis.
Exxon resumes drilling in Russia, paying Putin's kleptocracy handsomely in thanks. Trump just relaxed anti-corruption regulations so that oil companies no longer have to reveal payments to foreign governments.
Trump has also just already relaxed sanctions to permit U.S. companies to conduct business with the Russian FSB neé KGB. We firmly believe the pieces are being put in place for Trump to lift sanctions on Russia before the Arctic oil drilling season begins.
You can read the full story at the link, above.
---
Baltic PMs in Tallinn ink agreement, give go-ahead to Rail Baltica project
Estonian Prime Minister Juri Ratas, Latvian Prime Minister Maris Kucinskis, and Lithuanian Prime Minister Saulius Skvernelis were in Tallinn January 31st to sign the Rail Baltica agreement, setting out the route and terms of operation.
The EU will fund up to 85% of the 5 million euro cost, with the Baltic states making up the remainder.
You can read the full story at the link, above.
MEP 'horrified' by rumoured next US ambassador to EU
Trump seeks to appoint Brexit-leader Farage's recommendation, Ted Malloch, as the U.S. ambassador to the European Union. In keeping with Trump's other nominations of individuals more likely to tear down the house they manage rather than maintain or enhance, Malloch has expressed his desire to bring down the EU the same way he alleges he did with the Soviet Union. When asked why he would consider the post, Malloch replied:
Well, I had in a previous year a diplomatic post where I helped to bring down the Soviet Union, so maybe there's another union that needs a little taming.
That Trump has nominated Malloch demonstrates the Trump team's disdain for the whole of the EU. The German EU representative has denounced the choice and urges the EU to reject Trump's nominee.
You can read the full story at the link, above.
Picture Album
A Rīga autumn picture from twenty-one years past.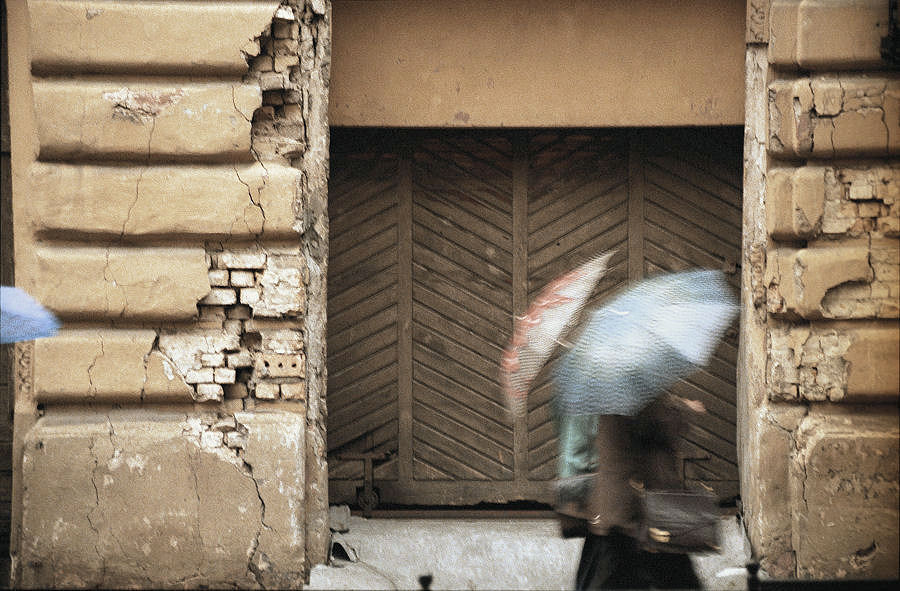 Umbrellas in Herder Square passing by Soviet era decay on a rainy October day.
---
External content is reproduced herein under fair use for purpose of commentary. Links are provided to original content. Links to ARCHIVE.ORG are included in case content is no longer available at the original link.