A Short History of Junkers Camp, Bettenhausen, Kassel | bit.ly/cfbh_junkers Donald F. McGonigal, UNRRA, 1947 (monograph)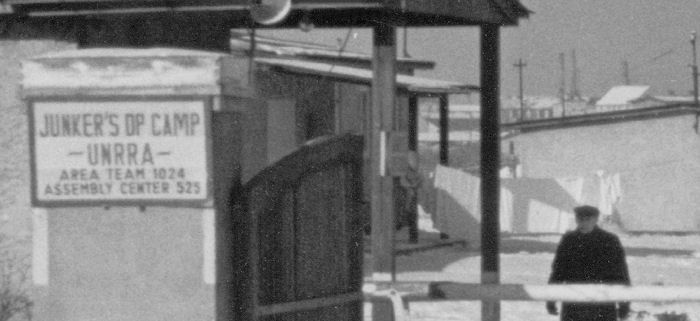 Detail of the original photograph stapled into the camp report. It appears on page 1, with two additional photographs on page 2.
In 2011, we came across and purchased a typed manuscript report on the Junkers Displaced Persons (DP) Camp in Germany—ours appears to be a copy of the original completed in April, 1947. The title of the report and the sign at the gate to the camp:
JUNKER'S DP CAMP
— UNRRA —
AREA TEAM 1024
ASSEMBLY CENTER 525
don't mention the location, Bettenhausen, Kassel. Apparently, this was one of several DP camps in the Kassel area, making references to "Kassel" DP Camp problematic. Since camps were organized largely by ethnic groups to provide a sense of community and facilitate camp operations, Baltic peoples speaking of "Kassel" likely refer to Bettenhausen, Jews to Hasenecke, and Russians to Moenchehof.
Our report is a carbon copy. However, a number of the included exhibits, such as newsletters and photographs, are originals. We believe this report is a copy of one held in the United Nations Archives in their files "Monographs - DP-US 20 - Displaced Persons - United States Zone (Germany) - Histories of Individual Camps - History Report No. 30", reference code S-1021-0081-05, which contain the following DP camp reports:
Ukrainian Camp in Ellwangen by W. V. Buckhantz;

Baltin Camp in Bettenhausen, Kassel by D. F. McGonigal;

Polish Camp in Wildflecken by K. Hulme;
Jewish Community in Regensbur by A. V. Taraska;
Yugo-Slav Camp in Bad Adiberg by H. Rosenblatt;
Jewish Camp in Leiphein Airport by E. Robertson;
History of Funk Kaserne by Earl Blake Cox; and
History of Area Team No. 1044, Bayreuth by C. E. Wheeler.
Except for the photographs, the inserts and attachments are of poor quality. We will add these as we can.
Please note that page 3 is missing in our copy of the report and is not included. Our republication includes the main body of the report and stays true to the look, feel, and pagination of the original for scholarship purposes.
This content digitizes an original report of the United Nations Relief and Rehabilitation Administration (UNRRA). The United Nations Archives (UNA) grants rights to reproduce with attribution. Additionally, this content is protected as a derivative work under Latvian Copyright Law Chapter 2 § 5 ¶ 3 and as part of a collection under Chapter 3 § 5 ¶ 1.2.